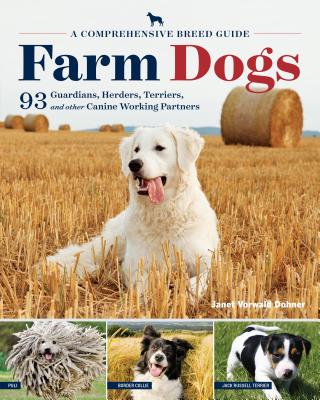 Farm Dogs
A Comprehensive Breed Guide to 93 Guardians, Herders, Terriers, and Other Canine Working Partners
Paperback

* Individual store prices may vary.
Other Editions of This Title:
Hardcover (10/5/2016)
Description
Gain a deeper understanding of your canine friends through these in-depth breed profiles that showcase how working dogs think. From familiar breeds like the Border Collie, Corgi, and Dachshund to the lesser-known Akbash, Puli, and Hovawart, Janet Vorwald Dohner describes 93 breeds of livestock guardian dogs, herding dogs, terriers, and traditional multipurpose farm dogs, highlighting the tasks each dog is best suited for and describing its physical characteristics and temperament. She also offers an accessible history of how humans bred dogs to become our partners in work and beyond, providing a thorough introduction to these highly intelligent, independent, and energetic breeds.
Praise For Farm Dogs: A Comprehensive Breed Guide to 93 Guardians, Herders, Terriers, and Other Canine Working Partners…
"This book is a work of art: lovingly illustrated, detailed, and well-written. Anyone who cherishes the loyalty, dedication, and value of working dogs will find it both readable and invaluable. Janet Vorwald Dohner really knows her stuff."
— Jon Katz, author of The Dogs of Bedlam Farm and Talking to Animals: The Search For A Wiser Understanding of Animals

"A fascinating exploration of our long relationship with working canines, from ancient times to the present. Our guide, Jan Dohner, provides practical advice on selecting the right breeds for the jobs required. This beautifully produced book will also appeal to dog fanciers who simply want to learn more about our oldest domesticated animal companions and helpmates."
— Orysia Dawydiak, author of Livestock Protection Dogs
Storey Publishing, LLC, 9781612125923, 352pp.
Publication Date: October 4, 2016
About the Author
Janet Vorwald Dohner is the author of The Encyclopedia of Animal Predators, Farm Dogs, and Livestock Guardians. She has 35 years of experience on her small family farm and has relied on livestock guard dogs and corgis with her sheep, goats, and poultry. She writes for magazines, including Modern Farmer and Mother Earth News, and she gives presentations on livestock guardians and predator control at various conferences. Dohner is a board member of the Kangal Dog Club of America and a member of several learning communities for working dogs.