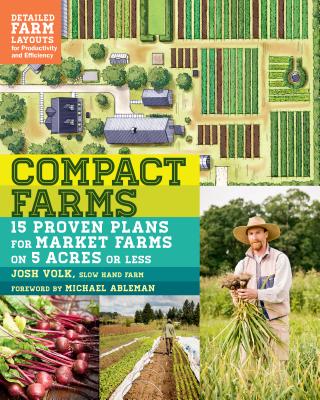 Compact Farms (Paperback)
15 Proven Plans for Market Farms on 5 Acres or Less; Includes Detailed Farm Layouts for Productivity and Efficiency
Storey Publishing, LLC, 9781612125947, 240pp.
Publication Date: February 7, 2017
* Individual store prices may vary.
Description
Small is beautiful, and these 15 real farm plans show that small-scale farmers can have big-time success. Compact Farms is an illustrated guide for anyone dreaming of starting, expanding, or perfecting a profitable farming enterprise on five acres or less. The farm plans explain how to harness an area's water supply, orientation, and geography in order to maximize efficiency and productivity while minimizing effort. Profiles of well-known farmers such as Eliot Coleman and Jean-Martin Fortier show that farming on a small scale in any region, in both urban and rural settings, can provide enough income to turn the endeavor from hobby to career. These real-life plans and down-and-dirty advice will equip you with everything you need to actually realize your farm dreams.
About the Author
Josh Volk is the author of Compact Farms. He is the proprietor of Slow Hand Farm in Portland, Oregon, and has been working on and managing small farms around the country for the last 20 years, studying the systems that make them efficient. He travels in the United States and abroad, consulting with farmers and researchers, teaching farm apprentices and new farmers, presenting workshops at agricultural conferences, and writing articles for publications, including Growing for Market magazine. 
Praise For Compact Farms: 15 Proven Plans for Market Farms on 5 Acres or Less; Includes Detailed Farm Layouts for Productivity and Efficiency…
"Volk pushes back against the "get big or get out" narrative, making a strong case for how smaller farms can, and do, contribute to our nation and planet's health and livelihood." — The Huffington Post
 
"A very nuts-and-bolts look at successful small farms, which every farmer regardless of skill level and experience will enjoy." — Hobby Farms 

"With both the business analysis and schematics of these small agricultural operations, this book is truly "human-scaled." Josh Volk reveals that there is an alternative to the hype of get big or get out. This is a must read for anyone serious about making it work on a small plot of land." — Richard McCarthy, Slow Food USA executive director

"Here is a clear path for getting started in the most noble of all careers: growing food for your community. This is essential inspiration for anyone thinking of getting into farming or wanting to scale back a larger farm. Small really is beautiful!" — Lynn Byczynski, publisher, Growing for Market

"A trove of inspiration and practical advice for the next wave of young farmers. Even experienced farmers will glean new wisdom from the thoughtful tools and careful techniques in this book." — Lindsey Lusher Shute, National Young Farmers Coalition executive director and co-founder

"A huge proponent of small-scale agriculture, Oregon farmer Josh Volk outlines 15 case studies — real-life operations on five acres or less — that prove it's possible to make a living off very little land." — Modern Farmer

"If you're an aspiring small farmer — or you just want to feel optimistic about the future of farming — Compact Farms is one of those things to celebrate." — SlowFoodUSA.org