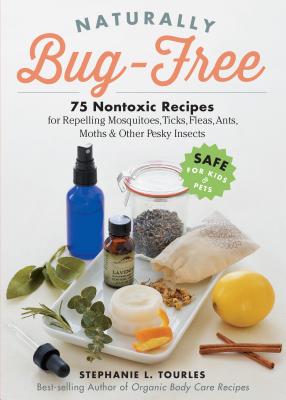 Naturally Bug-Free (Paperback)
75 Nontoxic Recipes for Repelling Mosquitoes, Ticks, Fleas, Ants, Moths & Other Pesky Insects
Storey Publishing, LLC, 9781612125961, 176pp.
Publication Date: March 8, 2016
* Individual store prices may vary.
Description
Protect yourself, your children, your pets, and your home from bugs — without using harsh or toxic chemicals! Herbalist Stephanie Tourles offers 75 simple recipes for safe, effective bug repellents you can make at home from all-natural ingredients. For protection from mosquitos, ticks, and other biting insects, there are sprays, balms, body oils, and tinctures, with scents ranging from eucalyptus to floral, lemon, vanilla, and woodsy spice. There are also recipes for pets, such as herbal shampoo, bedding formulas, and flea-and-tick collars and powders. And Tourles includes repellents for the home, such as sachets that repel moths, carpet powders that repel fleas and ants, and essential oil repellents to keep your pantry pest-free. A detailed ingredient dictionary explains the properties of all the herbs, essential oils, and other key ingredients.
About the Author
Stephanie L. Tourles is the author of Pure Skin Care and Stephanie Tourles's Essential Oils: A Beginner's Guide, as well as the best-selling Organic Body Care Recipes, Hands-On Healing Remedies, and Raw Energy. As a licensed holistic esthetician with a strong background in Western and Ayurvedic herbalism, she has been practicing and teaching healthy living for more than 25 years. Tourles has extensive training in the nutritional sciences and is a certified aromatherapist, nationally certified reflexologist, and a professional member of the Alliance of International Aromatherapists. She lives in Marble Falls, Texas.
Praise For Naturally Bug-Free: 75 Nontoxic Recipes for Repelling Mosquitoes, Ticks, Fleas, Ants, Moths & Other Pesky Insects…
"Stephanie Tourles explains why single-chemical insecticides can be dangerous, while patiently showing how to use herbs and essential oils as potent protection from ticks, mosquitoes, and other nuisances."
— Robert Tisserand, author of Essential Oil Safety, 2nd Edition

"Stephanie Tourles unleashes creative, safe, and effective natural solutions that allow our dogs and cats to be itch-free and protected from fleas, ticks, and other pests without being exposed to harmful chemicals."
— Arden Moore, America's Pet Health and Safety Coach and founder of Pet First Aid 4U