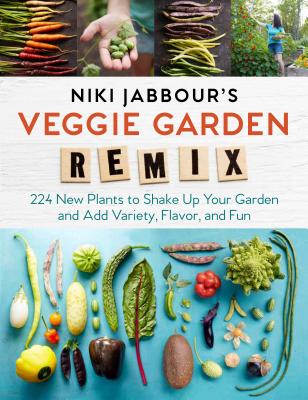 Niki Jabbour's Veggie Garden Remix (Paperback)
224 New Plants to Shake Up Your Garden and Add Variety, Flavor, and Fun
Storey Publishing, LLC, 9781612126708, 240pp.
Publication Date: February 6, 2018
* Individual store prices may vary.
Description
2019 American Horticultural Society Book Award Winner
2019 GardenComm Media Awards Gold Medal Winner

Best-selling author Niki Jabbour invites you to shake up your vegetable garden with an intriguing array of 224 plants from around the world. With her lively "Like this? Then try this!" approach, Jabbour encourages you to start with what you know and expand your repertoire to try related plants, many of which are delicacies in other cultures. Jabbour presents detailed growing information for each plant, along with fun facts and plant history. Be prepared to have your mind expanded and catch Jabbour's contagious enthusiasm for experimentation and fun in the garden.
About the Author
Niki Jabbour is the award-winning author of Niki Jabbour's Veggie Garden Remix, The Year-Round Vegetable Gardener, and Groundbreaking Food Gardens. Her work is found in Fine Gardening, Garden Making, Birds & Blooms, Horticulture, and other publications, and she speaks widely on food gardening at events and shows across North America. She is the host and creator of The Weekend Gardener radio show. She lives in Halifax, Nova Scotia, and is online at nikijabbour.com. 
Praise For Niki Jabbour's Veggie Garden Remix: 224 New Plants to Shake Up Your Garden and Add Variety, Flavor, and Fun…
"Read this book, have a notepad ready, and prepare for a new, international gardening experience. It's how we grow." — Country Gardens 

"You'll find acres of inspiration for your spring potager fantasies in this guide." — Modern Farmer

"A wonderful surprise of a book. Jabbour shakes up gardeners' assumptions on how our "conventional" vegetables should look or taste—from tomatoes to potatoes, onions to summer squash." — Booklist

"Loaded with lush photos throughout, this attractive book will appeal to gardeners and gourmands alike." — Publishers Weekly

"If I could poke around one person's garden for amazing vegetable combinations, it would be Niki Jabbour's. This book lets me do just that! Here's a great way to get out of the 'same-old same-old' gardening rut and tempt your palate!" — Carson Arthur, HGTV and Cityline outdoor lifestyle expert

"Niki Jabbour takes us on a global romp filled with peculiar, fun, and delicious vegetable varieties. Inspired by the gorgeous, vibrant photography and Niki's thoughtful plant descriptions and growing advice, I'm ready to place my seed order!" — Jessica Walliser, horticulturist and author of Container Gardening Complete and Attracting Beneficial Bugs to Your Garden

"The perfect book for any gardener seeking new and exciting edible options to keep it fresh and interesting. Thank you, Niki Jabbour!" — Joe Lamp'l, founder of joegardener.com and creator/host of PBS's Growing a Greener World

"Creative vegetable gardeners rejoice! Niki Jabbour's new book will shake up your salads and revolutionize your raised beds. Stunning photos and practical growing tips make vegetable gardening so approachable that anyone can grow magenta spreen, celtuce, asparagus peas, and more!" — Stephanie Rose, award-winning author of Garden Made and creator of the blog GardenTherapy.ca

"One of the most powerful ways to build a positive relationship with food is to grow your own. With this book you'll learn proven techniques, celebrate hard work, develop patience, and ultimately harvest joy." — Chef Michael Smith, host of Food Network Canada's Chef at Home and Chef Abroad

"Niki Jabbour opens the door of infinite possibility for gardeners looking to expand into more diverse and exotic vegetable varieties. With a creative approach, she introduces you to a wide variety of plants and gardening techniques and gives you the confidence to take your vegetable garden to the next level." — Mark and Ben Cullen, of MarkCullen.com: 10,000 Gardening Questions Answered

"I love trying new-to-me veggies in my raised beds, and this fresh, vibrant resource gives me bushels of interesting new options." — Tara Nolan, author of Raised Bed Revolution