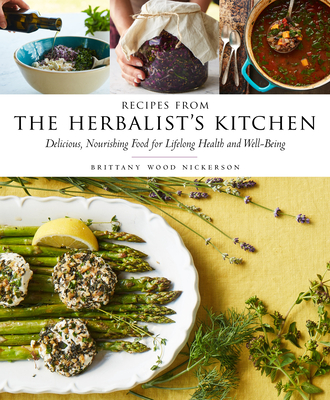 Recipes from the Herbalist's Kitchen (Hardcover)
Delicious, Nourishing Food for Lifelong Health and Well-Being
Storey Publishing, LLC, 9781612126906, 312pp.
Publication Date: June 27, 2017
* Individual store prices may vary.
Description
Author and herbalist Brittany Wood Nickerson understands that food is our most powerful medicine. In Recipes from the Herbalist's Kitchen she reveals how the kitchen can be a place of true awakening for the senses and spirit, as well as deep nourishment for the body. With in-depth profiles of favorite culinary herbs such as dill, sage, basil, and mint, Nickerson offers fascinating insights into the healing properties of each herb and then shares 110 original recipes for scrumptious snacks, entrées, drinks, and desserts that are specially designed to meet the body's needs for comfort, nourishment, energy, and support through seasonal changes.

Foreword INDIES Gold Award Winner
IACP Cookbook Awards Finalist
About the Author
Brittany Wood Nickerson is the author of Recipes from the Herbalist's Kitchen. She has blended her training in herbal medicine into her personal and professional cooking for more than ten years. Nickerson is an herbalist and the owner of Thyme Herbal, where she offers herbal apprenticeship programs, classes in herbal cooking, and private herbal consultations. She is an active guest speaker and teacher at conferences and events throughout the country. She lives in Conway, Massachusetts.
Praise For Recipes from the Herbalist's Kitchen: Delicious, Nourishing Food for Lifelong Health and Well-Being…
"Nickerson guides us beyond the everyday uses of common herbs in her lavishly photographed book advocating their medicinal benefits... [She] delivers a beautiful guide suitable for all seasons and growing climates, and sure to bring healthy dishes to any table." — Shelf Awareness for Readers

"Channel the healing properties of dill, sage, mint, and other herbs with Brittany Wood Nickerson's 100-plus DIY tinctures, teas, syrups, and, of course, healthy eats." — Modern Farmer

"Packed with valuable information and tasty ways to put it all to use, this guide offers curious readers herb-based methods for achieving better health and well-being." — Publishers Weekly

 "[E]ach recipe offers an explanation on herbal combinations that enhance the healing properties of the fresh ingredients. Plus, the mouthwatering photography makes this book as much a feast for your eyes as its recipes will be for your family." — Clean Eating magazine

"One of the few cookbooks we've seen that makes us actually want to try all of the dishes in it. Filled with delightful, whole foods-based dishes, she highlights herbs within her recipes in a way that is both complementary to the dish and allows the herbs to shine within it." — Aroma Culture magazine

"This book will fill your belly and your soul with deliciousness. Brittany's wise herbal advice serves as an inspiring tool for living a nourishing, connected lifestyle." — Rosemary Gladstar, herbal educator, activist, and best-selling author

"These inspired yet simple and approachable recipes beautifully showcase the remarkable versatility of herbs and how they can bring delight to the plate." — Jennifer McGruther, author of The Nourished Kitchen
"What a blessing of a book! Beautiful, informative, inspiring, and full of great recipes, this is so much more than a cookbook; it is a deep encounter with why and how to nourish, heal, and thrive through food and herbs." — Pam Montgomery, author of Plant Spirit Healing and Partner Earth
"This gorgeous collection of recipes is a lovely introduction to preparing deeply healing beverages, meals, and condiments for the herb lover, vegetable grower, and home cook." — Holly Bellebuono, author of The Healing Kitchen

"Brittany's is a clear voice for those yearning to reconnect with the joy of eating in balance with nature. She shows how deliciously simple yet sophisticated herbal fare can transform our health, our lives, and the very earth itself." — Annie B. Kay, MS, RDN, certified yoga therapist, lead nutritionist at Kripalu Center for Yoga & Health, and author of Every Bite Is Divine