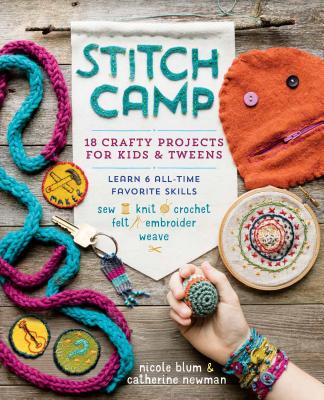 Stitch Camp (Paperback)
18 Crafty Projects for Kids & Tweens – Learn 6 All-Time Favorite Skills: Sew, Knit, Crochet, Felt, Embroider & Weave
Storey Publishing, LLC, 9781612127507, 208pp.
Publication Date: October 17, 2017
* Individual store prices may vary.
Description
In today's thriving maker culture, kids are hungry for hands-on guidance in creating stylish wearables and practical objects, or hacking and customizing existing ones. Authors Nicole Blum and Catherine Newman get them started with complete instructions for mastering six favorite fiber crafts. Step-by-step photos teach kids ages 9–14 the basics of how to sew, knit, crochet, felt, embroider, and weave, plus how to make three projects for each craft. From woven patches and a knitted backpack to embroidered merit badges and a crocheted bracelet, the fresh, kid-approved projects encourage creative variations and build confidence along with valuable life skills.
About the Author
Nicole Blum is a coauthor of Ciderhouse Cookbook, Stitch Camp, and Improv Sewing. She runs Carr's Ciderhouse in Hadley, Massachusetts, with her husband, Jonathan Carr. Blum is an artist and crafter whose work has been featured in FamilyFun and Parents magazines. 
 
Catherine Newman is the coauthor of Stitch Camp and the author of Waiting for Birdy, Catastrophic Happiness, and One Mixed-Up Night. She is the etiquette columnist for Real Simple magazine, a regular contributor to the former New York Times Motherlode blog, and editor-in-chief of the James Beard Award-winning kids' cooking magazine ChopChop. She lives in Amherst, Massachusetts, with her family. Visit her at www.catherinenewmanwriter.com.
Praise For Stitch Camp: 18 Crafty Projects for Kids & Tweens – Learn 6 All-Time Favorite Skills: Sew, Knit, Crochet, Felt, Embroider & Weave…
"Teach your kids and tweens how to sew, knit, crochet, felt, embroider, and weave with the new book Stitch Camp by Nicole Blum and Catherine Newman. Each technique is broken down by chapter and has a list of materials plus step-by-step instructions with plenty of pictures to guide. Once kids have the basics, they can try fun crafts like a crocheted hacky sack or a knitted Tom hat with a pom-pom. Grab some yarn, and craft away!" — FamilyFun

"Using mostly inexpensive materials and recyclables, this colorful and well-formatted craft book introduces the basic skills of sewing, embroidery, felting, knitting, crocheting, and weaving in a peppy conversational style. Although these techniques have been around for ages, Blum and Newman utilize them in fresh ways. Projects progress from easy to difficult; examples include a beanbag hand warmer, a cord-slung backpack, and a phone sweater. Excellent close-up photos of kids and tweens, girls and boys, augment the well-written directions... VERDICT A worthy choice for libraries looking to update their crafting materials for young people. This is also a good book for older teens in need of a simplified approach." — School Library Journal

"Accessible skill-building over a range of needle-crafts — and the delight with which the authors encourage readers to upcycle, improvise, and break the rules is utterly contagious." — Margaret Bloom, author of Making Peg Dolls and More
"An endlessly joyful and captivating crafty adventure! With a warm and inviting voice, Blum and Newman empower kids to be confident and bold makers. Their projects are attainable, fun, and perfectly imperfect." — Emily Neuburger, author of Journal Sparks and Show Me a Story