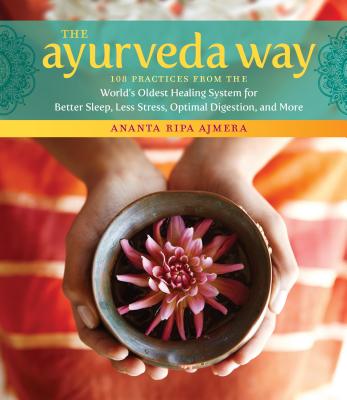 The Ayurveda Way
108 Practices from the World's Oldest Healing System for Better Sleep, Less Stress, Optimal Digestion, and More
Hardcover

* Individual store prices may vary.
Description
Celebrated Ayurveda teacher Ananta Ripa Ajmera offers an inspiring introduction to this ancient Indian medical tradition, which complements and extends the health and wellness benefits of yoga. Through 108 short essays you will learn to approach optimal digestion, better sleep, less stress, and a more balanced life. Diet is key, and many essays are accompanied by recipes that incorporate into daily meals spices such as turmeric, cumin, ginger, and mustard seeds. In addition, meditation, yoga and breathing exercises, and self-care practices such as oil pulling and massage, make this time-tested wisdom available to contemporary holistic health enthusiasts — even beginners.
Praise For The Ayurveda Way: 108 Practices from the World's Oldest Healing System for Better Sleep, Less Stress, Optimal Digestion, and More…
"An informative and beautifully written book on how to live a balanced life. It's the perfect gift to type A people like me who think they're too cool for healthy living." — Trabian Shorters, editor of best-selling Reach: 40 Black Men Speak on Living, Leading and Succeeding and founding CEO of BMe Community

"An honest window into Ayruvedic traditions, providing simple, powerful, and effective strategies to choose health." — Lara Galinsky, author of Work on Purpose and Be Bold: Create a Career with Impact  

"If you want to change the world, this is the book for you because change starts with ourselves. These 108 steps are simple, clear, and doable. This liberated ancient wisdom illuminates the path with clarity and light." —Susan Davis, co-author of Social Entrepreneurship: What Everyone Needs to Know
Storey Publishing, LLC, 9781612128184, 256pp.
Publication Date: April 18, 2017
About the Author
Ananta Ripa Ajmera is an Ayurveda Practitioner and yoga instructor who studied with Acharya Shunya, an eminent traditional Vedic teacher whose lineage stems back to ancient India. She has taught Ayurveda and yoga at Stanford University, Stanford Health Care, California Probation Departments, ABC News, and leading business conferences. Her writing has been popular on MindBodyGreen, Elephant Journal, and Huffington Post.