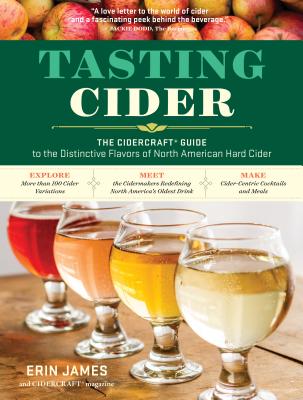 Tasting Cider
The CIDERCRAFT® Guide to the Distinctive Flavors of North American Hard Cider
Paperback

* Individual store prices may vary.
Description
This complete guide to North America's oldest beverage celebrates hard cider's rich history and its modern makers, as well as its deliciously diverse possibilities. Flavor profiles and tasting guidelines highlight 100 selections of cider — including single varietal, dessert, hopped, and barrel-aged — plus perry, cider's pear-based cousin. A perfect addition to any meal, cider pairings are featured in 30 food recipes, from Brussels sprouts salad to salmon chowder, brined quail, and poached pear frangipane. An additional 30 cocktail recipes include creative combinations such as Maple Basil Ciderita and Pear-fect Rye Fizz.
Praise For Tasting Cider: The CIDERCRAFT® Guide to the Distinctive Flavors of North American Hard Cider…
"A love letter to the world of cider and a fascinating peek behind the beverage." —
Jackie Dodd, The Beeroness 
"Erin's passion for cider can be felt in each page, and readers will come away with a deep understanding of the history, importance, and relevance of cider in the U.S. and across the modern world." —
Ryan Burk, head cider maker, Angry Orchard
"This essential tool for understanding today's cider boom puts the beverage in delicious context, with a nod to cider's long heritage, while also suggesting what the future may hold." —
Paul Clarke, executive editor, 
Imbibe 
"Rich with historical perspective, producer profiles, and hip cocktail concoctions, this book adds context for enjoying one of North America's oldest libations." —
Cynthia Nims, cookbook author and culinary consultant, MonAppetit.com
"There isn't a beverage in America I'm more excited about than cider. From its rich and complex history to the rebirth of ciders at the dining room table, this book captures the dynamic world of cider and the under-appreciated importance of the almighty apple." —
Chef James Rigato, Mabel Gray, Hazel Park, MI
"Eaters of apples and sippers of craft cider are in great luck. Erin James' new book celebrates orchard owners' recent transition of growing varietals for flavor and fragrance rather than for looks and shelf life. Locavores will be excited too: recipes for cooking with cider abound, including tender, briny mussels harvested from Puget Sound and paired with earthy cider made from heritage apples. Of course, you'll serve that with a glass of the same delicious cider. Cheers!" —
Tom Douglas, award-winning chef and restauranteur
"An excellent introduction to — and resource for — all things hard cider." — Chef Ethan Stowell, Ethan Stowell Restaurants, Seattle
Storey Publishing, LLC, 9781612128375, 288pp.
Publication Date: July 25, 2017
About the Author
Erin James is the author of Tasting Cider and the editor-in-chief of CIDERCRAFT® and Sip Northwest magazines. A tenured food, beverage, and travel writer, her work has appeared in a variety of publications, including Wino Magazine, Washington State Wine, Seattle Met Bride & Groom, and Seattle Weekly. She lives in Seattle and can be found online at cidercraftmag.com.
CIDERCRAFT® magazine is North America's first print publication dedicated to hard cider. Publishing three times a year, CIDERCRAFT® magazine profiles the artisans behind the craft, while exploring the regions and orchards, meeting the movers and shakers of the industry, listing original cocktail recipes from nationally renowned bar-chefs, recommending pairings with cider-friendly cuisine, and working to create a connection between the consumer and cider producers.