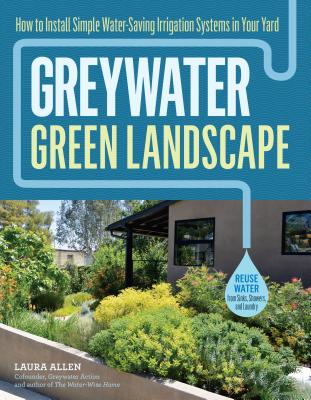 Greywater, Green Landscape
How to Install Simple Water-Saving Irrigation Systems in Your Yard
Paperback

* Individual store prices may vary.
Description
Keep your lawn and garden lush without wasting resources by capturing and recycling the greywater that drains from your sink, shower, and washing machine. This accessible and detailed guide walks you through each step of planning for and installing a variety of greywater systems, including laundry-to-landscape and branched drain gravity-fed systems. After identifying greywater sources in your home and estimating flow rate, you'll learn to pinpoint where to redirect the wastewater for the greatest benefit. No matter which system you decide to build, you'll have the information to construct it yourself or move forward with confidence to hire a professional. 
Praise For Greywater, Green Landscape: How to Install Simple Water-Saving Irrigation Systems in Your Yard…
"Simple, affordable projects and strategies to conserve water and reuse it for household food gardens, groundwater recharge, and soil regeneration. These solutions are a win for the household and for the environment." — Gemma Bulos, director of Global Women's Water Initiative

"Practical guidance for conserving and efficiently using our precious water. This comprehensive book explores every detail of how to capture and reuse greywater to create lush landscapes." — Paula Kehoe, director of water resources at the San Francisco Public Utilities Commission
Storey Publishing, LLC, 9781612128399, 200pp.
Publication Date: April 4, 2017
About the Author
Laura Allen is the author of The Water-Wise Home and cofounder of Greywater Action, a collaborative of educators who teach residents and tradespeople about affordable and simple household water systems that dramatically reduce water use and foster sustainable cultures of water. She leads classes and workshops, including the first training program for professional greywater installers, and participates in writing state government greywater and composting toilet codes. She lives in Eugene, Oregon.