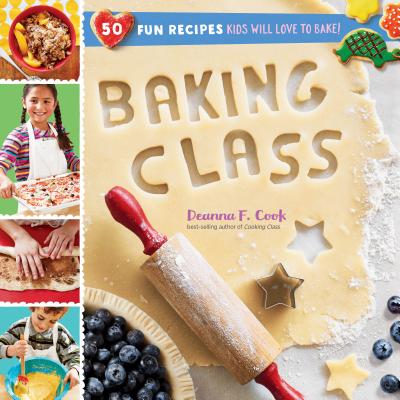 Baking Class (Spiral bound)
50 Fun Recipes Kids Will Love to Bake!
Storey Publishing, LLC, 9781612128559, 144pp.
Publication Date: September 5, 2017
* Individual store prices may vary.
Description
Following the best-selling Cooking Class, this delightful baking companion for kids ages 8–12 features 50 easy-to-follow recipes. Lively step-by-step photos teach bakers-in-training how to knead dough, make biscuits, decorate cookies, and produce a perfect pie, along with essential skills like following directions and accurately measuring ingredients. They'll learn to make both sweet and savory treats and will use fresh fruits and vegetables in recipes such as Bursting with Blueberries Muffins, Zombie Zucchini Bread, and Peachy Keen Crumble. Bonus goodie bag stickers, pop-out gift tags, and bake sale signs encourage kids to share their homemade delights with pride.

NPR's Best Books of the Year
IACP Cookbook Award Winner
National Parenting Product Awards Winner
​Mom's Choice Award Gold Winner
About the Author
Deanna F. Cook has written award-winning books for kids, including the best-selling Cooking Class and Baking Class, as well as Farmers Market Create-and-Play Activity Book. She has been the creative development director at FamilyFun and has worked as an editor at Scholastic, Disney, and Kidstir.com. She lives in western Massachusetts and can be found online at deannafcook.com.
 
Praise For Baking Class: 50 Fun Recipes Kids Will Love to Bake!…
"What do we like more than homemade goodies? When kids can make 'em themselves! The new book Baking Class helps them do just that with cute ideas and step-by-step how-tos perfect for any aspiring chef." — FamilyFun

"What's the phrase – kid-tested, mother-approved? Two years ago, my then-9-year-old worked her way through Cooking Class, Deanna F. Cook's previous book, with little to no intervention from me. This year's charmer has been the same story. It's a teach-yourself-to-bake book with vast kid appeal, thanks to big step-by-step photos, clear instructions and adorable, easy recipes (cranberry orange scones, teeny tiny apple pies, sugar cookies, macaroons). At the back are stickers, labels and – be still my beating heart – stencils so that you can sugar-powder your cookies into art." — T. Susan Chang, NPR's Best Books of 2017

"Roll up your sleeves and get out the oven mitts for Baking Class: 50 Fun Recipes Kids Will Love to Bake! This colorful, spiral-bound guide, presented by the aptly named kids' cookbook writer Deanna F. Cook, features easy instructions paired with helpful pictures. There are eye-catching recipes for crispy cheese squares (think Cheez-Its) and brownie pizza, plus adorable bread art (bake an octopus or a snail) and cake and cookie decorating ideas, all rated for difficulty using a scale of one to three rolling pins. Who knew you could put designs and initials on toast using foil shields? A section on the basics gets young bakers started, and additional bonuses include stickers, bake-sale tags and design stencils to use with confectioner's sugar." — BookPage

"This colorful baking guide offers detailed illustrated directions to help kids make a wide range of baked goods, including muffins, breads, cookies, scones, biscuits, pies, cakes, and cupcakes. Color photos accompany each step of every recipe, as well as several pages of baking basics that introduce common cooking terms, safety tips, and tools. The recipes are rated with one, two, or three rolling pins to indicate their level of difficulty. Along with the 50 recipes, the book features sidebars and extra pages of cooking tips and variations. For example, the recipe for "Silly Sticks" includes a sidebar that describes five other easy ways to use puff pastry, and the "Sweet and Simple Sugar Cookie" recipe is followed by four pages of decorating ideas and tips. While most of the recipes require the use of an oven, a few, such as "A Toast to You," can be made in a toaster oven, or in the case of the flour-free "Cocoa Cake in a Mug," even the microwave. The book also includes a table of contents and an index for handy reference. VERDICT This attractive and well-organized baking guide for kids will make a nice addition to most nonfiction collections, and a good gift for young baking enthusiasts." — School Library Journal

"Highly visual, photographing each step along the way to creating crispy cheese squares and "dig in the dirt" pie (chocolate ice cream topped with cookie crumbs, painted candy ladybugs, and gummy worms, and frozen overnight)." — Publishers Weekly

"Crammed full of joy and fun, this cookbook teaches kids baking fundamentals while they whip up their favorite treats. The only way this book could be better is if it did the cleanup, too!" — Stacie Billis, author of One Hungry Mama and Make It Easy

"Here's a book for kids to sink their teeth into! They'll build confidence in the kitchen while turning out wholesome and delicious baked goods." — Jenna Helwig, food editor at Parents magazine and author of Smoothie-licious