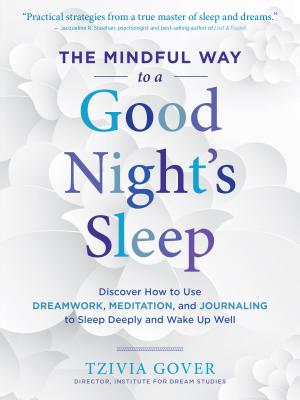 The Mindful Way to a Good Night's Sleep (Paperback)
Discover How to Use Dreamwork, Meditation, and Journaling to Sleep Deeply and Wake Up Well
Storey Publishing, LLC, 9781612128825, 184pp.
Publication Date: December 12, 2017
* Individual store prices may vary.
Description
This accessible guide to cultivating deep, restful sleep — naturally — combines author Tzivia Gover's expertise in both mindfulness and dreamwork. Along with a healthy dose of encouragement, Gover offers practical lifestyle advice, simple yoga poses, 10-minute meditations, and easy breathing exercises, plus visualization and journaling activities. You'll also learn how to set the scene for safe, productive dreaming and cultivate your dream recall. This holistic approach extends into your waking hours with tips on morning routines to ensure that sound sleep leads to refreshed, more conscious living all day long.
About the Author
Tzivia Gover is the author of The Mindful Way to a Good Night's Sleep and Joy in Every Moment. She is a writer, educator, and certified dream therapist and the director of the Institute of Dream Studies. Gover has led numerous workshops and panels about dreams, mindfulness, and writing, and she holds an MFA in writing from Columbia University. She is an active member of the International Association for the Study of Dreams and the founder of 350 Dreamers, an international network of people who dream together for global healing. She lives in Northampton, Massachusetts, and can be found online at tziviagover.com.
Praise For The Mindful Way to a Good Night's Sleep: Discover How to Use Dreamwork, Meditation, and Journaling to Sleep Deeply and Wake Up Well…
"Soothing as a lullaby, Gover's latest work is the print version of being tucked into bed with a warm glass of milk. Bringing her yoga and mindfulness training to shed light (or perhaps dark) on how to get a good night's rest in this 24/7, go-go-go world, the author asks us to slow down and contemplate the value and importance of how we spend one-third of our lives. Both science facts and quotes from poets lace the pages with reasons why we would want to sleep better and explore our dreams. Gover provides a linear progression of nuts-and-bolts advice on how to get to sleep, stay asleep, experience lucid dreaming, remember dreams, keep a dream journal, and wake up with a smile. It's all told with gentle prose that makes this book delightful and inspiring as well as practical. VERDICT For anyone who has ever had trouble falling or staying asleep or who is at all interested in interpreting their dreams." — Library Journal, starred review

"Gover's approach to sleep and to waking up, both literally and metaphorically, is gentle, insightful, and mindful. Her beautifully designed book is packed with up-to-date research and information on dream interpretation, journaling, navigating nightmares, lucid dreaming, and creative approaches to sleep problems, but it's also a sweet, tender book. Gift it to someone you love—it will touch the recipient's heart, and may help him or her enjoy many nights of deep, restful sleep." — Foreword Reviews

"With clarity, insight, and wit, Tzivia Gover provides all the ingredients for a good night's sleep to help you fully experience a good life." — Robert Waggoner, author of Lucid Dreaming: Gateway to the Inner Self and coauthor of Lucid Dreaming, Plain and Simple
 
"Inspiring and informative, Tzivia Gover's guide is a valuable addition to everyone's bookshelf. Warning: reading this book may enrich your life!" — Patricia Garfield, cofounder of the Association for the Study of Dreams and best-selling author of Creative Dreaming
 
"Tzivia Gover, a true master in the field of sleep and dreams, offers practical strategies to enjoy the sweet benefits of healing sleep and insightful dreaming." — Jacqueline R. Sheehan, psychologist and best-selling author of Lost & Found

"Tzivia Gover's whimsical, lyrical, and lilting poetic voice soothes all frenzy away as she masterfully, yet gently, tucks you into bed with wisdom about sleep and dreams." — Kelly Sullivan Walden, best-selling author of It's All in Your Dreams

"Gover's narrative is like a lullaby, coaxing us to recognize the realities that challenge our sleep and sharing keys to unlock solutions to surrender to slumber." — Nancy H. Rothstein, MBA, The Sleep Ambassador® and Director of Circadian Corporate Sleep Programs