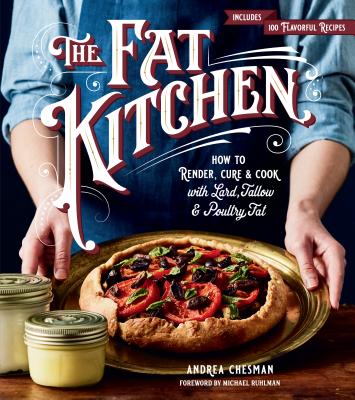 The Fat Kitchen
How to Render, Cure & Cook with Lard, Tallow & Poultry Fat
Paperback

* Individual store prices may vary.
Description
Animal fats are being welcomed back into the kitchen! Chefs and home cooks alike are rediscovering how fats create amazing texture — from the flakiest lard pie crust to the crispiest fried chicken — and define the flavor of a dish like authentic clam chowder with salt pork or duck fat French fries.

The Fat Kitchen is the comprehensive guide to rendering and using whole animal fats, including lard, tallow, and poultry fat. Cooks will learn the distinctive qualities and best uses of each fat along with methods for curing and storing them. In addition, 100 scrumptious recipes highlight traditional cultural favorites like matzoh ball soup, pasta carbonara, pork tamales, roast beef with Yorkshire pudding, Southern-style collards, confit chicken, New England baked beans, and jelly doughnuts.
Praise For The Fat Kitchen: How to Render, Cure & Cook with Lard, Tallow & Poultry Fat…
"The Fat Kitchen could not be more timely. It's a guide to preparing and using animal fats, indulgently or sparingly, in all sorts of delectable ways. Tempting recipes … open new horizons." — New York Times 

"Will have you correctly convinced that fat is your friend. Repeat after us: Fat is your friend." — Cowboys & Indians Magazine

"This is a book after my own heart — unapologetic, clear, and filled with recipes that make me want to head to the kitchen." — Michael Ruhlman, author of Charcuterie, The Book of Schmaltz, and Grocery: The Buying and Selling of Food in America, from the foreword

"Give yourself permission to eat healthy animal fats Andrea Chesman's way and you will never feel hungry or unsatisfied again!" — Sally Fallon Morell, President, The Weston A. Price Foundation

"A surprisingly beautiful cookbook … full of information on which fats come from which parts of animals, how to render them at home (or where to buy them) and how to store and use them properly. But the real showpiece of The Fat Kitchen is its many delectable recipes. Each one includes gorgeous photos, detailed instructions and tips on how to best incorporate fats. And the recipes themselves will have readers salivating, including Onion Confit and Chorizo-Cheese Empanadas; Curried Beef Pasties in the savory section; and Amish Potato Buns, Jelly Doughnuts and Blueberry Galette in the sweets. Any home cook wanting to avoid processed oils, as well as anyone hoping for more tender baked goods and tasty main dishes, is sure to enjoy The Fat Kitchen." — Jessica Howard, bookseller at Bookmans, Tucson, Arizona
"Chesman looks at the chemistry and biology of fats and concludes that they can be put to good, healthy, and constructive use in cooking." — Booklist
Storey Publishing, LLC, 9781612129136, 304pp.
Publication Date: November 13, 2018
About the Author
Andrea Chesman is the author of The Fat Kitchen as well as many other cookbooks that focus on traditional techniques and fresh-from-the-garden cooking. Her previous books include The Pickled Pantry, Serving Up the Harvest, 101 One-Dish Dinners, and The Backyard Homestead Book of Kitchen Know-How. She teaches and gives cooking demonstrations and classes across the United States. She lives in Ripton, Vermont.
 
Michael Ruhlman is the author of
The Elements of Cooking, The Soul of a Chef
, and
The Making of a Chef: Mastering Heat at the Culinary Institute of America
, among others.
or
Not Currently Available for Direct Purchase