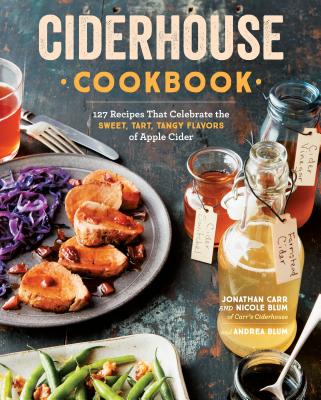 Ciderhouse Cookbook
127 Recipes That Celebrate the Sweet, Tart, Tangy Flavors of Apple Cider
Paperback

* Individual store prices may vary.
Description
Inspired by the full flavors emanating from their idyllic ciderhouse located in the heart of a rustic New England apple orchard, Jonathan Carr and Nicole Blum's recipes, developed in collaboration with chef Andrea Blum, celebrate the versatility of fresh cider in all its forms.

Ciderhouse Cookbook teaches home cooks how to make a full array of traditional cider products, including cider syrups, molasses, vinegars, shrubs, and switchels, as well as apple preserves. The 127 cider-enriched recipes that follow are simple yet elegant, ranging from Oven-Roasted Asparagus with Garlicky Apple Vinaigrette to Braised Lamb Stew with Apples, Switchel, and Yogurt Mint Sauce; Cider Mimosas; Apple Pommeau Cake; and Crêpes with Fried Apples and Cider Caramel Sauce. With beautiful photography that captures the ambiance of the ciderhouse, this book is a deliciously loving tribute to America's favorite fruit.
Praise For Ciderhouse Cookbook: 127 Recipes That Celebrate the Sweet, Tart, Tangy Flavors of Apple Cider…
"From the folks who make the delicious Carr's Ciderhouse products, this book pays tribute to apples and cider in a beautiful way, with recipes for making cider, syrups, vinegars, and shrubs, along with creative ways to use cider in salads, soups, galettes, and desserts." — Kathy Gunst, Resident Chef for NPR's Here and Now and cookbook author

"Get ready to geek out on apple cider and be inspired! This book will give you all sorts of clever ideas for ways to use all forms of cider, with great recipes and gorgeous photos."— Sandor Ellix Katz, author of Wild Fermentation and The Art of Fermentation

"A treasure trove of sweet and savory recipes. I have been obsessed with apples for more than a decade, but this book leaves me newly inspired." Amy Traverso, Senior Food Editor, Yankee Magazine, author, The Apple Lover's Cookbook

"A delicious and inspiring guide for the creative home cook." — Ben Watson, author of Cider, Hard and Sweet

"A beautiful tribute to the iconic American tradition of cider and its many forms." — Sarah Weiner, Founder of the Good Food Awards

"You'll discover hundreds of ways to appreciate this versatile fruit. And by all means, try the Stone Wall cocktail…cider and bourbon are a match made in heaven!" — Ellen Zachos, author of The Wildcrafted Cocktail

"There is so much to learn from this beautiful book. Andrea, Nicole, and Jonathan have made homey, honest apple cider exciting, inviting, and relevant again!"— Cal Peternell, author of Twelve Recipes and host of Cooking By Ear podcast

"A testament to what Mother Nature can provide and what can be prepared and plated after she delivers. If you don't love the apple and its cider before reading this book, you certainly will after." — Erin James, Editor-in-Chief, CIDERCRAFT Magazine, author of Tasting Cider
 
Storey Publishing, LLC, 9781612129402, 232pp.
Publication Date: August 7, 2018
About the Author
Jonathan Carr is a coauthor of
Ciderhouse Cookbook.
He is a cidermaker and orchardist at Carr's Ciderhouse in Hadley, Massachusetts, and his hard ciders, syrups, and vinegars have been featured in the
New York Times
, the 
Wall Street Journal
, and in
Town and Country
 and
CiderCraft
 magazines. Carr is passionate about traditional hard cider, pest- and disease-resistant apple cultivars, as well as low-input, sustainable orchard systems.   
Nicole Blum is a coauthor of Ciderhouse Cookbook, Stitch Camp, and Improv Sewing. She runs Carr's Ciderhouse in Hadley, Massachusetts, with her husband, Jonathan Carr. Blum is an artist and crafter whose work has been featured in FamilyFun and Parents magazines. 
 
Andrea Blum is a coauthor of
Ciderhouse Cookbook
. She is a chef and culinary artist in residence at the Montalvo Arts Center in Saratoga, California, and has written for
Saveur
,
Gourmet
, and 
Edible Communities
. Blum is the founder of My American Pantry — a national atlas celebrating American artisanal food and drink.  
or
Not Currently Available for Direct Purchase