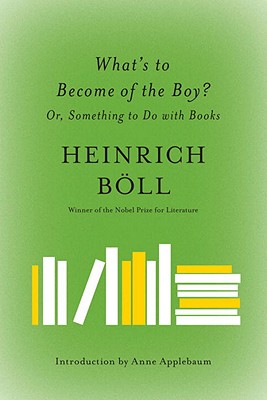 What's to Become of the Boy?: Or, Something to Do with Books (Paperback)
Or, Something to Do with Books
Melville House Publishing, 9781612190013, 82pp.
Publication Date: December 6, 2011
Description
A vivid account of growing up poor, rebellious, and anti-Fascist in Nazi Germany
What's to Become of the Boy? is a spirited, insightful, and wonderfully sympathetic memoir about life during wartime written with the characteristic brilliance by one of the 20th-century's most celebrated authors. It is both an essential autobiography of the Nobel Prizewinning author and a compelling memoir of being young and idealistic during an age of hardship and war.
About the Author
In 1972, Heinrich Boll became the first German to win the Nobel Prize for literature since Thomas Mann in 1929. Born in Cologne, in 1917, Boll was reared in a liberal Catholic, pacifist family. Drafted into the Wehrmacht, he served on the Russian and French fronts and was wounded four times before he found himself in an American prison camp. After the war he enrolled at the University of Cologne, but dropped out to write about his shattering experiences as a soldier. His first novel, The Train Was on Time, was published in 1949, and he went on to become one of the most prolific and important of post-war German writers. His best-known novels include Billiards at Half-Past Nine (1959), The Clown (1963), Group Portrait with Lady (1971), and The Safety Net (1979). In 1981 he published a memoir, What's to Become of the Boy? or: Something to Do with Books. Boll served for several years as the president of International P.E.N. and was a leading defender of the intellectual freedom of writers throughout the world. He died in June 1985.
Praise For What's to Become of the Boy?: Or, Something to Do with Books…
"Böll's writing is filled with a bleak beauty that unflinchingly gazes upon the sources of both the bleakness and the beauty of life …" —The Rumpus

"What's to Become of the Boy? makes an ideal short introduction to Böll. At the same time, it offers an unusual perspective on Hitler's rise to power: The rise of totalitarianism and the stultification of civil society, as seen through the eyes of a teenage boy." —Anne Applebaum (from the new introduction)

"[P]ared down prose, lean but sturdy, subtle yet unsettling, always with the power to provoke and to devastate." 
—The Quarterly Conversation 
Advertisement