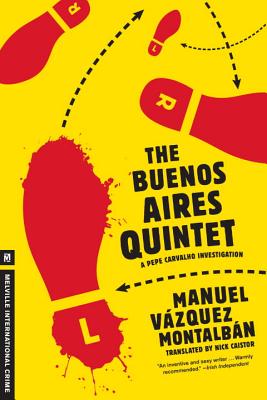 The Buenos Aires Quintet (Paperback)
Melville House Publishing, 9781612190341, 377pp.
Publication Date: March 27, 2012
Description
Assignment: Finding one of Argentina's 30,000 "Disappeared" ... likely outcome: Becoming one yourself.
The Argentine army's "Dirty War" disappeared 30,000 people, and the last thing Pepe Carvalho wants is to investigate one of the vanished, even if that missing person is his cousin. But blood proves thicker than a fine Mendoza Cabernet Sauvignon, even for a jaded gourmand like Pepe, and so at his family's request he leaves Barcelona for Buenos Aires.
What follows is perhaps Manuel Vazquez Montalban's masterpiece: a combination white-knuckle investigation and moving psychological travelogue. Pepe quickly learns that "Buenos Aires is a beautiful city hell-bent on self-destruction," and finds himself on a trail involving boxers and scholars, military torturers and seductive semioticians, Borges fans and cold-blooded murderers.
And despite the wonders of the Tango and the country's divine cuisine, he also knows one thing: He'll have to confront the traumas of Argentina's past head on if he wants not only to find his cousin, but simply stay alive.
About the Author
Born in Barcelona in 1939, MANUEL VAZQUEZ MONTALBAN (1939-2003) was a member of Partit Socialista Unificat de Catalunya (PSUC), and was jailed by the Franco government for four years for supporting a miners' strike. A columnist for Madrid's El Pais, as well as a prolific poet, playwright, and essayist, Vazquez Montalban was also a well-known gourmand who wrote often about food. The nineteen novels in his Pepe Carvalho series have won international acclaim, including the Planeta prize (1979) and the International Grand Prix de Litterature Policiere (1981), both for Southern Seas. He died in 2003 in Thailand, on his way home to Barcelona. NICK CAISTOR'S translations from the Spanish and the Portuguese include works by Jose Saramago and Paulo Coelho, and he is the author of Che Guevara: A Life.
Praise For The Buenos Aires Quintet…
"Montalbán does for Barcelona what Chandler did for Los Angeles— he exposes the criminal power relationships beneath the façade of democracy."
— THE GUARDIAN

"Montalbán writes with authority and compassion— a le Carré-like sorrow."
— PUBLISHERS WEEKLY
"What's not to like about a detective who, at the end of a hard day's sleuthing, rustles up a duck ragout at 1 in the morning and then sits down to eat it?" — THE DAILY BEAST

"A writer who is caustic about the powerful and tender towards the oppressed."
— TIMES LITERARY SUPPLEMENT

"Carvalho travels down the mean calles with humor, perception, and compassion."
— THE TIMES (LONDON)

"Does for modern Barcelona what Dickens did for 19th century London."
—TOTAL

"Carvalho is funny . . . scathingly witty about the powerful. He is an original eccentric, burning books and cooking all night. Like Chandler's Phillip Marlowe, he is a man of honor walking the mean streets of a sick society."
— THE INDEPENDENT (LONDON)

"A sharp wit and a knowing eye."
— SUNDAY TIMES (LONDON)
Advertisement