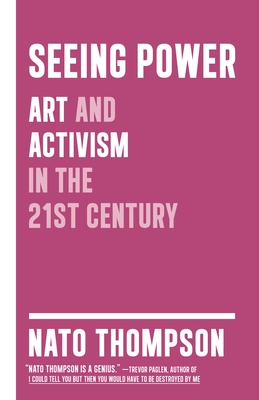 Seeing Power (Hardcover)
Art and Activism in the Twenty-first Century
Melville House, 9781612190440, 176pp.
Publication Date: August 18, 2015
* Individual store prices may vary.
Description
In our chaotic world of co-opted imagery, does art still have power?

A fog of images and information permeates the world nowadays: from advertising, television, radio, and film to the glut produced by the new economy and the rise of social media . . . where even our friends suddenly seem to be selling us the ultimate product: themselves.

Here, Nato Thompson—one of the country's most celebrated young curators and critics—investigates what this deluge means for those dedicated to socially engaged art and activism. How can anyone find a voice and make change in a world flooded with such pseudo-art? How are we supposed to discern what's true in the product emanating from the ceaseless machine of consumer capitalism, a machine that appropriates from art history, and now from the methods of grassroots political organizing and even social networking?

Thompson's invigorating answers to those questions highlights the work of some of the most innovative and interesting artists and activists working today, as well as institutions that empower their communities to see power and reimagine it. From cooperative housing to anarchist infoshops to alternative art venues, Seeing Power reveals ways that art today can and does inspire innovation and dramatic transformation . . . perhaps as never before.
About the Author
NATO THOMPSON is a writer and curator whose work primarily focuses on the intersection of art, politics, and the city. He has curated numerous large-scale exhibitions and projects both at the public arts institution Creative Time, where he is chief curator, and as a Curator at MASS MoCA. He is the editor of The Interventionists: A Users' Manual for the Creative Disruption of Everyday Life, and author of Experimental Geography: Radical Approaches to Landscape, Cartography, and Urbanism (Melville House), and Ahistoric Occasion: Artists Making History. He lives in Philadelphia.
Praise For Seeing Power: Art and Activism in the Twenty-first Century…
Praise for Seeing Power

"Like an updated version of John Berger's groundbreaking Ways of Seeing, Nato Thompson's Seeing Power delivers a smart, accessible introduction to the prevailing artistic predicaments of our time. Written by one of our leading public intellectuals, it covers a wide range of key issues from the cultural politics of Occupy Wall Street; to the use and abuse of accumulated social capital; to the perennial antagonism between sophisticated cultural ambiguity and didactic, artistic impact. Seeing Power is a twenty-first-century user's manual for the social responsible artist, critic, and curator."
—Gregory Sholette, author of Dark Matter: Art and Politics in the Age of Enterprise Culture

"A thought- provoking manifesto on the artist's position within a system where making money is inextricably linked to producing culture...Seeing Power isn't only for artists and activists. It is for anyone willing to re-think their consumer habits and ready to identify the power structures that heavily influence our day-to-day behaviours." 
—Peace News 

Praise for Experimental Geography

"Living in cities, we need a new way to think about how we move and what we notice . . . This strange, exciting book offers just that—a new way to notice public space. It is the brainchild of Nato Thompson: the results of his fascinations with urban planning post-Katrina, abandoned or unnoticed urban landscapes and public art."
—Susan Salter Reynolds, Los Angeles Times

"What could be more delightful—and unsettling—than turning loose a group of contemporary surrealists, disguised as vagabonds and artists, in the ripe fields of the hyperreal? Experimental Geography isn't about space; it is about terminal strangeness."
—Mike Davis, author of Ecology of Fear and City of Quartz

"Another step in the ongoing quest for social energies not yet recognized as art . . . exploring the politics and infrastructures that can either change or stall the world."
—Lucy Lippard, author of The Lure of the Local
or
Not Currently Available for Direct Purchase