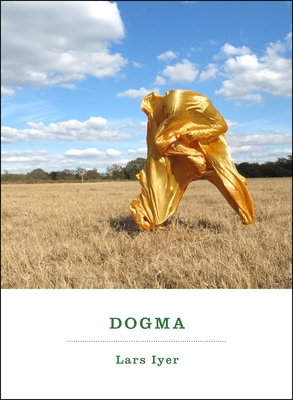 Dogma
A Novel
Paperback

* Individual store prices may vary.
Description
A plague of rats, the end of philosophy, the cosmic chicken, and bars that don't serve Plymouth Gin—is this the Apocalypse or is it just America?
 
"The apocalypse is imminent," thinks W. He has devoted his life to philosophy, but he is about to be cast out from his beloved university. His friend Lars is no help at all—he's too busy fighting an infestation of rats in his flat. A drunken lecture tour through the American South proves to be another colossal mistake. In desperation, the two British intellectuals turn to Dogma, a semi-religious code that might yet give meaning to their lives.
 
Part Nietzsche, part Monty Python, part Huckleberry Finn, Dogma is a novel as ridiculous and profound as religion itself. The sequel to the acclaimed novel Spurious, Dogma is the second book in one of the most original literary trilogies since Molloy, Malone Dies and The Unnamable.
Praise For Dogma: A Novel…
Praise for Dogma

"Dogma by Lars Iyer is the kind of book that we are always told never gets published any more: uncompromisingly intellectual, passing strange and absurdly funny. If Lars Iyer hadn't already written Spurious, it would be possible to call his second novel a unique event. As it is, it's just more of the same, only better. Iyer's weird talent continues to grow, and the misadventures of his miserable characters are starting to seem like the brightest things in modern British fiction." -- The Guardian (chosen as one of 2012's Best Books of the Year)

" Uproarious." 
—New York Times Book Review

"Dogma, like its prequel Spurious, is provocative in its arguments, scrupulously plain in its style and excoriating in its honesty. Iyer is an author who rejects the parochialism and timidity we too often associate with British novelists in favour of an ugly grapple with the big themes."
—The Spectator

"More or less plotless novels about a couple of bickering, self-pitying intellectuals and their recondite obsessions ought to be tiresome slogs, but Lars and W.'s circular and frequently repetitive dialogue is so witheringly, gut-bustingly funny that Spurious and Dogma both maintain a madcap forward momentum even as their characters remain stalled."
—The New Inquiry

"[Dogma] brings back W. and Lars, the most unlikely and absurd literary duo since Samuel Beckett's Vladimir and Estragon....Like Godot, this novel is a philosophical rumination, at once serious and playful, on the nature of existence and meaning. While it's comic, there is at bottom a profoundly tragic sense of the chaos and emptiness of modern life. Despair has rarely been so entertaining."
—Library Journal

"The United Kingdom has a Thomas Bernhard, and his name is Lars Iyer....Dogma is hilarious and bleak and loaded with illuminating, brilliant passages, and Iyer's rapid-fire staccato prose is well-suited to the task. For those who like their dark, difficult books to be funny."
—Hey, Small Press!

"Brilliantly written and very funny, operating like a combination between Waiting for Godot and Withnail and I."
—The Millions

"[T]his book is first and foremost spectacularly funny, full of insults, observations, and absurdities that seem appropriate for these times of crisis and austerity."
—Full Stop

"[T]here is then a lot to enjoy, if not much to move you."
—Quarterly Conversation

"[S]uperbly accomplished absurdity."
—The Rumpus

"Lars Iyer's work ranks alongside the hauntological novels of Tom McCarthy and Lee Rourke, which excavate the lost futures of literary modernity."
—Bookslut

"The epithet 'Beckettian' is perhaps the most overused in criticism, frequently employed as a proxy for less distinguished designations such as 'sparse' or 'a bit depressing'. But Lars Iyer's fiction richly deserves this appellation. His playfully spare—and wryly depressing—landscape, incorporating a bickering double act on a hopeless, existential journey, is steeped in the bathos, farce, wordplay and metaphysics of the man John Calder referred to as 'the last of the great stoics', its characters accelerating towards a condition of eternal silence, fuelled only by the necessity of speaking out."
—The Times Literary Supplement

Praise for Spurious
 
"It's wonderful. I'd recommend the book for its insults alone."
—Sam Jordison, The Guardian
 
"I'm still laughing, and it's days later."
—The Los Angeles Times
 
"Fearsomely funny."
—The Washington Post
 
"Viciously funny."
—San Francisco Chronicle
 
"A tiny marvel.... [A] wonderfully monstrous creation."
—Steven Poole, The Guardian
 
"This novel has a seductive way of always doubling back on itself, scorching the earth but extracting its own strange brand of laughter from its commitment to despair."
—The Believer
 
"Ought to be unreadable, but manages to be intelligent, wildly entertaining, and unexpectedly moving instead."
—The Millions
Melville House, 9781612190464, 224pp.
Publication Date: February 21, 2012
About the Author
Lars Iyer is a lecturer in philosophy at Newcastle University, Newcastle upon Tyne. He is the author of the novel Spurious, two books on Blanchot (Blanchot's Communism: Art, Philosophy, and the Political and Blanchot's Vigilance: Phenomenology, Literature, and the Ethical) and his blog Spurious.
or
Not Currently Available for Direct Purchase