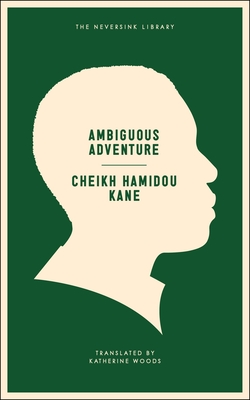 Ambiguous Adventure (Neversink)
Paperback

* Individual store prices may vary.
Description
The celebrated classic by a groundbreaking figure in African literature addresses a critical contemporary issue—the collision of Islamic African values and Western culture.

Hailed by Chinua Achebe as one of the greatest African novels ever written, this long-unavailable classic tells the tale of young Samba Diallo, a devout pupil in a Koranic school in Senegal whose parents send him to Paris to study philosophy.

But unknown to Samba, it is a desperate attempt by his parents to better understand the French colonial forces transforming their traditional way of life. Instead, for Samba, it seems an exciting adventure, and once in France he excels at his new studies and is delighted by his new "marvelous comprehension and total communion" with the Western world.

Soon, though, he finds himself torn between the materialistic secularism and isolation of French civilization and the deeper spiritual influences of his homeland. As Samba puts it: "I have become the two."

Written in an elegant, lyrical prose, Ambiguous Adventure is a masterful expression of the immigrant experience and the repercussions of colonialism, and a great work of literature about the uneasy relationship between Islamic Africa and the West—a relationship more important today than ever before.
Praise For Ambiguous Adventure (Neversink)…
"Ambiguous Adventure is hauntingly urgent, provocative and occasionally overpowering." —Nick DiMartino, Shelf Awareness

"A fine novel. . . The philosophical dialogue between the West and Africa has rarely been better presented than in Ambiguous Adventure. . . The hero of the novel, the deliverer-to-be and paragon of the new generation, returns from France a total spiritual wreck, his once vibrant sense of community hopelessly shattered. Summoned to assume the mantle of leadership, his tortured soul begs to be excused, to be left alone. 'What have their problems to do with me?' he asks. 'I am only myself. I have only me.' Poor fellow; the West has got him!"
—Chinua Achebe, author of Things Fall Apart

"From within his profoundly Muslim personality, Diallo mani- fests the quintessence of African humanity and the destiny of the black race."
—Wole Soyinka, Nobel Laureate

"My favorite novel. . . a complicated but brilliant novel about interracial relations."
—Angélique Kidjo, Grammy Award– winning singer-songwriter

"It is a work that summarizes and brings into focus the ideas and attitudes that lie at the center of inspiration of all French African writing."
—Abiola Irele, Lectures Africanes

"Lucid and philosophical." —The Brooklyn Rail

"Exceptionally beautiful. . . . highly original. . . oddly moving. Ambiguous Adventure is an indispensable book for anyone wish- ing to delve into the psychology of colonialism."
—Words Without Borders

"Cheikh Hamidou Kane, avoiding the temporal and political ele- ment of his subject matter, the anguish of being black, lands upon a reflection that concerns us all: the anguish of being human."
—J. Chevrier, Le Monde

"It has passages of extravagant mysticism ... leaves a strong impression of a writer who has thought deeply about questions of modernity and tradition."
—Inside Story
Melville House, 9781612190549, 176pp.
Publication Date: April 10, 2012
About the Author
CHEIKH HAMIDOU KANE was born in 1928 in Mataru, Sen- egal, the son of a local chief. Having started at a Koranic school, he went on to a local French primary school, and eventually was sent off to read philosophy and law at the Sorbonne in Paris. Subsequently, he studied at the École Nationale de la France d'Outre-Mer, which had been founded by the French government to train colonial administrators. During Kane's years in Paris he wrote a novel based closely on his experience, Ambiguous Adventure, and after his return to Senegal in 1959 he set about getting it published, while also taking a job as a governmental bureaucrat. The novel was published in 1961 to immediate acclaim, and the following year won the Grand Prix Littéraire d'Afrique Noir. Kane meanwhile went on to rise in ministerial positions in the Senegalese government, serving as Director of the Department of Economic Planning and Development, Governor of the Region of Thies, and Commissioner of Planning. He has also worked for UNICEF in Lagos and Abidjan. Kane lives in Dakar.

KATHERINE WOODS, besides being known for her translation of Ambiguous Adventure, is perhaps best known for her 1943 translation of Antoine de Saint-Exupéry's The Little Prince.
or
Not Currently Available for Direct Purchase