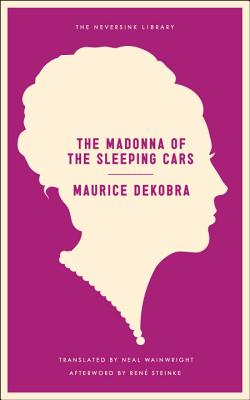 The Madonna of the Sleeping Cars (Paperback)
Melville House Publishing, 9781612190587, 259pp.
Publication Date: October 2, 2012
* Individual store prices may vary.
or
Not Currently Available for Direct Purchase
Description
One of the biggest bestsellers of all time, and one of the first and most influential spy novels of the twentieth century, is back in print for the first time since 1948
Alan Furst fans will note that train passengers in his bestselling thrillers are often observed reading "The Madonna of the Sleeping Cars." It's a smart detail: First published in 1927, the book was one of the twentieth century's first massive bestsellers, selling over 15 million copies worldwide.
It's the story of two tremendously charming characters who embark on a glamorous adventure on the Orient Express--and find themselves on a thrilling ride across Europe and into the just-barely unveiled territories of psychoanalysis and revolutionary socialism.
Gerard Seliman--technically, a Prince--is so discouraged by the demise of his marriage that he flees to London to become the personal assistant of a glamorous member of the British peerage, Lady Diana Wyndham. But he soon finds himself involved in a wild scheme by Lady Diana to save herself from looming financial ruin while simultaneously fending off rich lotharios. At the center of it all: a plan to rescue her rights to a Russian oil field now under the control of revolutionaries who don't like capitalists.
The book that set the standard for intellectual thrillers of political and social intrigue, "The Madonna of the Sleeping Cars," with its jetsetting and witty protagonists, is still as fresh a page-turner as ever--and as fun.
About the Author
Maurice Dekobra was born in Paris in 1885 and first became known as a subversive journalist before becoming one of Europe's biggest bestselling novelists in the 1920s and '30s. He taught at the University of Berlin, shot big game in Africa, canoed on the Nile, and translated Defoe, Jack London, and O. Henry (among others) into his native French. In Europe, he remains an author of great renown--even meriting his own adjective, "dekobrisme," for his stylistic invention.

Neal Wainwright translated many of Maurice Dekobra's books and the two became close friends--so close that Dekbobra dedicated "The Madonna of the Sleeping Cars" to him.

Rene Steinke is the author of the novels "The Fires" and "Holy Skirts "(2005 National Book Award finalist), a fictionalized account of the life of the artist Baroness Elsa von Freytag-Loringhoven." "Her articles have appeared in the "New York Times, Vogue, Bookforum, TriQuarterly "and elsewhere, and she teaches writing at Fairleigh Dickinson University.
Praise For The Madonna of the Sleeping Cars…
"A rollicking, elegant novel … it gives the 21st-century reader a sense of the kind of book that used to be called a 'racy French novel.' What a treat to have it back in print."
—Dennis Drabelle, The Washington Post

"Exquisite ... the kind of book that gets described as 'a delightful romp' in press materials, and that's not an inaccurate description of a book that functions beautifully as both send-up of high society and globe-spanning adventure story, but the novel has a deathly serious core. The featherweight prose proves a brilliant set-up for the darkness that Séliman encounters when he's eventually sent into the Soviet Union ..."
—Emily St. John Mandel, The Millions

"A tale M. Dekobra told so artfully that it tore through five editions like a sickle-bar mower."
—S.J. Perelman, The New Yorker (1949)

Advertisement