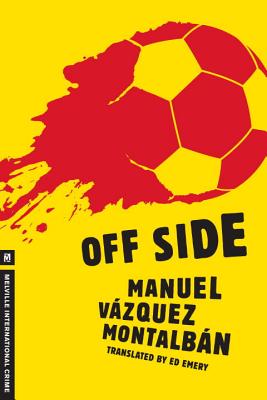 Off Side (Paperback)
Melville House Publishing, 9781612191157, 275pp.
Publication Date: July 17, 2012
Description
Barcelona's new soccer star is receiving death threats and Pepe Carvalho, gourmet gumshoe and former political prisoner under Franco, is hired to find out who's behind it.
Pepe Carvalho is set to retire. Content to live out the rest of his days enjoying the best food and wine Catalonia has to offer, his plans are put on hold when an executive from Barcelona's world-famous soccer team pays him a visit. "The center forward will be killed at dusk," reads the note the executive gives to Carvalho.
With that, the detective, former communist, and one-time employee of the CIA, must find out where this note is from. Is the threat real? Is it the work of one person? Or is it one of the real estate moguls tearing Barcelona apart in their battle over the most important properties of Catalonia?
Here Montalban does for the game of soccer what he has done for food. In an exquisite portrait of Spain's most beloved sport, soccer and politics mix in a gripping mystery about the reckless excesses--and limits--of power.
About the Author
Poet, playwright, essayist, and novelist Manuel Vazquez Montalban (1939-2003) was one of modern Spain's greatest writers. A politically active leftist as a young man, he was jailed under Franco for four years for supporting a miners' strike. As an adult, he also became a gourmand, and wrote often about food. His Pepe Carvalho series--set in Montalban's native Barcelona--has won international acclaim, including the Planeta prize (1979) and the International Grand Prix de Litterature Policiere (1981). Ed Emery has also translated Mohamed Choukri, Antonio Negri, and Dario Fo.
Praise For Off Side…
"The most original detective to come along in an age and the mix of political intrigue, Barcelona style, and Catalan cooking tips, makes for a great read."
—Venue

"Pepe Carvalho is a phlegmatic investigator. His greatest concern is with his stomach, but when not pursuing delicacies, he can unravel the most tangled of mysteries."                  
—Sunday Times
 
"Montalbán writes with authority and compassion—a Le Carré-like sorrow."
—Publishers Weekly


"A sharp observer of the high and the low."
—Detectives Beyond Borders
Advertisement