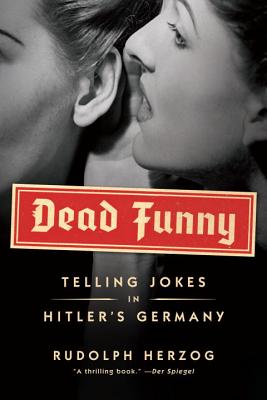 Dead Funny: Telling Jokes in Hitler's Germany (Paperback)
Telling Jokes in Hitler's Germany
Melville House Publishing, 9781612191300, 250pp.
Publication Date: August 7, 2012
* Individual store prices may vary.
or
Not Currently Available for Direct Purchase
Description
In Nazi Germany, telling jokes about Hitler could get you killed
Hitler and Goring are standing on top of the Berlin radio tower. Hitler says he wants to do something to put a smile on the Berliners' faces. Goring says, "Why don't you jump?"
When a woman told this joke in Germany in 1943, she was arrested by the Nazis and sentenced to death by guillotine--it didn't matter that her husband was a good German soldier who died in battle.
In this groundbreaking work of history, Rudolph Herzog takes up such stories to show how widespread humor was during the Third Reich. It's a fascinating and frightening history: from the suppression of the anti-Nazi cabaret scene of the 1930s, to jokes made at the expense of the Nazis during WWII, to the collections of "whispered jokes" that were published in the immediate aftermath of the war.
Herzog argues that jokes provide a hitherto missing chapter of WWII history. The jokes show that not all Germans were hypnotized by Nazi propaganda, and, in taking on subjects like Nazi concentration camps, they record a public acutely aware of the horrors of the regime. Thus Dead Funny is a tale of terrible silence and cowardice, but also of occasional and inspiring bravery.
About the Author
RUDOLPH HERZOG is a historian and filmmaker. His documentary on humor in the Third Reich, Laughing With Hitler, scored top audience ratings on German Channel 1 and the BBC. The son of celebrated director Werner Herzog, he lives in Berlin. Jefferson Chase is one of the foremost translators of German history. He has translated Wolfgang Scivelbusch, Thomas Mann and Gotz Aly, among many others.
Praise For Dead Funny: Telling Jokes in Hitler's Germany…
"Dead Funny isn't just a book of wildly off-limits humor. Rather, it's a fascinating, heartbreaking look at power dynamics, propaganda, and the human hunger for catharsis."
—The Atlantic, Best Books of 2012

"You've never seen Nazi Germany like this." —The Stranger (Seattle)

"A concise, compelling book." —The Independent
 
"Fascinating... Intriguing....Herzog, the son of the film-maker Werner Herzog, shares his father's curious and mordant wit." —The Financial Times
 
"Dead Funny's real value lies in the way it situates anti-Nazi folk humor in the shifting historical context of this grim bygone era, and the fact that the author is able to resuscitate such obscure jokes verbatim is a phenomenal feat … [the] book's strikingly original historical research sets it apart from the glut of dry tomes which are still being cranked out about Nazi history." —Time Out (New York)
 
"Chilling....[Herzog] shows, in unadorned language, the process of propagandising and the psychological capitulation of many Germans to the Nazis' will." —PopMatters

"Herzog's thesis is that, during the Third Reich, Germans relished jokes about their leaders. Throughout Hitler's 12 years in power, there were plenty of caustic gags doing the rounds—about Dr Goebbels' club foot, or Hitler's limp Nazi salute, which made him look like a waiter carrying a tray, or the widely held suspicion that Goering wore his medals in the bath."  —The Guardian
 
"Herzog demolishes the idea that Germans didn't know what the Nazis were up to: there were many, many concentration camp jokes. Germans under Hitler seemed to find it natural, and kind of funny, that 'troublemakers'—including Jews and dissidents—should end up behind barbed wire." —Macleans

Praise for the German Edition

"A thrilling book."
—Der Spiegel

"The first comprehensive book on comedy and humor in the Third Reich. [...] The author brings together all manifestations of humor--wit, newspaper cartoons, cabaret, variety shows, entertainment, film, pop songs, and musicals... An important history."
—Suddeutsche Zeitung
Advertisement