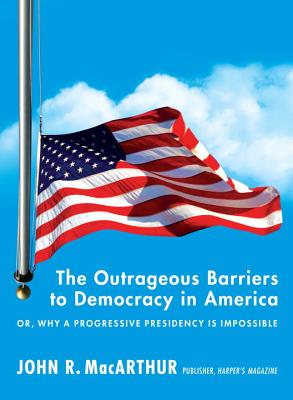 The Outrageous Barriers to Democracy in America: Or, Why a Progressive Presidency Is Impossible (Paperback)
Or, Why a Progressive Presidency Is Impossible
Melville House Publishing, 9781612191379, 288pp.
Publication Date: September 18, 2012
* Individual store prices may vary.
or
Not Currently Available for Direct Purchase
Description
The publisher of Harper's Magazine presents "an able, witty, and suitably pissed-off guide" (Bookforum) to American politics Barack Obama swept into the White House in January 2009 still floating--or so it appeared to millions of his admirers--high above the crude realities of contemporary American political life. Old-fashioned landmarks--party loyalty, ideology, campaign fundraising, patronage, corruption, even race--seemed hopelessly outdated as points of reference for understanding what was trumpeted as a new phenomenon in the nation's civic history. But nearly four years after Barack Obama's election, elite interests in America remain triumphant. Nearly all measures of inequality continue to rise. And barriers to entry to our political process have reached nearly insurmountable heights. Looking closely at Congress, elections, and money in politics, and sparing neither side of the political spectrum, John R. Mac-Arthur delivers a devastating expose of the entrenched interests and elites that make change in America--even by a supposedly progressive president--so arduous. What, Mac-Arthur asks, could change this system?
About the Author
John R. MacArthur is the president and publisher of Harper's Magazine. An award-winning journalist, he has previously written for The New York Times, United Press International, The Chicago Sun-Times, and The Wall Street Journal. He is also the author of the acclaimed books The Selling of Free Trade: NAFTA, Washington, and the Subversion of American Democracy, and Second Front: Censorship and Propaganda in the Gulf War. He lives in New York City.
Praise For The Outrageous Barriers to Democracy in America: Or, Why a Progressive Presidency Is Impossible…
"This book lays bare the malfunctions of our democracy and the solutions in a superb literary style and a convincing manner." —George McGovern, Democratic candidate for President, 1972

"If national campaigns are exhibitions of elaborate theater and Cicero and Machiavelli wrote scripts that candidates would be wise to recite, MacArthur, the former investigative reporter and publisher of Harper's Magazine, cuts down the curtain to expose the direction, stage setting, and choreography that takes place behind the scenes.... MacArthur's undressing of the American mythos posits that perhaps you can be president, but before you think about it, you better have the connections necessary to earn the approval of a major political machine, raise hundreds of millions of dollars, and please the media outlets that not only report, but shape the news."
—The Daily Beast, "10 Books to Read for the Election Season"

"A chapter-by-chapter postmortem of cherished American ideals. . . MacArthur's tone is wry-enraged, but he includes serious anecdotal discussion, looking at the startling numbers behind election-year pomp and following the end result of our politics to America's economically depressed, hollowed-out small cities." —Time Out Chicago

"His careful narrative of political power abuses, from the national to the local, from yesterday to today and maybe tomorrow, shows us that if we do not become committed as 'we the people,' we will continue to be ruled by 'they the corporations.' " —Ralph Nader

"A no-nonsense political reporter. . . a stiff antidote to the pleasant notion, voiced somewhere in this country every few milliseconds in an election year, that anyone, from any background, can grow up to be president." 
—Chicago Sun-Times

"A critique—cogent and mostly unassailable—of the corrupt, self-serving nature of contemporary American 'democracy'. . . Maybe a dozen more books like this one . . . and people's attention will finally be drawn to the rot in the system and away from fleeting symptoms of that rot." —
The Brooklyn Rail

"An able, witty, and suitably pissed-off guide."  —Bookforum

"A courageous book that takes a bold new approach in the field of American political science. It helps to explain how presidents are chosen and elected, including in the money-fueled 2008 contest. This singular work is thoroughly documented, clearly written and convincingly reasoned. I suggest that it be placed on the bookshelf—next to the Constitution and the Federalist Papers—by students, librarians and thoughtful voters." 
—Herbert Mitgang 
Society of American Historians and author of 
Abraham Lincoln: A Press Portrait

"This book had a profound impact, as indeed it should have for every American who reads it. It's an excellent, excellent book, perceptive and intelligent and inspiring." 
—John Anderson 
independent candidate for president, 1980

"This book challenges the 'wu wu' we all profess and preach to children: that anyone can be President. This is one of our nation's core beliefs, even though facts don't sustain it. I challenge you to read it and make your own decision as to whether our 'core belief' is reality or a total myth." 
—Patricia Schroeder 
Democratic candidate for President, 1988
Advertisement