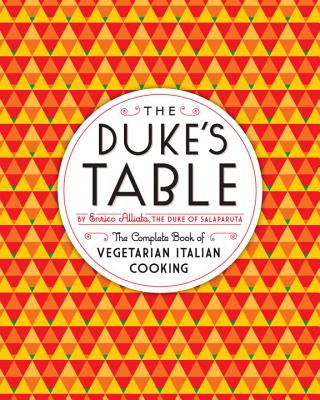 The Duke's Table: The Complete Book of Vegetarian Italian Cooking (Hardcover)
The Complete Book of Vegetarian Italian Cooking
Melville House Publishing, 9781612191393, 333pp.
Publication Date: March 26, 2013
* Individual store prices may vary.
or
Not Currently Available for Direct Purchase
Description
An encyclopedic collection of vegetarian recipes from Italy—learn how to make all of the classic dishes without meat

"Even though man can draw all he needs in the way of nourishment from a mere handful of seeds and fruit, he must not give up a proper meal."
—Enrico Alliata

Enrico Alliata, the Duke of Salaparuta (1879-1946), was a utopian gourmand and winemaker who espoused a vegetarian lifestyle and a raw foods diet at a time when the very notion was unheard of. He worked for decades to systematically re-imagine classic Italian dishes without meat. The result, first published in 1930, is a timeless reference work, with dishes that are surprising, inventive, and often decadent. 

Early chapters like "Appetizers and Salads" include recipes for inventive vegetarian sandwiches and crostini, as well as refreshing salads (and even a recipe for simple homemade ricotta cheese). "Broths and Purees" includes rich and flavorful vegetable broths, hearty purees, and pasta in broth, like vegetarian 'Agnollotti' in broth filled with parmesan and walnuts. 

The "First Courses, Pasta Dishes and Timballi" chapter is a comprehensive collection of authentic Italian recipes for gnocchi, risotto, polenta, ravioli, from Risotto 'alla Milanese' with saffron, nutmeg, and parmesan to Sicilian Style Gnocchi, with fried eggplant and tomato sauce.  "Luncheon Dishes, Vegetables, Legumes and Side Dishes" features preparations for eggplant and artichokes, and is a great go-to for quick side dishes and lighter vegetarian meals.  His main dishes chapters include a variety of casseroles and soufflés, and the Duke even has several preparations for mock meats, such as vegetarian "Foie Gras Mousse" made with ricotta cheese and black truffles.  

Much more than a recipe book, The Duke's Table is a major re-discovery and a fascinating look into the philosophy of a food revolutionary who was truly before his time.
About the Author
ENRICO ALLIATA, THE DUKE OF SALAPARUTA, (1879-1946) was born in Sicily. He studied music at the Conservatory of Milan but eventually gave up music to study agriculture and run the family wine business.

In 1824, Enrico's great-grandfather, Giuseppe Alliata ("Prince of Villafranca, Prince of the Holy Roman Empire, Grandee of Spain, and Duke of Salaparuta") founded the Corvo wine company to produce gifts for diplomats, ambassadors, princes, and noble ladies. Enrico later transformed the family vineyard into a successful international business.

Among many interests, Enrico Alliata was a dedicated student of diet and health. He wrote against the "dietary orthodoxy" of the day and advocated a vegetarian diet, which he believed could prolong human life to 130 years and which he called "absolutely regenerative."

To Alliata, however, vegetarianism was no impediment to a good meal: he often hosted six-course vegetarian feasts, which he believed to be--along with the house wine--a "solution to human happiness."
Praise For The Duke's Table: The Complete Book of Vegetarian Italian Cooking…
"Italians are masters of vegetarian cuisine, as this compendium attests. […] The book is impressive in its variety and breadth." —La Cucina Italiana
 
"[Alliata] exhibits a puckish sense of humor... A novel system of serially numbering recipes makes cross-referencing a breeze and deserves to set a new model for cookbook organization." —Booklist

"A fascinating and fresh spin on Italian food."—Publishers Weekly
Advertisement