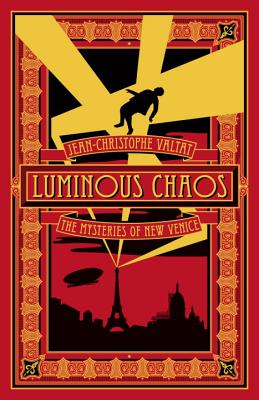 Luminous Chaos (Hardcover)
A Novel (The Mysteries of New Venice)
Melville House, 9781612191416, 528pp.
Publication Date: October 15, 2013
* Individual store prices may vary.
Description
Book two in The Mysteries of New Venice, the steampunk adventure series The Guardian called a "magnificent achievement"

It's 1907 in the icily beautiful New Venice, and the hero of the city's liberation, Brentford Orsini, has been deposed by his arch-rival -- who immediately assigns Brentford and his friends on a dangerous diplomatic mission to Paris.

So, Brentford recruits his old friend and louche counterpart, Gabriel d'Allier, underground chanteuse and suffragette Lillian Lake, and the mysterious Blankbate--former Foreign Legionnaire and leader of the Scavengers, the city's garbage collecting cult--and others, for the mission.

But their mode of transportation--the untested "transaerian psychomotive"--proves faulty and they find themselves transported back in time to Paris 1895 ... before New Venice even existed. What's more, it's a Paris experiencing an unprecedented and crushingly harsh winter.

They soon find themselves involved with some of the city's seediest, most fascinating inhabitants. But between attending soirees at Mallarmé's house, drinking absinthe with Proust, trying to wrestle secrets out of mesmerists, and making fun of the newly-constructed Eiffel Tower, they also find that Paris is a city full of intrigue, suspicion, and danger.

For example, are the anarchists they encounter who are plotting to bomb the still-under construction Sacre Coeur church also the future founders of New Venice? And why are they trying to kill them?

And, as Luminous Chaos turns into another lush adventure told in glorious prose rich in historical allusion, there's the biggest question of them all: How will they ever get home?



ebook ISBN: 978-1-61219-142-3
About the Author
JEAN-CHRISTOPHE VALTAT was educated at the École Normale Supérieure And the Sorbonne. He is the author of 2010's steampunk favourite Aurorarama, to which Luminous Chaos is the sequel. He has also written three acclaimed books of literary fiction: Album, a collection of short stories, and the novels Exes and 03, the last of which was translated into English and published by Farrar, Straus, & Giroux.

MAHENDRA SINGH is an illustrator and longstanding Lewis Carroll fan. He is a member of the Lewis Carroll Society of North America, and an editor for their journal, the Knight Letter. For Melville House, he produced an illustrated version of Lewis Carroll's The Hunting of the Snark.
Praise For Luminous Chaos: A Novel (The Mysteries of New Venice)…
Praise for Aurorama:

Selected for Io9's 'Ten recent science fiction books that make great gifts'

"He is funny, intelligent, lyrically precise, and frequently self-aware." —JAMES WOOD, The New Yorker

"Aurorarama is a magnificent achievement, balancing serious intent with arch humour. It's also beautifully stylish, replete with inventive steampunk iconography and fantastical characters in a stunning polar setting." —The Guardian

"Aurorarama mesmerizes." —Bookforum

"The novel glides on silver skates from the surreal to the absurd to the languorously decadent ... New Venice is irresistible." —LAURA MILLER, Salon

"Aurorarama is perhaps what Jules Verne would write if woken from the dead and offered a dose of mushrooms. An enjoyable amalgam of thriller, fantasy, and polar adventure, topped off with a sprinkling of anarchist intrigue." —The National

"Marvelous, perfect, and perfectly marvelous!... I can hardly wait for its sequels." —PAUL DI FILIPPO, The Barnes and Noble Review

"The most noteworthy contribution to steampunk in almost two decades." —Pornokitsch

"Combining Arctic adventure with Victorian fantasy, this page-turner is as sparkling and colorful as the northern lights." —The San Francisco Chronicle

"Aurorarama entrances and delights. You could spend years picking apart the sly references and the particular myths, poems, novels and songs that inspired Valtat, or you can simply enjoy it for the experience." —JESSA CRISPIN, NPR

"Aurorarama tells a tale of political intrigue (secret police! Eskimos! Prisoner-esque hovering airship!) with some truly lyrical prose." —io9

"A terrific storyteller, Valtat mixes humor and poetry, romance and politics into a surprisingly thoughtful page-turner about social revolution." —MATTHEW JAKUBOWSKI, Paste Magazine
or
Not Currently Available for Direct Purchase