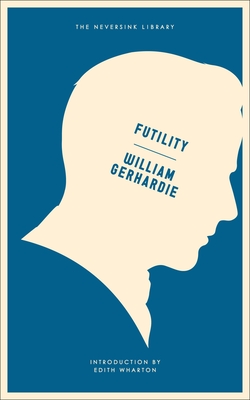 Futility (Paperback)
A Novel (Neversink)
Melville House, 9781612191454, 224pp.
Publication Date: October 2, 2012
Other Editions of This Title:
Paperback (9/17/1991)
Paperback (4/19/2018)
* Individual store prices may vary.
Description
Hailed by his famous contemporaries including Edith Wharton, H.G. Wells, Katherine Mansfield, Graham Greene, and Evelyn Waugh, who called him a "genius," William Gerhardie is one of the twentieth century's forgotten masters, and his lovely comedy Futility one of the century's neglected masterpieces.

It tells the story of someone very similar to Gerhardie himself: a young Englishman raised in Russia who returns to St. Petersburg and falls in love with the daughter of a hilariously dysfunctional family--all played out with the armies of the Russian Revolution marching back and forth outside the parlor window.

Part British romantic comedy, part Russian social realism, and with a large cast of memorable characters, this astoundingly funny and poignant novel is the tale of people persisting in love and hope despite the odds.
About the Author
WILLIAM GERHARDIE (1895–1977) was born "Gerhardi" in St. Petersburg, Russia, the son of British parents—he added the final "e" late in life. At the outbreak of World War I Gerhardie joined the army where his language skills led to assignment at the British Mission in Siberia. There he worked in a propaganda campaign aimed at disrupting the Bolshevik take-over of the country after the Russian Revolution (which had ruined his family and forced them to flee the country). Gerhardie's work earned him the Order of the British Empire at age 24. Upon his return to England, he enrolled at Oxford and soon produced his first novel, Futility, based on his recent experience in Russia. The book won praise from Evelyn Waugh, H.G. Wells, George Bernard Shaw, Edith Wharton, Graham Greene and others—but did not sell well. While still at school he wrote the first critical appreciation of Chekhov to appear in English, still cited by scholars as one of the most perceptive. Several critically celebrated novels followed, including The Polyglots, Doom, and Pending Heaven, and he became the toast of literary London. The press magnate Lord Beaverbrook doted on Gerhardie and tried, unsuccessfully, to increase Gerhardie's sales by serializing his books in his newspapers. In 1939, Gerhardie stopped publishing, although for the rest of his life he told friends he was working on a four-volume novel called The Present Breath. Gradually falling into poverty, he rarely left his London apartment, and when he died there in 1977, no trace of The Present Breath was found.
Praise For Futility: A Novel (Neversink)…
"To those of my generation he was the most important new novelist to appear in our young life. We were proud of his early and immediate success, like men who have spotted the right horse." -- Graham Greene

"I have talent, but he has genius." --- Evelyn Waugh

"[Futility] is a living book....it is warm. One can put it down and it goes on breathing." -- Katherine Mansfield

"Why was there no shouting about Gerhardie's Futility--shouting to reach the suburbs and the country towns? True, devastating. A wonderful book." -- H.G. Wells

"Mr. Gerhardie's novel is extremely modern; but it has bulk and form, a recognisable orbit, and that promise of more to come that one always feels latent in the beginnings of the born novelist" -- Edith Wharton

'William Gerhardie is our Gogol's Overcoat. We all came out of him.' -- Olivia Manning
'In my opinion Gerhardie has genius.' -- Arnold Bennett

'He is a comic writer of genius ... but his art is profoundly serious.' -- C. P. Snow
or
Not Currently Available for Direct Purchase