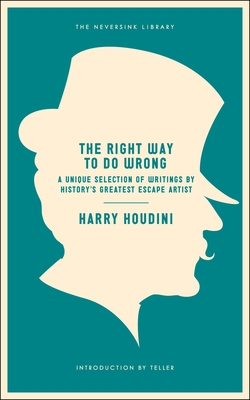 The Right Way to Do Wrong
A Unique Selection of Writings by History's Greatest Escape Artist (Neversink)
Paperback

* Individual store prices may vary.
Other Editions of This Title:
Paperback (3/15/2007)
Paperback (8/7/2014)
Paperback (12/2/2020)
Hardcover (10/17/2018)
Hardcover (10/7/2018)
Hardcover (8/7/2014)
Paperback (10/17/2018)
Hardcover (5/22/2010)
Hardcover (8/8/2015)
Paperback (5/1/2010)
Paperback (5/7/2012)
Paperback (10/7/2018)
Paperback (2/8/2015)
Paperback (3/20/2019)
Paperback (3/13/2014)
Description
One of the most intriguing and recognized figures of the twentieth century conducts a masterclass in subversion

Originally published in 1906, The Right Way to Do Wrong was a masterclass in subversion conducted by the world's greatest illusionist. It collected Hou­dini's findings, from interviews with criminals and police officers, on the most surefire ways to commit crime and get away with it.

This volume presents the best of those writings alongside little-known articles by Houdini on his own brand of deception: magic. Revealing the secrets of his signature tricks, including handcuff and rope escapes, and debunking the methods of his rivals, he proves  himself to be just as clever and nimble a writer as he was a magician—and surprisingly free with trade secrets! All of which makes this unique selection of works both the ultimate anti-etiquette guide and proof that things are not always as they seem.

In an exclusive introduction to this volume, Teller—magician, comedian, and silent sidekick of Penn Jillette—speaks up about the greatest magician of modern times.
Praise For The Right Way to Do Wrong: A Unique Selection of Writings by History's Greatest Escape Artist (Neversink)…
"Houdini was the scourge of spiritualists." —The Wall Street Journal

"There is no trick of the recognized masters, from Cagliostro's magic mirror to Kellar's Hindoo lamp and Maskelyne and Devant's Haunted Window, that Houdini did not succeed in fathoming and, when he liked, duplicating."  —The New York Times

"He was the wonder of the world in an old world hungry for wonders. . . He was the embodiment of something incredible. . . He came to represent the sum of all amazements." —The Guardian

"A master of cunning and endurance." —NPR

"He remains a mystery. His naivete and his shrewdness, his shyness and his exhibitionism, his kindness and his unforgiving antagonisms proclaim a complicated and unknowable man." —New York Review of Books

"He seemed to express in his whole being and in his whole deportment: 'I am who I am. I am the greatest. I am Harry Houdini.'"  —E.L. Doctorow

"Houdini is a witty writer and writes unselfconsciously about subjects that surely would have scandalized his contemporaries." —Reference and Research Book News

Melville House, 9781612191669, 160pp.
Publication Date: October 30, 2012
About the Author
HARRY HOUDINI (born Erik Weisz, 1874–1926) was a Hungarian-born American escapologist, magician, stuntman, actor and film producer, and one of the most iconic figures of the twentieth century. Towards the end of his career he focused his energies on debunking spiritualists and mediums, and on the ethics of magic and illusion.

TELLER (Introduction) is one half of magic and comedy duo Penn & Teller. He is the author of When I'm Dead All This Will Be Yours: Joe Teller—A Portrait By His Kid and, with Penn Jillette, of How to Play in Traffic, How to Play with Your Food and Penn & Teller's Cruel Tricks for Dear Friends. TV credits include the series Penn & Teller: Bullshit!, in which, like Houdini, the duo set out to debunk common beliefs.
or
Not Currently Available for Direct Purchase