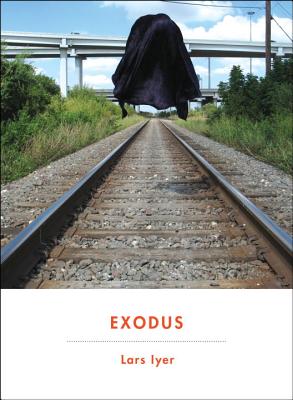 Exodus (Paperback)
Melville House, 9781612191829, 304pp.
Publication Date: January 29, 2013
* Individual store prices may vary.
Description
A wickedly funny and satisfyingly highbrow black comedy about the collapse of Western academic institutions under the weight of neoliberal economics and crushing, widespread idiocy.

Lars and W., the two preposterous philosophical anti-heroes of Spurious and Dogma—called "Uproarious" by the New York Times Book Review—return and face a political, intellectual, and economic landscape in a state of total ruination.

With philosophy professors being moved to badminton departments and gin in short supply—although not short enough—the two hapless intellectuals embark on a relentless mission. Well, several relentless missions. For one, they must help gear a guerilla philosophy movement—conducted outside the academy, perhaps under bridges—that will save the study of philosophy after the long, miserable decades of intellectual desert known as the early 21st-century.

For another, they must save themselves, perhaps by learning to play badminton after all. Gin isn't free, you know.
About the Author
LARS IYER is a lecturer in philosophy at the University of Newcastle upon Tyne. He is the author of two books on Blanchot (Blanchot's Communism: Art, Philosophy, Politics and Blanchot's Vigilance: Phenomenology, Literature, Ethics) and his blog Spurious. He is also a contributor to Britain's leading literary blog, Ready, Steady, Book.
Praise For Exodus…
"The final volume in Iyer's gloomily brilliant trilogy about a toxic friendship between unfortunate philosophy dons, boozing and bitching in the great tradition of Beckett's double acts." — The Guardian

"The humor cuts broad and deep." — LA Review of Books

"Exodus, which follows Spurious and Dogma, is the eminently satisfying and unexpectedly moving final installment in a truly original trilogy about two wandering British intellectuals ---Lars and W., not to be confused with Lars Iyer and his real friend W., whom he's been quoting for years on his blog --- and their endless search for meaning in a random universe, for true originality of thought, for a leader, for better gin." — The Millions' most anticipated books of 2013

"The hilarious despair of his first two novels, Spurious and Dogma, seems to have touched a chord, each receiving near unanimous acclaim ... The comedy is a little blacker this time around, and the black a little funnier still." ---Totally Dublin

Praise for Lars Iyer's Spurious and Dogma

"It's wonderful. I'd recommend the book for its insults alone." —Sam Jordison, The Guardian

"Uproarious." —New York Times Book Review

"I'm still laughing, and it's days later."  —The Los Angeles Times

"Fearsomely funny."  —The Washington Post

"Viciously funny."  —San Francisco Chronicle

"A tiny marvel. . . . [A] wonderfully monstrous creation."  —Steven Poole, The Guardian

"This novel has a seductive way of always doubling back on itself, scorching the earth but extracting its own strange brand of laughter from its commitment to despair." —The Believer
or
Not Currently Available for Direct Purchase