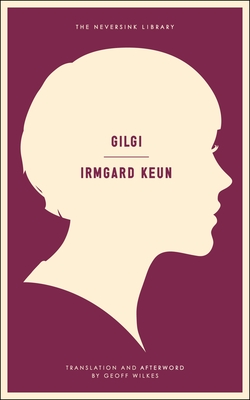 Gilgi (Neversink) (Paperback)
Melville House, 9781612192772, 240pp.
Publication Date: November 12, 2013
* Individual store prices may vary.
Description
The stirring, never-before-translated story of a single, pregnant, and wickedly nervy young secretary making her way through a Germany succumbing to the Nazis.

Irmgard Keun's first novel Gilgi was an overnight sensation upon its initial publication in Germany, selling thousands of copies, inspiring numerous imitators, and making Keun a household name—a reputation that was only heightened when, a few years later, the nervy Keun sued the Gestapo for blocking her royalties.

The story of a young woman trying to establish her independence in a society being overtaken by fascism, Gilgi was not only a brave story, but revolutionary in its depiction of women's issues, at the same time that it was, simply, an absorbing and stirring tale of a dauntless spirit. Gilgi is a secretary in a hosiery firm, but she doesn't intend to stay there for long: she's disciplined and ambitious, taking language classes, saving up money to go abroad, and carefully avoiding both the pawing of her boss and any other prolonged romantic entanglements. But then she falls in love with Martin, a charming drifter, and leaves her job for domestic bliss—which turns out not to be all that blissful-- and Gilgi finds herself pregnant and facing a number of moral dilemmas.

Revolutionary at the time for its treatment of sexual harassment, abortion, single motherhood, and the "New Woman," Gilgi remains a perceptive and beautifully constructed novel about one woman's path to maturity. It is presented here in its first-ever translation into English.
About the Author
IRMGARD KEUN become an overnight sensation in German literary circles with the publication of her first novel, Gilgi, in 1931. Her second novel, The Artificial Silk Girl, shot to bestseller status in 1932, only to be placed the next year on an early Nazi blacklist. Eventually sentenced to death by the Nazis, she fled the country again and staged her own suicide ... then snuck back into Germany where she lived undercover for the duration of the war. She died in 1982, shortly after her work was rediscovered by feminist critics and general readers in Germany.

Translator GEOFF WILKES is a Lecturer in German at the University of Queensland. He wrote the afterwords to Keun's novel After Midnight and to Hans Fallada's Every Man Dies
Alone.
Praise For Gilgi (Neversink)…
"A formidable literary talent."
—Eileen Battersby's Books of the Year 2014, The Irish Times

Praise for After Midnight by Irmgard Keun

"The overwhelming power of Keun's work lies in her surprisingly raw, witty, and resonant feminine voices."
—Bookslut

"Explosive....Even reading After Midnight today feels dangerous... Haunts far beyond its final page.
—NPR

"Acerbically observed by this youthful, clever, undeceived eye....Crystalline yet acid."
—Jewish Chronicle

 
or
Not Currently Available for Direct Purchase