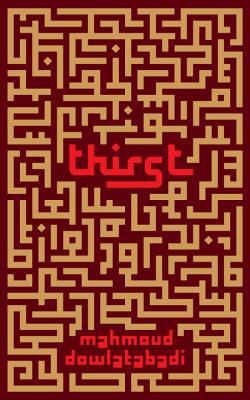 Thirst (Paperback)
A Novel of the Iran-Iraq War
Melville House, 9781612193007, 160pp.
Publication Date: June 24, 2014
* Individual store prices may vary.
Description
"Dowlatabadi draws a detailed, realist picture of Iranian life . . . in language that is complex and lyrical." —The Financial Times

In the midst of the Iran–Iraq War, an Iraqi journalist is given a tour of a military prison. The Major in charge of the camp informs the writer of what is expected: he is to write a fabricated report about a murder that has occurred in the camp, with the aim of demoralizing Iranian soldiers.

Reluctant to write the report, the writer spends a long night talking and drinking with the Major and detailing a work of fiction he is composing about a group of soldiers trapped on a hill, dying of thirst as they battle for a water tank with a group of enemy soldiers perched on the opposite hill. The tank remains undamaged, but neither group has a hope of reaching it without being killed.

In a narrative riddled with surreal images, shifting perspectives, and dark humor, Mahmoud Dowlatabadi—widely acknowledged as the most important living Iranian writer—offers a kaleidoscopic portrait of the warring countries as he questions the meaning of national identity and does something that has been nearly impossible to do in Iran for the last century: tell a true story.
About the Author
MAHMOUD DOWLATABADI is one of the Middle East's most important writers. Born in 1940 in a remote farming region of Iran, the son of a shoemaker, he spent his early life and teens as an agricultural day laborer until he made his way to Tehran, where he started acting in the theater and began writing plays, stories, and novels.

Dowlatabadi pioneered the use of the everyday language of the Iranian people as suitable for high literary art. His books include Missing Soluch, published by Melville House and his first work to be translated into English, and a ten-book portrait of Iranian village life, Kelidar. In 1974, Dowlatabadi was arrested by the Savak, the shah's secret police force. When he asked what crime he'd committed, he was told, "None, but everyone we arrest seems to have copies of your novels, so that makes you provocative to revolutionaries." He was in prison for two years.

His novel The Colonel was shortlisted for the Haus der Kulturen der Welt Berlin International Literature Award, long-listed for the Man Asian Literary Prize, and the winner of the 2013 Jan Michalski Prize for Literature.
Praise For Thirst: A Novel of the Iran-Iraq War…
"A painful, dark story, but neatly fashioned and presented by Dowlatabadi, and effective." --the Complete Review

Praise for The Colonel

Winner of the Jan Michalski Prize for Literature
Longlisted for the Man Asian Literary Award
Shortlisted for the Haus der Kulturin's 
International Literary Award  

"Examine[s] the complexities and moral ambiguities of the experience of the poor and forgotten, mixing the brutality of that world with the lyricism of the Persian language."
—The New York Times

"Dowlatabadi combines the poetic tradition of his culture with the direct and unembellished everyday speech of the villages. With this highly topical new novel Mahmoud Dowlatabadi, Iran's most important novelist, sheds light on the upheavals, which haunts his country until today."
—Man Asian Literary Prize nomination citation

"A demanding and richly composed book by a novelist who stands apart."
—Kirkus 

"You feel as though you're watching a horror movie set in Iran . . . the foolish, sometimes heroic, and always pathetic victims and survivors of the Ayatollah's ghoulish revolution."
—Alan Cheuse, NPR

"Dowlatabadi draws a detailed, realist picture of Iranian life, especially that of the rural poor, in language that is complex and lyrical, rather than simplistic."
—The Financial Times

"The Colonel is a remarkable and important book . . . A masterpiece."
—The Globe and Mail

"A pleasure to read . . . Dowlatabadi is heralded as one of, if not the, greatest Iranian novelists, and The Colonel bears that out. That Dowlatabadi persists, despite having been at various times imprisoned, tortured and censored, is a testament to the Iran that could be, and that still can be."
—The Rumpus

"It's about time everyone even remotely interested in Iran read this novel."     
—The Independent

"An affecting and beautiful novel."
—The Literary Review

"Instructive . . . A stirring tale replete with the hideous viscera of violent confrontation."
—Booklist

"An outstanding master achievement."
—Der Spiegel

"This novel has what it takes to become a strong and irresistible window into Iran."
—Die Zeit

"A very powerful work."
—Michael Orthofer, The Complete Review

"Because of its honesty and indeed brutal clarity of language the novel has so far not been published in its original language, Persian . . . [an] honest and truly literary account."
—English Pen

Praise for Missing Soluch
"Beautifully and incisively rendered, and imbued throughout with hope."
—Publishers Weekly

"There are some brilliantly tough pieces of writing . . . [The original's] vigour comes through in translation."     
—The Times Literary Supplement

"Brings East of Eden to mind . . . Dowlatabadi knows a world that has seldom overlapped with the modern novel."     
—The New York Sun

"Dowlatabadi has created a masterpiece."
—Words without Borders
or
Not Currently Available for Direct Purchase