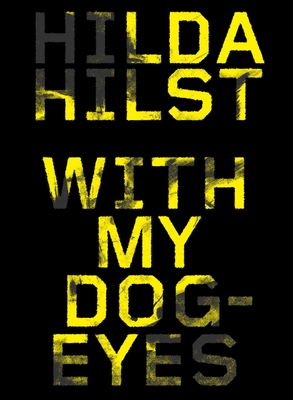 With My Dog Eyes (Paperback)
A Novel
Melville House, 9781612193458, 96pp.
Publication Date: April 29, 2014
* Individual store prices may vary.
Description
Hilda Hilst (1930–2004) was one of the greatest Brazilian writers of the twentieth century, but her books have languished untranslated, in part because of their formally radical nature. This translation of With My Dog-Eyes brings a crucial work from her oeuvre into English for the first time.

With My Dog-Eyes is an account of an unraveling—of sanity, of language . . . After experiencing a vision of what he calls "a clear-cut unhoped-for," college professor Amós Keres struggles to reconcile himself with his life as a father, a husband, and a member of the university with its "meetings, asskissers, pointless rivalries, gratuitous resentments, jealous talk, megalomanias."

A stunning book by a master of the avant-garde.
About the Author
Hilda Hilst was born in 1930 in Jaú, Brazil. She was a prolific author whose works span many different genres, including poetry, drama, fiction, and newspaper columns. Born the heiress to a coffee fortune, she abandoned São Paulo and a law career in the 1950s to devote herself to literature, moved to the countryside, and built herself a house, Casa do Sol, where she lived until the end of her life with a rotating cast of friends, lovers, aspiring artists, bohemian poets, and dozens of dogs. She received numerous major literary prizes over the course of her career, including Brazil's highest honor, the Prêmio Jabuti. She died in 2004, at the age of seventy-three.

Adam Morris is a PhD candidate in Latin American literature at Stanford University. An excerpt from his translation of With My Dog-Eyes won the 2012 Susan Sontag Foundation Prize for Literary Translation.
Praise For With My Dog Eyes: A Novel…
"Told through poetic and disjointed prose, With My Dog-Eyes is a dark and truly singular work."
—NPR, Best Books of 2014

"Hilst's writing is characterized by an exuberant, masterful impropriety and winding sentences that put it, by her own lights, squarely in the tradition of literature that includes Joyce and Beckett."
—Boston Globe

"A pleasure to see and read."
—NPR

"A slim but potent text, this one will sear your brain."
—Jeff Vandermeer picks the Best Fiction of 2014, Electric Literature

"Hilst rigorously examined the limits of language and the literary pursuit itself… [She] uses language like a rod, ramming it every which way in order to collapse the space between orgasm and insanity."
—Bookslut

Best Fiction Books of 2014
—Entropy Magazine

"Clear and unforgettable… It is certain that Hilst's short book by the end grows as large as the dilating heart."
—Rain Taxi

"Hilst's fictions are feats of economy and compression: though they are short…the texts do not feel small… One of the great achievements of Hilst's fiction is indeed the splendor that wrenches the reader, too, from sameness, the way it challenges and provokes, with a seriousness and irreverence, a comedy and bleakness all its own."
—Music and Literature

"A provocative and engaging personal portrait… Worth your time."
—Complete Review

"Rich, deep, unique, and avant-garde… With My Dog-Eyes is a great introduction to the work of a writer who occupies an important place not only Latin American letters but in world literature as well."
—Atticus Review

"Captivatingly translated...a densely allusive novella by the late Brazilian writer Hilda Hist, traces the coming undone of a mathematics professor, and is too brilliantly bizarre to quote at length."
—Times Literary Supplement (UK), Books of the Year

"Hilst wastes no time in plunging into the most intense, mysterious stuff of life…dazzling moments."
—The Independent (UK)

"Conveys the ferocious energy of this modern master of disturbance… [A] joyfully wicked writer… Morris's translation deserves the highest praise; the constant shifts in perspective call for tremendous agility."
—Times Literary Supplement (UK)

"Hilst's lyrical little book ebbs and flows with vivid imagery… Readers will enjoy this taste of Hilst's talent."
—Publishers Weekly

"This novel speaks to the nexus between genius and madness—and it gets off a few growls at the state of things as they are. Memorable and very strange: Latin American magical realism taken far beyond the bounds of the genre's usual whimsy."
—Kirkus Reviews

Praise for Hilda Hilst and The Obscene Madame D

"Like her friend and admirer Clarice Lispector, Hilda Hilst was a passionate explorer of the sacred and the profane, the pure and the obscene."
—Benjamin Moser

"This brief, lyrical and scalding account of a mind unhinged recalls the passionate urgency of Artaud and de Sade's waking dreams in which sex and death are forever conjoined and love's 'vivid time' irretrievably lost."
—Rikki Ducornet

"May just be the literary miracle of 2012 . . . The Obscene Madame D stands at only 57 pages and yet manages to offer the reader a truly immersive experience unlike any of the classic tomes that brim with words."
—Alex Estes, Full-Stop

"In the sense that language is a cultural and political construct, Hilst breaks that construct and, in doing so, asks us to hear life's eventual silence."
—Sarah Gerard, Los Angeles Review of Books