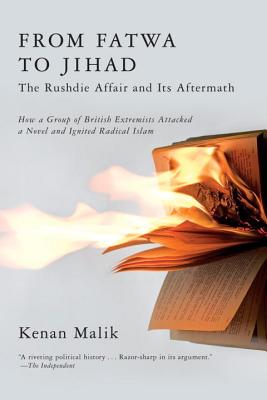 From Fatwa to Jihad (Paperback)
The Rushdie Affair and Its Aftermath
Melville House, 9781612194059, 288pp.
Publication Date: August 12, 2014
Other Editions of This Title:
Hardcover (7/20/2010)
MP3 CD (7/26/2016)
* Individual store prices may vary.
Description
THE #1 INTERNATIONAL BESTSELLER
A Finalist for the George Orwell Book Prize

"It would be absurd to think that a book can cause riots," Salman Rushdie asserted just months before the publication of his novel The Satanic Verses. But that's exactly what happened. In England, protests started just months after the book' s publication, with Muslim protestors, mainly from immigrant backgrounds, coming by the thousands from the outer suburbs of London and from England's old industrial centers—places like Bradford, Bolton, and Macclesfield—to denounce Rushdie's novel as blasphemous and to burn it. In February of 1988, the protests spread to Pakistan, where riots broke out, killing five. That same month, Iran's Ayatollah Khomeini called for Rushdie's assassination, and for the killing of anyone involved with the book' s publication.

It was this frightening chain of events, Kenan Malik argues in his enlightened personal and political account of the period, that transformed the relationship between Islam and the West: From then on, Islam was a domestic issue for residents of Europe and the United States, a matter of terror and geopolitics that was no longer geographically constrained to the Middle East and South Asia.

Malik investigates the communities from which the anti-Rushdie activists emerged, showing the subtleties of immigrant life in 1980s England. He depicts the growth of the anti-racist and Asian youth movements, and shows how young Britons went from supporting these progressive movements to embracing a conservative strain of Islam. Malik also controversially tackles England's peculiar strain of "multiculturalism," arguing that policymakers there failed to integrate Muslim immigrants, which many politicians saw as incompatible with their own "Western values." It was a perception that led many to appeal to Muslims not as citizens, but as people whose primary loyalty was to their faith and who could be engaged only by their "community leaders." It was a also policy that encouraged Muslims to view themselves as semi-detached citizens—and that inevitably played into the hands of radical Islamists.

Twenty years later, the questions raised by the Rushdie affair—Islam's relationship to the West, the meaning of multiculturalism, the limits of tolerance in a liberal society—have become the defining issues of our time.
About the Author
Kenan Malik is a writer, lecturer and broadcaster. He is a visiting senior fellow in the Department of Political, International and Policy Studies at the University of Surrey. He is a presenter of Analysis on BBC Radio 4 and a panelist on the BBC's The Moral Maze. His books include The Meaning of Race (1996), Man, Beast and Zombie (2000), and Strange Fruit: Why Both Sides are Wrong in the Race Debate (2008).
Praise For From Fatwa to Jihad: The Rushdie Affair and Its Aftermath…
"A gripping account of how we went from burning books to bombs on buses. The Rushdie Affair has shaped all our lives. This book shows us how."
—Hanif Kureishi

"A thorough and highly readable history of the politics of the Rushdie affair and an important intervention in the current debate on freedom of expression."
—Monica Ali

"In tracing the legacy of the Rushdie Affair into our post-9/11 present, Malik marries the attributes of an investigative journalist and a political analyst. He challenges the cultural myths which have grown up during this period and sets out to slay their attendant monsters . . . A bracing analysis."
–Lisa Appignanesi, The Independent

"In the slipstream of history. . . The Rushdie Affair wears the strange innocence of an ancient war. . . Kenan Malik's From Fatwa to Jihad is an enthralling . . . attempt to place [it] in context."
–Robert McCrum, The Observer

"An acute commentator on race and a staunch critic of multculturalism. . . The book asks some difficult but critical questions, and is not afraid to answer them . . . A powerful critique."
–New Humanist

or
Not Currently Available for Direct Purchase