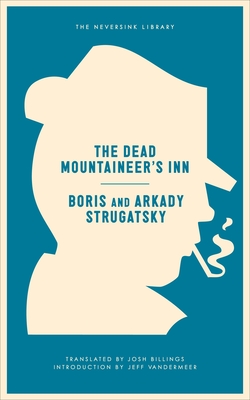 The Dead Mountaineer's Inn
One More Last Rite for the Detective Genre (Neversink)
Paperback

* Individual store prices may vary.
Other Editions of This Title:
Digital Audiobook (10/5/2015)
Description
A hilarious spoof on the classic country-house murder mystery, from the Russian masters of sci-fi—never before translated
 
When Inspector Peter Glebsky arrives at the remote ski chalet on vacation, the last thing he intends to do is get involved in any police work. He's there to ski, drink brandy, and loaf around in blissful solitude.
 
But he hadn't counted on the other vacationers, an eccentric bunch including a famous hypnotist, a physicist with a penchant for gymnastic feats, a sulky teenager of indeterminate gender, and the mysterious Mr. and Mrs. Moses. And as the chalet fills up, strange things start happening—things that seem to indicate the presence of another, unseen guest. Is there a ghost on the premises? A prankster? Something more sinister? And then an avalanche blocks the mountain pass, and they're stuck.
 
Which is just about when they find the corpse. Meaning that Glebksy's vacation is over and he's embarked on the most unusual investigation he's ever been involved with. In fact, the further he looks into it, the more Glebsky realizes that the victim may not even be human.
 
In this late novel from the legendary Russian sci-fi duo—here in its first-ever English translation—the Strugatskys gleefully upend the plot of many a Hercule Poirot mystery—and the result is much funnier, and much stranger, than anything Agatha Christie ever wrote.
Praise For The Dead Mountaineer's Inn: One More Last Rite for the Detective Genre (Neversink)…
A New York Times Book Review Editor's Choice

"Delicious... There's enough dry humor to spark kindling... The Dead Mountaineer's Inn is delightful and melancholy by turns, and so satisfying to read."
—New York Times Book Review

"If Russian sci-fi can be said to have a soul, it resides with the Brothers Strugatsky... Delightful, and a must-read for a new generation of sci-fi fans everywhere."
—NPR

"Mysteries abound in this Russian science-fiction classic written by two brothers as a send-up of the Agatha Christie-type upper-class murder mystery."
—Vanity Fair, Spring Reads for Parks & Picnics

"This is the Strugatskys at their best, at once silly and dead serious... It's a ripping good yarn, which translator Josh Billings has rendered with great energy and wit."
—Los Angeles Review of Books

"An expert new translation by Josh Billings… For at least three decades [the Strugatsky brothers] were the most popular science-fiction writers in Russia, and the most influential Russian science-fiction writers in the world."
—Paris Review Daily

"Does for science-fiction/detective hybridization what Hard to Be a God has done for sci-fi/fantasy."
—Flavorwire

"Anything but run-of-the-mill...an entertaining if bizarre success."
—Complete Review

"There's plenty of humor to be found in this novel, and the way that the plot gradually expands is intricate and constantly entertaining."
—Electric Literature


"Radiant...Beginning as a classic locked-room murder mystery, the novel morphs into a tale of the supernatural (maybe), then into a gangster thriller, and finally into something deeply strange...A tour de force."—World Literature Today

Praise for Definitely Maybe
 
"Definitely Maybe, further proof that knowledge can be a dangerous game, is a work of towering wit and intelligence."
—NPR, Best Books of 2014

"Like the best speculative fiction, Definitely Maybe doesn't show its age: the fundamental questions it addresses are timeless — and effectively and entertainingly framed by the Strugatsky brothers. It remains an intriguing, unsettling work."
—Complete Review

"A great truth is this: Some discoveries, like the sting of a painful memory, do a number on your psyche. Definitely Maybe accomplishes just that . . . You'll laugh, you'll look around suspiciously, you'll throw the text across the room. You'll pick it back up and go on, gladly welcoming the distraction."
—NPR

"One of the Strugatsky brothers is descended from Gogol and the other from Chekhov, but nobody is sure which is which. Together they have now proved quite definitely that a visit from a gorgeous blonde, from a disappearing midget, from your mother-in-law, and from the secret police, are all manifestations of a cosmic principle of homeostasis, maybe. This is definitely, not maybe, a beautiful book."
—Ursula K. Le Guin

"Surely one of the best and most provocative novels I have ever read, in or out of sci-fi."
—Theodore Sturgeon

"Provocative, delicately paced and set against a rich physical and psychological background, this is one of the best novels of the year."
—Chicago Sun-Times

Praise for Roadside Picnic

"It's a book with an extraordinary atmosphere—and a demonstration of how science fiction, by using a single bold central metaphor, can open up the possibilities of the novel."
—Hari Kunzru, The Guardian

"Gritty and realistic but also fantastical, this is a novel you won't easily put down—or forget."  —io9

"It has survived triumphantly as a classic."
—Publishers Weekly

Praise for the Strugatsky brothers

"The Strugatsky brothers demonstrate that they are realists of the fantastic inasmuch as realism in fantasy betokens a respect for logical consequence, an honesty in deducing all conclusions entirely from the assumed premises."
—Stanisław Lem

"[In writing Gun, with Occasional Music], I fused the Chandler/Ross MacDonald voice with those rote dystopia moves that I knew backwards and forwards from my study of Ballard, Dick, Orwell, Huxley, and the Brothers Strugatsky."
—Jonathan Lethem

"Successive generations of Russian intellectuals were raised on the Strugatskys. Their books can be read with a certain pair of spectacles on as political commentaries on Soviet society or indeed any repressive society."
—Muireann Maguire, The Guardian

"Their protagonists are often caught up in adventures not unlike those of pulp-fiction heroes, but the story line typically veers off in unpredictable directions, and the intellectual puzzles that animate the plots are rarely resolved. Their writing has an untidiness that is finally provocative; they open windows in the mind and then fail to close them all, so that, putting down one of their books, you feel a cold breeze still lifting the hairs on the back of your neck."
—The New York Times
Melville House, 9781612194325, 256pp.
Publication Date: March 17, 2015
About the Author
ARKADY (1925–1991) and BORIS (1933–2012) STRUGATSKY were the most acclaimed and beloved science fiction writers of the Soviet era. They are the authors of twenty-five novels together, including Definitely Maybe, Roadside Picnic (which was the basis for Andrei Tarkovsky's film Stalker); Snail on the Slope; and Hard to Be a God, as well as numerous short stories, essays, plays, and film scripts. Their books have been translated into multiple languages and published in twenty-seven countries. The asteroid 3054 Strugatskia, discovered in 1977, is named after the brothers.

JOSH BILLINGS is a writer and translator who lives in Rockland, Maine. His translations of Alexander Pushkin's Tales of Belkin and Alexander Kuprin's The Duel have been published by Melville House. His recent writing has appeared in The Collagist and The Literary Review. He blogs at begborrowstijl.blogspot.com.
or
Not Currently Available for Direct Purchase