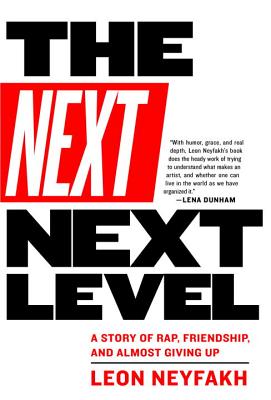 The Next Next Level
A Story of Rap, Friendship, and Almost Giving Up
Paperback

* Individual store prices may vary.
Description
In the tradition of Carl Wilson's Let's Talk About Love, an unforgettable account of fame, fandom, and the problem of making art in the twenty-first century

In his multi-hyphenate ambitions, the musician who calls himself Juiceboxxx couldn't be more modern—you might call him a punk rock-rapper-DJ-record executive-energy drink-magnate. Journalist Leon Neyfakh has been something more than a fan of Juiceboxxx's since he was a teenager, when he booked a show for the artist in a church basement in his hometown of Oak Park, Illinois.

Juiceboxxx went on to the tireless, lonely, possibly hopeless pursuit of success on his own terms—no club was too dank, no futon too grubby, if it helped him get to the next, next level. And, for years, Neyfakh remained haunted from afar: was art really worth all the sacrifices? If it was, how did you know you'd made it? And what was the difference, anyway, between a person like Juiceboxxx—who devoted his life to being an artist—and a person like Neyfakh, who elected instead to pursue a stable career and a comfortable, middle-class existence?

Much more than a brilliant portrait of a charismatic musician always on the verge of something big, The Next Next Level is a wholly contemporary story of art, obsession, fame, ambition, and friendship—as well as viral videos, rap-rock, and the particulars of life on the margins of culture.
Praise For The Next Next Level: A Story of Rap, Friendship, and Almost Giving Up…
"Neyfakh's book could be among the first entries in an emerging 'poptimist' canon — the idea that music can and ought to have both critical integrity and mainstream appeal… As Neyfakh reflects on the distance between himself and his friend, he also channels something at the heart of the American tradition: the gulf between mainstream society and its dreamers. There's something appealing, even Gatsbyesque going on here."
—Washington Post

"Elegant . . . Keenly, wryly observed . . . More than a profile of a hyper-niche artist, The Next Next Level is the quasi-memoir of a friendship . . . between [Neyfakh] and Juiceboxxx: fan and idol, writer and artist, career man and renegade."
—Boston Globe

Highbrow/Brilliant on New York Magazine's Approval Matrix

"The book is light on its feet and often very funny… The Next Next Level is suffused with evangelical energy, and Neyfakh succeeds in making Juiceboxxx into a figure of intrigue."
—The New Republic

"Unexpectedly universal . . . A charming book that's half memoir, half critical experiment . . . A tale of compromise and generational longing, of green grass and the fantasy of jumping into someone else's life, if only to imagine what would have happened if you had successfully rebooted your personality somewhere along the way."
—The New Yorker

"Essential . . . A complex, intimate picture of what it's like to be an artist, and what it's like to like art."
—Fader

"A funny, broad-minded, enchanting reflection on the intersection of art and commerce. You'll find no better account of what it's like to make music outside the mainstream in 2015."
—Paris Review, Staff Picks

"Neyfakh succeeds at bringing to life fringe niches of youth culture, the urgency that can attend even the most raggedy of DIY shows."
—Details

"Will inspire you to act on your dreams."
—Refinery29, The Ultimate Guide to Summer Reading

"Rousing . . . [A] chronicle of unlikely and unwavering fandom."
—Pitchfork

"The Next Next Level brings together two artists, each of whom has a brutally candid story to tell about the struggles sparked by their internal narratives."
—Barnes & Noble Review

"A story about passion, never quite getting famous, and the meaning that lies at the margins of culture… A portrait of an artist with a difference."
—Dazed, Essential Summer Reading

"A meditation on the relationship between art and struggle, whether one is worth the other, and between artist and audience… A compelling read."
—Michael Hann, The Guardian (UK)

"Fizzy and affectionate . . . As he peels back the layers of Juiceboxxx, it's the author we see more clearly."
—Maclean's (Canada)

"An intimate portrait of an intriguing and idiosyncratic artist whose inner angst is as sympathetic as it is compelling."
—Kirkus Reviews

"Leon Neyfakh's book does the heady work of trying to understand what makes an artist, and whether one can live in the world as we have organized it. In the process he uses his incisive journalistic voice to tackle masculinity, friendship and identity with humor, grace and real depth."
—Lena Dunham

"I've never met Leon Neyfakh, and I wouldn't recognize Juiceboxxx if he knocked on my front door and literally offered me a box of juice. But this is a great book about the intractable dissonance between loving art, wanting art, and being an actual artist. The story is small, but the ideas are massive."
—Chuck Klosterman, author of Fargo Rock City and Killing Yourself to Live

"The Next Next Level is an intriguing story about the pursuit of an artistic lifestyle. Leon Neyfakh writes as a fan and friend about musician and performer Juiceboxxx and in doing so he honestly uncovers the personal sacrifice and uncertainty that most artists wrestle with daily. It's a new and worthwhile look at some big questions surrounding creativity."
—Craig Finn, The Hold Steady

"In The Next Next Level, Leon Neyfakh traces the career of underground musician Juiceboxxx, and teases out the internal conflicts that dog everyone, not just obscure rappers: adult vs child, professional vs enthusiast, artist vs spectator, good vs bad. Neyfakh is empathic and precise, leaving you unsure of which side you'd pick when—as Neyfakh and Juiceboxxx both do—you have to choose."
—Sasha Frere-Jones

"In his journalism, Leon Neyfakh tends to tackle the murk and miracle of deep thinking, trends, history, and the law. With Juiceboxxx, he's dared to confront a more ambiguous idea: the murk of the self. Neyfakh wanted to write a profile. He found, instead, a moving, invaluable, acutely sensitive case study of what drives some of us to remain who we inexorably are."
—Wesley Morris

"Are artists different from other people, or do they just not know any better? The myth of the Romantic genius is alive and well, to judge by Leon Neyfakh's fascination with the underground musician Juiceboxxx, and as Neyfakh struggles to understand the myth, and its extreme forms two centuries after Byron, he proves as thoughtful as Friedrich Schiller and as funny as Geoff Dyer."
—Caleb Crain, author of Necessary Errors

"In his eloquent look at a fascinating musician, Leon Neyfakh explores the difference between an artist and a fan and suggests that for those Americans under thirty there is no difference between high and low culture. An enthralling double portrait of the performer and the observer and a meditation on the passage from adolescent dreams to adult assessments."
—Edmund White, author of City Boy
Melville House, 9781612194462, 192pp.
Publication Date: July 7, 2015
About the Author
LEON NEYFAKH is a reporter for Slate. He was previously the Ideas staff writer for the Boston Globe and a reporter for the New York Observer. He has written for The FADER, the New Republic, Rollingstone.com, NewYorker.com, and a number of other publications. Born in the Soviet Union, Neyfakh was raised in Oak Park, IL, and now lives in Brooklyn.
or
Not Currently Available for Direct Purchase