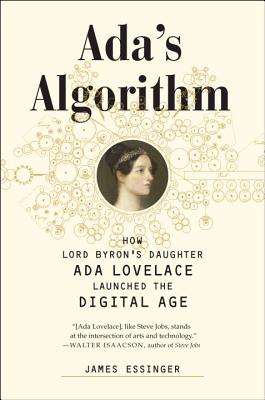 Ada's Algorithm
How Lord Byron's Daughter Ada Lovelace Launched the Digital Age
Paperback

* Individual store prices may vary.
Other Editions of This Title:
Hardcover (10/14/2014)
Description
"[Ada Lovelace], like Steve Jobs, stands at the intersection of arts and technology."—Walter Isaacson, author of The Innovators

Over 150 years after her death, a widely-used scientific computer program was named "Ada," after Ada Lovelace, the only legitimate daughter of the eighteenth century's version of a rock star, Lord Byron. Why?

Because, after computer pioneers such as Alan Turing began to rediscover her, it slowly became apparent that she had been a key but overlooked figure in the invention of the computer.

In Ada Lovelace, James Essinger makes the case that the computer age could have started two centuries ago if Lovelace's contemporaries had recognized her research and fully grasped its implications.

It's a remarkable tale, starting with the outrageous behavior of her father, which made Ada instantly famous upon birth. Ada would go on to overcome numerous obstacles to obtain a level of education typically forbidden to women of her day. She would eventually join forces with Charles Babbage, generally credited with inventing the computer, although as Essinger makes clear, Babbage couldn't have done it without Lovelace. Indeed, Lovelace wrote what is today considered the world's first computer program—despite opposition that the principles of science were "beyond the strength of a woman's physical power of application."

Based on ten years of research and filled with fascinating characters and observations of the period, not to mention numerous illustrations, Essinger tells Ada's fascinating story in unprecedented detail to absorbing and inspiring effect.
Praise For Ada's Algorithm: How Lord Byron's Daughter Ada Lovelace Launched the Digital Age…
Praise for Ada's Algorithm

"[An] engrossing biography."
—New York Times Book Review

"A tantalizing topic… The story of a society proceeding irrevocably but ambivalently into the modern age, enthralled by advances in science and technology, adapting to new social mores, and yet still beholden to many antiquated traditions."
—Wall Street Journal

"Essinger is a terrific storyteller, and he knows a great story when he sees it. Ada's Algorithm is a riveting read."
—American Scientist

"Irresistible ... If more people could have understood Babbage's machine the way Lovelace did — indeed, if they had not all but ignored her paper, perhaps because the author was a woman — computing might have had a far earlier start."
—Chicago Tribune

"A revealing firsthand look into Ada's life and her relationship with Babbage, relying heavily on their journal entries and letters to each other… One of the most innovative minds of the 19th century."
—Boston Globe

"A fine new Lovelace biography… We need her as a symbol…of all the women who have contributed to the progress of science and technology, and of all the women who might have contributed if given the chance."
—Slate

"A portrait of a particularly fascinating woman."
—Jezebel

"A window on the life of one of the world's first celebrity scientists."
—io9

"An absorbing account of a woman who was far ahead of her time."
—Bust

"The biography contains just the kind of moments of triumph I like to read about: Ada overcoming obstacles to get an education and make genius contributions to science."
—Bitch Magazine, Gift Guide for Science Nerds

"The title says it all. Badass tech ladies rule."
—Book Riot, Liberty Hardy (RiverRun Bookstore) picks 2014's Must-Read Books from Indie Presses

"Readers are treated to an intimate portrait of Lovelace's short but significant life along with an abbreviated history of 19th-century high-society London."
—New Criterion

One of the AV Club's Notable Releases for October

"If you want to focus on just one singular genius, start with this story. It's about a woman who was born to notoriety, as Lord Byron's daughter, who ended up writing the first computer program and changing the world."
—Flavorwire, Must-Reads for October

"Essinger describes [Lovelace's] life with obvious respect, perhaps admiration, but also with a careful sense of journalistic objectivity and precision."
—Geeky Library

"Stepping out of the long shadow of Lord Byron's legacy, Essinger follows the visionary mind of Lovelace as she, applying her educated mind to the 'Analytical Engine,' creates the first recognized algorithm and casts a shadow on modern technology as long as her father's on poetry."
—Biographile

"Ada Lovelace's vision has an indelible power, and we can learn so much from it almost 200 years later. In the mechanics of weaving machines, young Ada saw a new age for creative technology; the energy and passion in her letters is completely infectious! Essinger's absorbing and well-crafted book will no doubt inspire other women in tech, or anyone who sees in one small motion the potential to change the world."
—Reshma Saujani, founder of Girls Who Code and author of Women Who Don't Wait in Line

"Entertaining and illuminating."
—Times Literary Supplement (UK)

"Essinger displays not only verve and affection . . . but also great scholarship."
—Times Educational Supplement (UK)

"[Essinger] presents Ada's story with great enthusiasm and rich detail… Ada continues to inspire, and by using her own voice via letters and research, the author brings her to life for a new generation of intrepid female innovators. A robust, engaging and exciting biography."
—Kirkus Reviews

A Library Journal Editor's Pick for Fall 2014

One of Publishers Weekly's Big Indie Books of Fall 2014

"Absorbing... Essinger's tome is undergirded by academic research, but it is the author's prose, both graceful and confident, that will draw in a general readership. Readers are treated to an intimate portrait of Lovelace's short but significant life...along with an abbreviated history of 19th-century high-society London."
—Publishers Weekly

"The author provides an engaging...look at [Lovelace's] parents' romance, her childhood, her lifelong fascination with mathematics, and, mostly, her friendship with [Charles Babbage]."
—Booklist

Praise for Jacquard's Web by James Essinger
"Essinger tells his story with passion and with a gracious willingness to help the lay reader grasp the intricacies of technology." 
—Wall Street Journal
Melville House, 9781612194578, 272pp.
Publication Date: September 28, 2015
About the Author
JAMES ESSINGER is a writer with a particular interest in the history of ideas that have had a practical impact on the modern world. His previous book, Jacquard's Web: How a Hand-Loom Led to the Birth of the Information Age (2004), was chosen as one of the top 5 popular science books of the year by the Economist.
or
Not Currently Available for Direct Purchase