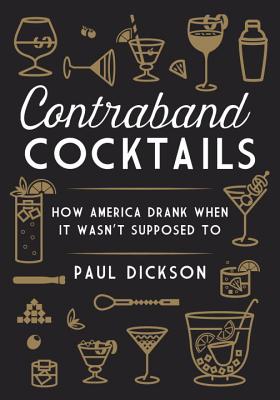 Contraband Cocktails
How America Drank When It Wasn't Supposed To
Hardcover

* Individual store prices may vary.
Description
Americans weren't supposed to drink during Prohibition—but that's exactly when "cocktail culture" came roaring to life. The Bloody Mary, sleek cocktail shakers, craft mixology, and hundreds of other essentials of modern drinking owe their origins to the Dry Years.
 
In Contraband Cocktails, Paul Dickson leads us on a fascinating tour of those years—from the "Man in the Green Hat" making secret deliveries to Capitol Hill, to The Great Gatsby's Daisy pouring Tom a mint julep at the Plaza, to inside the smoky nightclubs of the Jazz Age—Dickson serves up an intoxicating tale of how and what Americans drank during Prohibition.
 
Chock-full of scandalous history, cultural curiosities, and dozens of recipes by everyone from Ernest Hemingway to Franklin D. Roosevelt—along with a glossary of terms that will surprise the most seasoned bartender—Paul Dickson's Contraband Cocktails is the perfect companion to any reader's Cocktail Hour.
Praise For Contraband Cocktails: How America Drank When It Wasn't Supposed To…
"Dickson loads every page with facts, anecdotes and telling details about life under Prohibition."
—The Washington Post

"Rollicking history...Whoever you gift with this book will thank you doubly for Mr. Dickson has dredged up the recipes for the most fashionable of the concoctions of the day."
—The Washington Times

"An engaging discourse on classic cocktails replete with trivia, recipes, a list of -alcohol-related slang of the period and a fair amount of Golden-Era literary and celebrity gossip." —Bookpage

Praise for Drunk
 
"Spanning centuries, it is both a celebration of drinking and a chronicle of the laments that come after having drunk too much."
—New York Daily News
 
"A splendid new book."
—Ben Schott, The New York Times
 
"Where else could we learn that 30 years after the term plastered entered the drunk lexicon, the Arizona Lath and Plaster Institute would protest the use of the term?"
—Carolyn Kellogg, Los Angeles Times
 
"Reading through these definitions, accompanied by Brian Rea's charming drawings, is so immensely pleasurable that it's intoxicating. Just like the title suggests."
—Time Out Chicago
Melville House, 9781612194585, 192pp.
Publication Date: November 12, 2015
About the Author
Paul Dickson is the author of more than sixty-five books and hundreds of articles on the American language, baseball, and twentieth-century history. His previous book for Melville House was Drunk: The Drinker's Dictionary, which was recognized by the Guinness Book of World Records as the largest-ever collection of synonyms. He lives in Maryland, with his wife, Nancy.