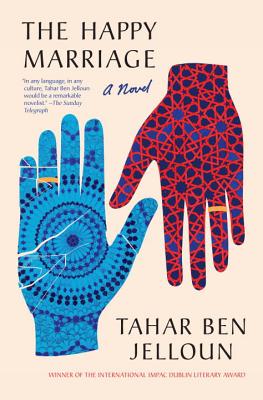 The Happy Marriage
Hardcover

* Individual store prices may vary.
Description
"Ben Jelloun is arguably Morocco's greatest living author, whose impressive body of work combines intellect and imagination in magical fusion." —The Guardian
 
In The Happy Marriage, the internationally acclaimed Moroccan author Tahar Ben Jelloun tells the story of one couple—first from the husband's point of view, then from the wife's—just as legal reforms are about to change women's rights forever.
 
The husband, a painter in Casablanca, has been paralyzed by a stroke at the very height of his career and becomes convinced that his marriage is the sole reason for his decline.
 
Walled up within his illness and desperate to break free of a deeply destructive relationship, he finds escape in writing a secret book about his hellish marriage. When his wife finds it, she responds point by point with her own version of the facts, offering her own striking and incisive reinterpretation of their story.
 
Who is right and who is wrong? A thorny issue in a society where marriage remains a sacrosanct institution, but where there's also a growing awareness of women's rights. And in their absorbing struggle, both sides of this modern marriage find out they may not be so enlightened after all.
Praise For The Happy Marriage…
"Masterful...In this enlightening book, Jelloun brilliantly tackles issues of love, women's rights, and the grief that inevitably comes with a deteriorating relationship."—NPR

"A telling examination of the slippery, self-servicing ways in which we form, and tell, our own truths." —Times Literary Supplement

"As well as pinning down the strains and lonelinesses of the (un)shared life, Jelloun forces reflection on the nature of narration, judgment and belief. This is an accomplished, provocative and very enjoyable novel." —The Guardian

"Poses stirring questions about equality within a marriage and in the world at large." —Travel + Leisure

"Engrossing" -Buzzfeed News

"Always a resourceful and versatile storyteller…lively, surreal, flavourful and human." —The Independent

"Skilful…[Ben Jelloun] makes subtle observations on the clash between patriarchy and feminism." —The Daily Mail

"The least harmonious of unions yields up two dueling halves in Ben Jelloun's fascinating novel about a marriage that's all plot, scheme, and disenchantment…Readers will be drawn as deeply as the warring spouses into this disastrous alliance; each memorable and vivid narrative corroborates and condemns the other." —Publishers Weekly

"Hot and bright and cinematic…a delirious meditation on lust and possession, oeuvre and authorship." —Full Stop

"One of Morocco's most celebrated and translated writers…The Happy Marriage explores the abuses of power between spouses, and the double standards maintained by a society that upholds the unequal treatment of men and women…Moving." —Asymptote

"This stately novel is cinematic in scope as it captures the explosive relationship between a painter in Casablanca left paralyzed by a stroke and the wife he refuses to see, though they live in the same house…Richly embroidered…this novel allows readers to sink in." —Library Journal

"Set against the backdrop of Casablanca in the midst of an awakening women's rights movement, The Happy Marriage explores not only the question of who's right and who's wrong, but also the very nature of modern matrimony." —The Millions

"Class and culture play oversized roles in this engaging novel about the disintegration of a marriage in Morocco."—World Literature Today

"[A] showcase for [Ben Jelloun's] snarky wit, a fine flowing descriptive line, and an eagerness to rattle the fundamental conventions of the novel." —Open Letters Monthly

"The contrasts in how the marriedcouple see the world provide the reader with ample food for thought…Important to this clash of wills is Ben Jelloun's use of two distinct speaking styles for the main characters (excellently reflected in English by Naffis-Sahely)." —Words Without Borders

"[T]he issues at hand are successfully entwined with a sour tale of romance. Ben Jelloun masterfully leaves us no room to ponder who is right or wrong, but rather convincingly tells how some marriages are destined for misery." —Qantara

"Although Ben Jelloun's writing is simple and straightforward, he does take chances in structure and effect...The Happy Marriage is corrugated and layered—like the broken and fretful marriage it depicts." —Numéro Cinq

Praise for Tahar Ben Jelloun
 
"A writer of social and moral acuteness."
—Los Angeles Times
 
"A writer of much originality, succeeds brilliantly in infusing his story with a melancholy that attaches itself not just to Ahmed but also to the Arab world."
—Chicago Tribune
 
"Hauntingly poetic and original."
—Times Literary Supplement
Melville House, 9781612194653, 320pp.
Publication Date: January 12, 2016
About the Author
TAHAR BEN JELLOUN is an award-winning and internationally bestselling Moroccan novelist, essayist, critic, and poet. Regularly shortlisted for the Nobel Prize, he is also a frequent contributor to Le Monde, La Repubblica, El Pais, Panorama, The New Yorker, and The Paris Review.
 
ANDRÉ NAFFIS-SAHELY is a poet, critic, and translator from French and Italian.
or
Not Currently Available for Direct Purchase