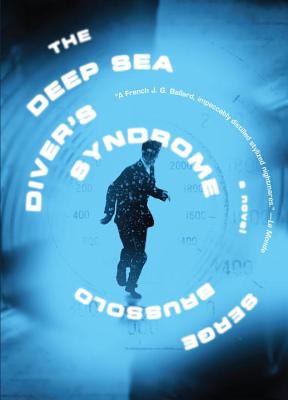 The Deep Sea Diver's Syndrome (Hardcover)
Melville House, 9781612194684, 208pp.
Publication Date: January 19, 2016
Other Editions of This Title:
Paperback (12/6/2016)
* Individual store prices may vary.
Description
An undisputed French master of the fantastic—as prolific as Stephen King; as original as Philip K. Dick—now in English for the first time
 
They call them "mediums"—professional dreamers who "dive" into the dream world to retrieve items that convert to valuable artworks in the waking world. What's more, the more dangerous the dream, the more valuable that artwork becomes.

In David Sarella's dreams, he's a professional jewel thief. With the help of his beautiful accomplice, Nadia, he breaks into jewelry stores and museums, lifts diamond necklaces and priceless art, and escapes into the night on a motorcycle—often, with the police shooting at them. 

But the pressure is always on David to dream up more audaciously dangerous heists. And meanwhile, the dives are taking their toll, both physically and mentally. David is beyond the point at which this "syndrome" forces most mediums to retire or face insanity or even death . . . and yet he can't imagine full-time life in the waking world, a world with no Nadia . . .

And so he decides to go down one more time—on the deepest dream-dive he's ever attempted—to settle his doubts and pull off one last spectacular job . . .
About the Author
Serge Brussolo is one of France's most singular, influential, and perennially bestselling authors. He is most acclaimed for novels that are hybrids of science fiction and fantasy, set in a uniquely skewed reality. But he is also one of France's most prolific authors, producing seminal works in numerous other genres, including historical fiction, thrillers, horror stories, crime novels, and young adult fiction. Remarkably, though many of his works have been adapted to the screen, The Deep Sea Diver's Syndrome is his first book to be published in English. 
 
Edward Gauvin is a translator from the French. His work has won multiple prizes and has appeared in The New York Times, Tin House, Subtropics, World Literature Today, and Weird Fiction Review. The translator of more than two hundred graphic novels, Gauvin is a contributing editor for comics at Words Without Borders.
Praise For The Deep Sea Diver's Syndrome…
"Visually rich and deliciously unsettling…a science fiction fever dream that will leave you in no hurry to wake up." —NPR

"An unbelievably gorgeous little novel that lies somewhere between Inception and Blade Runner…As high concept as anything Philip K. Dick wrote, [The Deep Sea Diver's Syndrome] reads like a masterful work of magic realism." —Unbound Worlds

"Surreal and powerfully original." —Locus

"So original, provocative and beautiful in a surreal way, that it results in one of the most fascinating allegories ever for the mystery of artistic creation." —Toronto Star

"The Deep Sea Diver's Syndrome...can't be reduced to a metaphor, or a character study, or a work of pure imagination. It is all of these things at once...tantalizing...exhilarating."—Strange Horizons

"An engagingly written, relentlessly imaginative work of genius that will make you believe in the power of books again." —World Literature Today

"[A] twisted neo-noir caper." —B&N Sci-Fi & Fantasy Blog

"This first English translation of best-selling, award-winning French author Brussolo's work submerges readers into the world of the subconscious. Vivid imagery, intriguing characters, and the blurred boundaries of David's worlds will hold their attention. A captivating read that will immerse the senses." —Library Journal

"Beautifully realized…Brussolo immerses us in [an] alternate dream-world." —M.A. Orthofer, The Complete Review

Praise for the initial release in France

"Another smashing success for France's most madcap writer of things imaginary." —France-Soir

"Hats off to French master of the fantastic Serge Brussolo, who once again has given us a finely-cut gem, the kind only he knows how to deliver." —La Croix

"Brussolo probes the dimensions of an astonishing idea, with surrealism but not without method. The Deep Sea Diver's Syndrome is a plunge into the subconscious, a cocktail of dreamlike, unhinged images swollen to bursting, but most of all an exceptional metaphorical variation on the relationship between artist and society." —À Suivre

"With each new novel, Brussolo continues to astonish with his skill in changing registers. He goes from what is sometimes the most gratuitous horror to poetry by way of the thriller, and the reader follows without blinking. The Deep Sea Diver's Syndrome is a terrific novel which, through dreams, smuggles in a certain critique of our rapidly dehumanizing society. It is fresh and satisfying."—Adrénaline Hebdo

"One of our finest explorers of childhood nightmares...[Brussolo's] novel is an excursion into the powers of the imagination, the powers of the night, and it is absorbing, hypnotic, terrifying, almost like a dream you might have had yourself once, long ago, and since cautiously suppressed." —Révolution
or
Not Currently Available for Direct Purchase