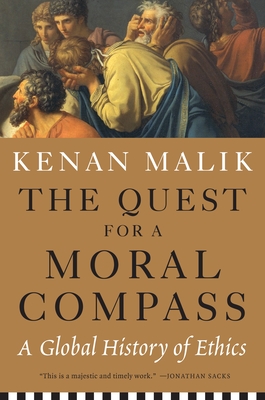 The Quest for a Moral Compass (Paperback)
A Global History of Ethics
Melville House, 9781612194837, 400pp.
Publication Date: August 11, 2015
Other Editions of This Title:
Hardcover (9/2/2014)
* Individual store prices may vary.
Description
The story of the global search for moral truths

In this remarkable and groundbreaking book, Kenan Malik explores the history of moral thought as it has developed over three millennia, from Homer's Greece to Mao's China, from ancient India to modern America. It tells the stories of the great philosophers, and breathes life into their ideas, while also challenging many of our most cherished moral beliefs.

Engaging and provocative, The Quest for a Moral Compass confronts some of humanity's deepest questions. Where do values come from? Is God necessary for moral guidance? Are there absolute moral truths? It also brings morality down to earth, showing how, throughout history, social needs and political desires have shaped moral thinking. It is a history of the world told through the history of moral thought, and a history of moral thought that casts new light on global history.
About the Author
KENAN MALIK is a writer, lecturer, and broadcaster. He is a presenter of The Moral Maze on BBC Radio 4 (UK). He has taught at universities in Britain, Europe, Australia and the USA, presented many TV documentaries and writes regularly for newspapers across the world including as a columnist for the International New York Times. His books include Man, Beast and Zombie; Strange Fruit; and From Fatwa to Jihad (Melville House, 2010), which was shortlisted for the 2010 Orwell Book Prize.
Praise For The Quest for a Moral Compass: A Global History of Ethics…
"Malik is admirably evenhanded in considering the history of ethical thought. An excellent survey for intermediate students of philosophy and a fine course in self-education for general readers."
—Kirkus Reviews

"What I love about Kenan Malik's book is its unashamed, unabashed ambition: he wants to write the history of moral thought, not just in the Western tradition, but of all the traditions that make up the global argument about the direction that the human moral compass should point. The result is a tour de force of lucidity and narrative skill."
—Michael Ignatieff

"An absolute tour de force. I can imagine it replacing Bertrand Russell's History of Western Philosophy on many a bookshelf—certainly mine."
—Tom Holland, author of In the Shadow of the Sword: The Birth of Islam and the Rise of the Global Arab Empire

"This is an extraordinarily rewarding investigation of the most striking, and contested, aspect of our humanity . . . To read it is not only to be better informed but also to be more alert to the assumptions that have guided human beings in the past, and to our capacity for goodness and wickedness."
—Raymond Tallis, author of The Kingdom of Infinite Space