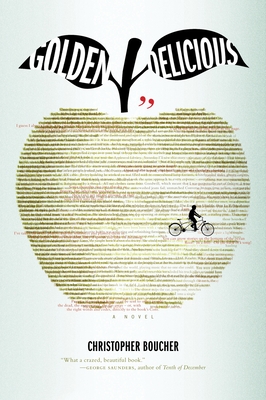 Golden Delicious
Paperback

* Individual store prices may vary.
Description
"What a crazed, beautiful book ... Boucher makes the world come alive by making language come alive." — George Saunders


From the writer Emily St. John Mandel (Station Eleven) called "Strange and dazzling" comes a funny, heartbreaking, and wildly imaginative tale

Welcome to Appleseed, Massachusetts, where stories grow in soil, sentences are kept as pets, and pianos change your point of view. Golden Delicious chronicles the narrator's rich, vivid childhood - driving to the local flea market with his father, causing trouble at school, pedaling through the neighborhood on his Bicycle Built for Two.

But as the local economy sours, the narrator's family is torn apart. His mother joins a flying militia known as The Mothers; his father takes an all-consuming job; his sister runs away for a better life elsewhere. Who will save Appleseed? Will it be the Memory of Johnny Appleseed? The Mothers? The narrator himself?

Golden Delicious is the eagerly awaited follow-up to Christopher Boucher's acclaimed debut, How to Keep Your Volkswagen Alive. It's a tour-de-force unlike any other, that takes you to the heart of family, love and memory.
Praise For Golden Delicious…
"What a crazed, beautiful book—a joyful example of necessary experimentation, i.e., an experiment whose purpose is to accommodate more beauty and truth. As in his first book, How to Keep Your Volkswagen Alive, Boucher makes the world come alive by making language come alive." —George Saunders, author of Tenth of December

"The best kind of modern fiction: inventive, expansive, with endless heart and narrative verve ... This book will restore your belief in the possibility of the novel. Read this book now." —Joe Meno, author of Hairstyles of the Damned

"Infused with...strange brilliance...The language in Boucher's novel isn't just alive; it gets into fights...Funny, and also deeply, improbably moving,..The entire high-wire act is in service to a deadly serious story about belonging, and about the agonies and joys of being in a family."—Emily St. John Mandel, The Millions

"Bonkers, in the best way ... Part bildungsroman, part picaresque, and part meta-commentary on reading ... The beauty of Boucher's concept is that Golden Delicious can afford to be an utter hodgepodge peppered with nearly inexplicable happenings and still make an elegant sort of sense." —Electric Literature

"Tender, amusing, and moving."—The Alt

"Golden Delicious, is probably like nothing you've ever read…Boucher writes simultaneously very seriously and with a palpable sense of delight in words and also in the world. It's delicious." —The Rumpus

"An odd, clever, and thoroughly enjoyable experience." —Publishers Weekly  (starred)

"With the imaginative spirit that earned him praise for his debut,How to Keep Your Volkswagen Alive (2011), Boucher's second novel solidifies him as a master of evoking compassion through absurd, shape- shifting landscapes … As wacky as it is recognizable, Boucher's capricious world filled with delightful wordplay is strikingly vivid, funny, and moving." —Booklist/American Library Association


"Storytelling is split weirdly, beautifully, open…After feasting on this book…your brain is bound to be doing syntactical backflips." —The Valley Advocate

"A book that takes farce, fantasy and metaphors off in unpredictable directions." —The Daily Hampshire Gazette

"Prepare to…question the very act of literature as you consume this book." —The Thread

Praise for How to Keep Your Volkswagen Alive
 
"Strange and dazzling...Through all the insanity and dizzying leaps of logic that make up Boucher's world are a series of absolutely human and recognizable truths."
—Emily St. John Mandel, The Millions
 
"Boucher's first novel is one of the most original books you will read this year."
—Roxane Gay, HTMLGiant
 
"As moving as it is fun, How to Keep Your Volkswagen Alive is definitely the next book you should read."
—Adam Levin, author of The Instructions
 
"Christopher Boucher joins a now-forgotten handbook with Steven Wright's old joke about mistakenly sticking a car key in a house door and builds a new, exuberant novel-world. Goofiness and grief are in perfect harmony in this impressive, moving debut."
—Sam Lipsyte, author of The Ask
Melville House, 9781612195100, 336pp.
Publication Date: April 26, 2016
About the Author
CHRISTOPHER BOUCHER is author of the widely praised novels How to Keep Your Volkswagen Alive and Big Giant Floating Head. He teaches literature and writing at Boston College, and is editor of the literary journal Post Road. He lives in Northampton, MA.
or
Not Currently Available for Direct Purchase