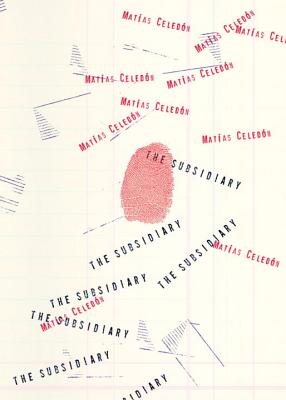 The Subsidiary (Hardcover)
Melville House, 9781612195445, 208pp.
Publication Date: August 30, 2016
* Individual store prices may vary.
Description
"Powerful, beautiful, and haunting. Every time I read The Subsidiary, it feels both timeless and painfully, undeniably contemporary." —Alejandro Zambra 

In the subsidiary offices of a major corporation, the power suddenly goes out: the lights switch off; the doors lock; the phone lines go dead. The employees are trapped in total darkness with only cryptic, intermittent announcements over the loud speaker, instructing all personnel to remain at their work stations until further notice.

Terrified, one lone worker uses the implements on his desk to give testimony to the horrors that occur during the days he spends trapped in the building, testimony told exclusively --- and hauntingly --- through the stamps he uses to mark corporate documents.

Hand-designed by the author with a stamp set he bought in an bookstore in Santiago, Matías Celedón's The Subsidiary is both an exquisite object and a chilling avant-garde tale from one of Chile's rising literary stars.
About the Author
Matías Celedón was born in Santiago, Chile, in 1981. He is a screenwriter, journalist, and the author of three novels. This is his first translation into English.
Praise For The Subsidiary…
"Powerful, beautiful, and haunting. Every time I read The Subsidiary, it feels both timeless and painfully, undeniably contemporary." —Alejandro Zambra 

"A dystopian, Kafkaesque allegory made legible through a sequence of terse and scattered fragments...a brilliant performance of literary minimalism...visually-striking and shrewdly designed."—Hyperallergic

"The telegraphic language intensifies the horror...A gem of alienation distilled into silent screams in the dark." —BBC.com 

"A chilling, cryptic tale...unique in its execution and form...Celedón's book is an intriguing work of art...defiantly political without being didactic."—PopMatters

"Bartleby the Scrivener meets Cujo as imagined by David Lynch…In the spirit of Franz Kafka, Matías Celedón evokes a bureaucratic nightmare that is terrifying in its banality and in its menace…A remarkable reading experience."—The Millions

"Compelling...The Subsidiary conjures the sort of cold, tight language that has often been employed in documenting subjugation...Uses the perfect form to convey its larger concerns...A complete work of art: literary and visual...sparse and evocative."—Three Percent

"Equal parts workplace satire and storytelling experiment...a deeply unsettling work told in an innovative manner." —Vol. 1 Brooklyn

"An ingenious book-object...[A] cautionary fiction about the extent of violence we can inflict on ourselves and others given the means and opportunity."—Minor Literature[s]

"This slim book will haunt you long after you have finished reading it."—Seattle City of Literature

"An arresting, disturbing little tale."—The Complete Review

"This is a book written in stamps. And it works: the form perfectly emulates the gloomy atmosphere of the subsidiary and the broken emotional environment of its employees. With few words, The Subsidiary says a great deal." —La Pollera