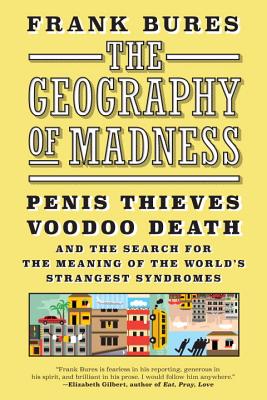 The Geography of Madness
Penis Thieves, Voodoo Death, and the Search for the Meaning of the World's Strangest Syndromes
Paperback

* Individual store prices may vary.
Description
Why do some men become convinced—despite what doctors tell them—that their penises have, simply, disappeared. Why do people across the world become convinced that they are cursed to die on a particular date—and then do? Why do people in Malaysia suddenly "run amok"?

In The Geography of Madness, acclaimed magazine writer Frank Bures investigates these and other "culture-bound" syndromes, tracing each seemingly baffling phenomenon to its source. It's a fascinating, and at times rollicking, adventure that takes the reader around the world and deep into the oddities of the human psyche. What Bures uncovers along the way is a poignant and stirring story of the persistence of belief, fear, and hope.
Praise For The Geography of Madness: Penis Thieves, Voodoo Death, and the Search for the Meaning of the World's Strangest Syndromes…
"Frank Bures has some of the widest (and wildest) curiosities of any writer out there. This is a man who truly wants to know the world, in all its strange and beautiful variations. He is fearless in his reporting, generous in his spirit, and brilliant in his prose. I would follow him anywhere."
—Elizabeth Gilbert, author of Eat, Pray, Love

"It would be easy just to gawk at the strangeness of these syndromes, or to dismiss them as unscientific or psychosomatic. Bures doesn't do that. He carefully considers the relationships between culture,  health, the mind, and the body, which can lead people to experience seemingly impossible things."—THE ATLANTIC

"What Bures has achieved here is a complex, nuanced and original meditation on our species and how we manage to coexist on a planet where we are all the same, yet each so different." —THE AUSTRALIAN

"The premise for The Geography of Madness is so irresistible you are left wondering why you never thought of it yourself. It is a travel book with a quest." —NEW SCIENTIST

"In The Geography Of Madness, journalist Frank Bures shows that what such "culture-bound syndromes" demonstrate is the astonishing power of culture and belief – on all of us." —THE GUARDIAN

"Bures asks what forces are at the root of people's suffering. How is mental and physical health intertwined? Along the way, readers get an entertaining history of the study of culture...bombshells from his own family history...give the story heart." —MACLEAN'S

"Bures, a Minneapolis-based travel writer, turns in a reportorial tour de force in this examination of culture, belief and madness." —MINNEAPOLIS STAR TRIBUNE

"Wonderfully weird." —TORONTO GLOBE AND MAIL

"An insightful journey deep into the science of culture and belief...Bures deftly navigates the geographically defined contours of the mind." —LONGITUDE
 
"With The Geography of Madness, Frank Bures has created a literary, thoughtful study that explores the connections between culture and psychology, storytelling and health.  It's also, to my knowledge, the most pleasant and least painful way to learn about penis theft." 
—Peter Hessler, author of Oracle of Bones: A Journey Through Time in China

"Penis theft. Vampires. Black magic. These are not exactly prime ingredients for a hilarious, empathetic travel book, but Frank Bures has pulled off something incredible in The Geography of Madness. In demonstrating how culture-bound concepts of 'madness' and 'sickness' really are, he reminds us what we human beings have in common, which is to say, we're all beautifully, fascinatingly nuts."
—Tom Bissell, author of Extra Lives: Why Video Games Matter

"Frank Bures has a brave, hungry mind and a heavily inked passport that have taken him to the far reaches of the world and human behavior. You'll be glad to join him on his quest in The Geography of Madness, a book that reads like a magical treasure map. The chapters take us through the quirky, the wondrous, the horrifying, but ultimately leave us with a better understanding of ourselves. Bures writes as some combination of investigative journalist, cultural anthropologist, daredevil, and empath."
—Benjamin Percy, author of Red Moon

"In a world coming unstitched, Frank Bures travels the globe gathering threads, weaving the odd and the otherworldly into something whole. I would follow Bures to the far corners of the earth for his stories—finally, in The Geography of Madness, I can."
—Michael Perry, author of Population: 485—Meeting Your Neighbors One Siren at a Time

"By turns harrowing and hilarious, Bures's global journey explores the deep complexities of how culture influences the way we see the world."
—Rolf Potts, author of Vagabonding: An Uncommon Guide to the Art of Long-Term World Travel

"Frank Bures has written a potent, unique narrative about how culture and our own thinking can do very strange things to us. This enjoyable and informative book takes us to places some truly bizarre places -- both in the world and in our minds."
—David Farley, author of An Irreverent Curiosity

"With the drive of an investigative reporter, a researcher's patience, and a poet's gift for words, Frank Bures teases out the logic and sanity behind madness. In going into the histories and psychologies of some of the world's strangest maladies, he shows us that it takes a village to make a penis disappear."
—Mukoma Wa Ngugi, author of Nairobi Heat



Melville House, 9781612195568, 256pp.
Publication Date: April 18, 2017
About the Author
FRANK BURES's stories have appeared in Harper's, Esquire, Outside, Bicycling, and Wired, and have been included in a number of Best American Travel Writing anthologies. They've also been selected as "Notable" picks for Best American Sports Writing 2012 and the Best American Essays 2013. He lives in Minneapolis.