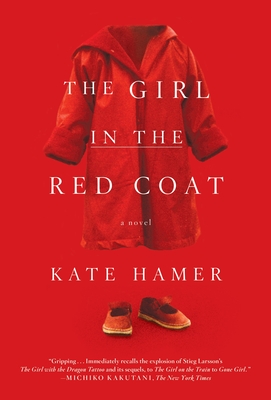 The Girl in the Red Coat
Paperback

* Individual store prices may vary.
Other Editions of This Title:
Digital Audiobook (2/25/2016)
Digital Audiobook (2/25/2015)
Hardcover (2/16/2016)
Compact Disc (2/26/2016)
MP3 CD (2/26/2016)
Library Binding, Large Print (6/1/2016)
Description
"Immediately recalls the explosion of similarly titled books and movies, from Stieg Larsson's The Girl With the Dragon Tattoo and its sequels to The Girl on the Train to Gone Girl … "—Michiko Kakutani, The New York Times
 
 
Newly single mom Beth has one constant, gnawing worry: that her dreamy eight-year-old daughter, Carmel, who has a tendency to wander off, will one day go missing.
 
And then one day, it happens: On a Saturday morning thick with fog, Beth takes Carmel to a local outdoor festival, they get separated in the crowd, and Carmel is gone.
 
Shattered, Beth sets herself on the grim and lonely mission of finding her daughter, keeping on relentlessly even as the authorities tell her that Carmel may be gone for good.
 
Carmel, meanwhile, is on a strange and harrowing journey of her own—to a totally unexpected place that requires her to live by her wits, while trying desperately to keep in her head, at all times, a vision of her mother…
 
Alternating between Beth's story and Carmel's, and written in gripping prose that won't let go, The Girl in the Red Coat is an utterly immersive story that's impossible to put down…and impossible to forget.
Praise For The Girl in the Red Coat…
An ELLE Lettres Readers' Prize Winner
An Amazon Best Book of the Year for 2016
Costa Book Award for First Novel finalist
Dagger Award finalist
 
"Kate Hamer's gripping debut novel immediately recalls the explosion of similarly titled books and movies, from Stieg Larsson's The Girl With the Dragon Tattoo and its sequels to The Girl on the Train to Gone Girl … What kicks The Girl in the Red Coat out of the loop of familiarity is Ms. Hamer's keen understanding of her two central characters: Carmel and her devastated mother, Beth, who narrate alternating chapters … Both emerge as individuals depicted with sympathy but also with unsparing emotional precision." —Michiko Kakutani, The New York Times
 
"This stunning debut … has the propulsion of a thriller." —People
 
"Every sentence in Kate Hamer's debut is so perceptive that you're torn between wanting to linger on the thought and itching to learn what happens next …The taut plot alternates between Carmel's emotional struggle to survive and Beth''s refusal to believe that her daughter is gone forever. Meanwhile, their complex yet unbreakable bond is rendered with honesty and love." —Oprah.com
 
"[A] spectacular debut … Telling the story in two remarkable voices, with Beth's chapters unfurling in past tense and Carmel's in present tense, the author weaves a page-turning narrative. The trajectories of the novel's two leads—through despair, hope, and redemption—are believable and nuanced, resulting in a morally complex, haunting read." —Publishers Weekly, starred review
 
"Reading this novel is a test of how fast you can turn pages." —Library Journal, starred review
 
"Hamer's lush use of language easily conjures fairy-tale imagery, especially of dark forests and Little Red Riding Hood. Although a kidnapped child is the central plot point, this is not a mystery but a novel of deep inquiry and intense emotions. Hamer's dark tale of the lost and found is nearly impossible to put down and will spark much discussion." —Booklist, starred review
 
"Poignantly details the loss and loneliness of a mother and daughter separated … Fast-paced ... Hamer beautifully renders pain, exactly capturing the evisceration of loss … Exquisite prose surrounding a mother and daughter torn apart." —Kirkus Reviews
 
"Hamer's book is a moving, voice-driven narrative. As much an examination of loss and anxiety as it is a gripping page-turner, it'll appeal to anyone captivated by child narrators or analyses of the pains and joys of motherhood." —Huffington Post
 
"Riveting. Worth the hype." —Book Riot
 
"Keeps the reader turning pages at a frantic clip . . . What's most powerful here is not whodunit, or even why, but how this mother and daughter bear their separation, and the stories they tell themselves to help endure it." —Celeste Ng, author of Everything I Never Told You
 
"Compulsively readable . . . Beautifully written and unpredictable . . . I had to stop myself racing to the end to find out what happened . . . Kate Hamer catches at the threads of what parents fear most—the abduction of a child—and weaves a disturbing and original story. There is menace in this book, lurking in the shadows on every page, but also innocence, love, and hope." —Rosamund Lupton, author of Sisters
 
"Gripping and sensitive—beautifully written, The Girl in the Red Coat is a compulsive, aching story full of loss and redemption." —Lisa Ballantyne, author of The Guilty One
Melville House, 9781612195612, 352pp.
Publication Date: February 7, 2017
About the Author
KATE HAMER is a winner of the Rhys Davies Short Story Prize. Her first novel, Girl in the Red Coat was shortlisted for the Costa Book Award for First Novel and was a finalist for The Dagger Award. Her second novel, The Doll Funeral was described by the Guardian as evoking both Jeanette Winterson and Ian McEwan. She lives in Cardiff, Wales with her husband and two children. She can be found online at katehamer.co.uk
or
Not Currently Available for Direct Purchase