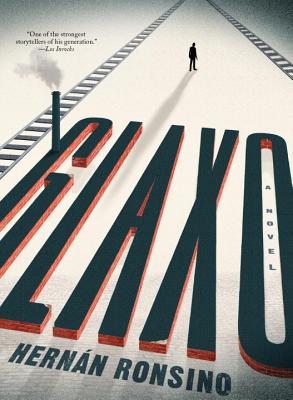 Glaxo
Paperback

* Individual store prices may vary.
Description
Glaxo is a chilling novel of betrayal, romance, and murder, from a major Latin American writer being published in English for the first time.

In a derelict town in Argentina's pampa, a decades-old betrayal simmers among a group of friends. One returns from serving time for a crime he didn't commit; another, a policeman with ties to the military regime, discovers his wife's infidelity; a third lays dying. And an American missionary has been killed.

But what happened among these men?

Spinning through a series of voices and timelines, Glaxo reveals a chilling story of four boys who grow up breaking horses and idolizing John Wayne, only to become adults embroiled in illicit romances, government death squads, and, ultimately, murder. Around them, the city falls apart.

Both an austere drama and a suspenseful whodunit, Glaxo crackles with tension and mystery. And it marks the stunning English-language debut of a major Latin American writer.
Praise For Glaxo…
"A spectral crime story where history, far from something abstract, is embodied within a terribly tangible landscape plagued by memory and guilt...Full of stirring images, the novel brilliantly portrays the painful isolation of a world where the possibility of justice has been replaced by the senseless circulation of vengeance...Ronsino [is] one of the great stylists of the present generation."—BOMB

"A story of lost innocence and betrayal set against Argentina's plains, Glaxo owes its aesthetic to the Western film...Evocative and full, yet suspenseful...Abrupt shifts in time and perspective...turn a story about infidelity and murder into something larger."—GLOBE AND MAIL

"Set in a dusty, stagnating town in Argentina, the novel cautiously circles around a decades-old murder, a vanished wife, and past political crimes...Allusions to John Sturges's Last Train From Gun Hill hint at the vengeance, or justice, to come in this sly Latin American Western."—THE MILLIONS 

"Subtle, closely observed...The novel packs a mean, memorable punch."—PUBLISHERS WEEKLY (starred)

"[A] brooding novel set on the windswept edge of the pampas…Allusive and reserved, as if peeking out at the scene of the crime from behind drawn curtains…An atmospheric mystery that is never obvious."—KIRKUS REVIEWS

"Glaxo withholds while it testifies, like a knot tightening. Ronsino replaces the dread his characters feel with another type of horror...the real and extensive violations in Argentina's recent history."—PROPELLER

"Enthralling."—BookRiot

"One of the strongest storytellers of his generation." —Matias Capelli, Los in Rocks (Argentina)

"A young Argentine novelist who was chosen by the Guadalajara International Book Fair as one of the 25 most interesting writers in Latin America . . . His writing offers a totally original vision." —La Pulseada (Argentina)

"Glaxo revolves around conflicts that may seem small, but are linked to grand emotions and experiences: envy, sex, crimes of passion, and betrayal." —Pagina 12 (Argentina)

"Taut, unsettling" —SIGNATURE READS
Melville House, 9781612195674, 112pp.
Publication Date: January 17, 2017
About the Author
Hernán Ronsino was born in Chivilcoy, a small town in Argentina's pampa, in 1975, and moved to Buenos Aires for his studies. The author of three novels and one short story collection, Ronsino is also an anthropologist and professor at the University of Buenos Aires.

Samuel Rutter is a translator and writer from Melbourne, Australia. He has translated several authors from the Spanish, including Carlos Labbé, Daniel Sada and Juan Marsé. In 2015 he was awarded a PEN Translates grant.
or
Not Currently Available for Direct Purchase