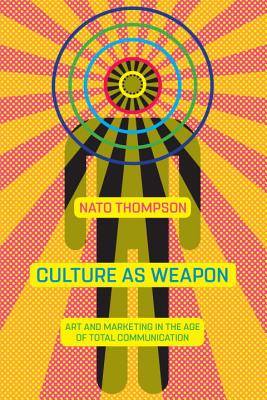 Culture as Weapon
The Art of Influence in Everyday Life
Hardcover

* Individual store prices may vary.
Other Editions of This Title:
Paperback (3/6/2018)
Description
One of the country's leading activist curators explores how corporations and governments have used art and culture to mystify and manipulate us.

The production of culture was once the domain of artists, but beginning in the early 1900s, the emerging fields of public relations, advertising and marketing transformed the way the powerful communicate with the rest of us. A century later, the tools are more sophisticated than ever, the onslaught more relentless.

In Culture as Weapon, acclaimed curator and critic Nato Thompson reveals how institutions use art and culture to ensure profits and constrain dissent--and shows us that there are alternatives. An eye-opening account of the way advertising, media, and politics work today, Culture as Weapon offers a radically new way of looking at our world.
Praise For Culture as Weapon: The Art of Influence in Everyday Life…
"Explores the ways in which the tools of culture are deployed to do everything from sell iPhones to wage war...The book's landing during the early days of the Trump administration couldn't have been more impeccable...Culture as Weapon provides a compelling manual for determining how the manipulation begins."—LOS ANGELES TIMES

"Art has played a huge role in shaping modern society...But In Culture as Weapon, Nato Thompson argues that art—or more specifically, the criticism of art—can also be an invaluable way to score political points."—TIME

"Energetic, briskly paced, and well-researched…[Thompson] voids cliché and succeeds in raising awareness of the cultural forces that shape brand preferences and political allegiance."—PUBLISHERS WEEKLY

"[Thompson explores] how persuasive cultural mechanisms are encoded in broader social structures, from high art to war-planning...A precisely written critique of cultural manipulation in our daily lives."—KIRKUS REVIEWS

"[Thompson] explores the intersections of art, culture, and manipulation in society...Informative, profound, and alarming."—BOOKLIST/American Library Association

"When it comes to living in a democracy, Nato Thompson argues, nothing affects us more directly and more powerfully than culture."—THE ATLANTIC

"Thompson outlines the ways that all forms of culture can be deployed to appeal to our emotional selves."—ARTNET NEWS

"A crucial read about the way PR methods have sunk into every aspect of our lives...This book makes the culture wars seem even deeper, more far-reaching and more crucial than ever before."—FLAVORWIRE

"With illuminating perspicacity, Thompson explores the myriad ways unmarketable art survives in a society where political divisions, the aesthetics of advertising, and the mistaking of finely-tuned commercial branding for communal bonding drive modern American culture."—THE CULTURE TRIP

"Timely and significant."—COACHELLA VALLEY WEEKLY

"Culture as Weapon is a brilliant and scathing take no prisoners critique of contemporary culture. Spanning military occupation, capitalism masquerading as charity, and personal computing, Nato Thompson shows us the dark side of how culture is deployed to fortify power."—Laura Poitras, filmmaker, Citizenfour

"Yes, art 'works,' as the saying goes, but what work does it do? Does it make us wiser? Does it help us to understand ourselves? Not necessarily. As Nato Thompson shows us in this wide-ranging and provocatively written book, art sometimes takes us down a different road entirely. Art sells; art gentrifies; art puts a nice glossy shine on the neoliberal project. Read it and discover exactly how mistaken is our assumption that human creativity brings us always closer to some earthly utopia."—Thomas Frank, author of What's The Matter With Kansas? 

"One of the most compelling curators and thinkers in the arts today turns his discerning eye to the new politics of the culture war. Roaming widely from Hollywood to Washington D.C., Madison Avenue to Mosul, while unpacking  'creative city' boosterism, the new 'corporate sociability,' and the 21st century charity complex, his provocative argument is that the powerful have learned from artists the tools and tactics of the counterculture—and we are not the better for it. A powerful, bracing, important read." —Jeff Chang, author Can't Stop Won't Stop

"Culture as Weapon reveals the profound social function that art plays. Thompson explores how art is situated at this nexus of utopic vision and social reality, and suggests how we can navigate a landscape where art, culture, and its producers and consumers, seem to be emerging. This is the book that we have been waiting for."—Hans Ulrich Obrist, artistic director of the Serpentine Galleries, London

"Thompson efficiently demonstrates how culture can be turned into a set of tools and tactics that allows those in power to quietly manipulate the impressionable, irrational and social creature that we are...[Culture as Weapon] is informative and entertaining. It is also troubling, thought-provoking and impossible to read without thinking about Trump."—We Make Money Not Art

"Brilliant...Thompson's main point is not that we should reject culture as a method of positive change or resistance, but that we need to be mindful of its limitations and prepared for systems of power to respond in kind."—Josh Cook, author of An Exaggerated Murder

Melville House, 9781612195735, 288pp.
Publication Date: January 17, 2017
About the Author
NATO THOMPSON is chief curator at Creative Time, one of New York's most prestigious and exciting art organizations. He is the editor of The Interventionists: A Users' Manual for the Creative Disruption of Everyday Life; Experimental Geography: Radical Approaches to Landscape, Cartography, and Urbanism (Melville House), and Ahistoric Occasion: Artists Making History. And he is the author of Seeing Power (Melville House).
or
Not Currently Available for Direct Purchase