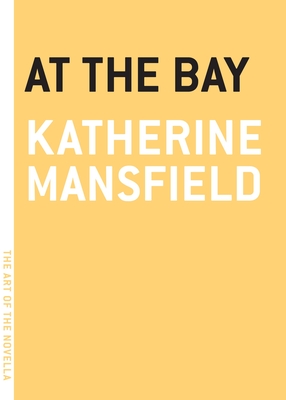 At the Bay (The Art of the Novella) (Paperback)
Melville House, 9781612195834, 64pp.
Publication Date: December 6, 2016
Other Editions of This Title:
Paperback (8/27/2017)
* Individual store prices may vary.
Description
A brilliant modernist classic--now available for the first time in a stand-alone edition

This dreamy, formally audacious story of a summer's day in the life of one family is a small masterpiece by Katherine Mansfield, hailed as "one of the great modernist writers. Virginia Woolf said of Mansfield, hers was "the only writing I have ever been jealous of."

A modernist master of cool precision and extraordinary delicacy, Mansfield wrote about family life with a sharp radicalism, and At the Bay is one of her greatest works. Told in thirteen parts, beginning early in the morning and ending at dusk, At the Bay captures both the Burnell family's intricate web of relatives and friends, and the dreamy, unassuming natural beauty of Crescent Bay.

Haunting but ever understated, At the Bay is as timeless novella, and a testament to Mansfield's remarkable powers.
About the Author
Katherine Mansfield was born in Wellington, New Zealand, in 1888. She moved to London in 1903, to attend college, and settled there in 1908. In 1910, she began to contribute articles to The New Age, and the following year, she published her first collection, In a German Pension. Mansfield was close to a number of her fellow modernists, including D. H. Lawrence and Virginia Woolf. Her second book of stories, Bliss, was published in 1921, and her third, The Garden Party, appeared a year later. It was the last book to be published in her lifetime: after contracting tuberculosis in 1917, she died six years later, in 1923.
Praise For At the Bay (The Art of the Novella)…
"The only writing I have ever been jealous of." --Virginia Woolf

"By the time of her death in 1923, at age 34, she was being acclaimed as one of the few truly outstanding short-story writers in English, and with minor fluctuations her reputation has held firm ever since." --The New York Times

"A courageous, reckless character--by turns precociously sensual, cynical, and childish . . . There are stories of hers that last, because they have her sting, delicacy, and wit." --V.S. Pritchett, The New Yorker

"[Mansfield has brought] her inventions right over the threshold of art. They are extraordinarily solid; they have lived so long in her mind that she knows all about them and can ransack them for the difficult, rare, essential points." --Rebecca West