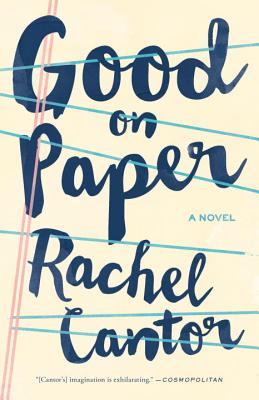 Good on Paper
Paperback

* Individual store prices may vary.
Description
THE HIGHLY ANTICIPATED SECOND NOVEL FROM THE WRITER EMILY ST. JOHN MANDEL (STATION ELEVEN) CALLS "SHARP, WITTY, AND IMMENSELY ENTERTAINING"
 
Is a new life possible? Because Shira Greene's life hasn't quite turned out as planned. She's a single mom living with her daughter and her gay friend, Ahmad. Her PhD on Dante's Vita Nuova hasn't gotten her a job, and her career as a translator hasn't exactly taken off either.

But then she gets a call from a Nobel Prize-winning Italian poet who insists she's the only one who can translate his newest book.

Stunned, Shira realizes that—just like that— her life can change. She sees a new beginning beckoning: academic glory, demand for her translations, and even love (her good luck has made her feel more open to the entreaties of a neighborhood indie bookstore owner).

There's only one problem: It all hinges on the translation, and as Shira starts working on the exquisitely intricate passages of the poet's book, she realizes that it may in fact be, well ... impossible to translate.

A deft, funny, and big-hearted novel about second chances, Good on Paper is a grand novel of family, friendship, and possibility.
Praise For Good on Paper…
"Ms. Cantor is unafraid of asking big questions explicitly, like whether fidelity — to texts or to people — is possible. The complicated details of Romei's schemes and Shira's past start to pile up and will satisfy lovers of plot, but the novel is at its strongest when Shira's voice is loosely playful and ruminative."
—New York Times

"It is not often that a novel comes along that is laugh-out-loud hilarious and thought-provokingly philosophical. 'Good on Paper' is both."
—Boston Globe

"In Good on Paper, Cantor creates a compelling vision of what love is. It's not a feeling but — like translation — an act: a willful opening of one self to another."
—NPR

"Tantalizingly tinkers with storytelling novelties."
—Sam Sacks, The Wall Street Journal

"The comedy helps prevent the seriousness from shading into sentimentality. But what remains most powerful about this book is not the zaniness or the punning. Rather, it is how sincerely Cantor depicts what another poet, Wallace Stevens, called 'This vif, this dizzle-dazzle of being new/ And of becoming.'"
—San Francisco Chronicle

"Rachel Cantor's debut...introduced her as an imaginative tour de force able to juggle the absurd with the poignant, the unbelievable with the necessary. With Good on Paper, Cantor does the same, and with just as much dexterity."
—Toronto Star

"An engrossing read and an invigorating subject of study...Ultimately, this is a story about stories, about the power of art to redeem both creator and viewer."
—Dallas Morning News

"Rachel Cantor's madcap novel plays with words as it explores redemption, understanding ... There is an absorbing story here, and affectionate character development."
—Minneapolis Star Tribune

"Cantor combines a detailed web of characters with her humor, carefully arranging the emotionally impactful moments as well as the wordplay and comical sense of domesticity...Cantor pulls off a well balanced and entertaining novel."
—Electric Literature

"The miracle of a text moving from one language into another, the struggle to translate the languages of our own family to other people and to ourselves—these questions lie at the heart of the whip-smart and wildly moving Good on Paper. Rachel Cantor is masterful at creating characters who feel so alive we think for a moment that they could step right off the page and into our world. Her voice is one to celebrate." 
—Laura van den Berg, author of Find Me

"A bustling tale of love, family, language, and flight, Good on Paper never fails to entertain us at the deeper levels, despite its lightness of tone. It is a vivacious, potent blend of the touching and the erudite, the garrulous and thoughtful, the playful and the tender."
—Jim Crace, IMPAC Award-winning author of Harvest

"Good on Paper is full of invention and emotional generosity. It's also packed with Cantor's love of humanity and language. It's a delightful read."
—A.L. Kennedy, author of Day

"As Cantor's playful and smart novel unfolds, it's hard not to fall in love with her characters. Above all, it's a book for language-lovers, so heads-up word fiends."
—Elle

"A dazzling book...With one-of-a-kind characters and brilliant insights on translation, this book will hit you in all your literary sweet spots."
—Bustle

"Cantor clearly loves her characters, and she shows true mastery of their inner lives...You'll want to reread the final chapters more than once, delighted anew each time by how well Cantor speaks our language. In this feat of a novel, knowledge is a tiny first step on the way to understanding."
—Kirkus Reviews, starred review

"Translation is a metaphor through which Cantor uses her considerable powers with language to refract larger questions about family bonds, storytelling, and letting go of fantasies of new life and waking up to the life that is yours."
—Publishers Weekly, starred review

"[Cantor's] second novel, Good on Paper...sounds a bit different—but just as enticing."
—The Millions, Most Anticipated Books of 2015

Praise for A Highly Unlikely Scenario by Rachel Cantor

"A dystopian satire; a story about ­storytelling, believing and listening — 'A Highly Unlikely Scenario' is ultimately a history of our own strange world."
—New York Times Book Review

"[A] dizzying fabulist debut."
—Washington Post

An io9 pick for the Essential Science Fiction and Fantasy Books of 2014

"[Cantor's] imagination is exhilarating — A Highly Unlikely Scenario will appeal to fans of sci-fi and people who just like to laugh."
—Cosmopolitan, 10 Books by Women You Have to Read This Spring

"Cantor's first novel never takes an obvious turn when a stranger one might do and the result is a plot that bounces, soap-bubble like, above a world that is equal parts absurdity and whimsy…the whole thing has the air of a fable translated from a very foreign language."
—io9

"Ultimately, more than incantations and codes, it's family Cantor cares about. A Highly Unlikely Scenario is about just that: Familial wisdom and love lost and found and shared anew, finally, conquering all."
—Daily Beast

"A treat for those who like zippy sci-fi paced like the stories of Kurt Vonnegut."
—Time Out New York

"With publication of A Highly Unlikely Scenario, Rachel Cantor joins the ranks of authors who are able to turn philosophical concepts into whiz-bang plots, and make them funny as well. Throw in some family dysfunction, time travel, a librarian ingénue, and the possible destruction of the world, and you've got an adventure story replete with nerdy delights."
—Tor

"The book's plot, which concerns a future where fast food corporations run the world, is deliciously weird enough to work in its own warped way, walking the line between straight fantasy and fiction."
—Flavorwire

A Hall of Fame bestseller in The Millions

A Book Riot Must-Read Book from Indie Presses for 2014

"A heroic tale unlike any other: a novel that is not about a quest but about learning that the world—our world—is full of extraordinary, mysterious wonders."
—Kenyon Review

"This debut novel is a present to both sci-fi and humor fans alike."
—Barnes & Noble Book Blog, January indie books roundup

"In this roller-coaster debut, fast-food corporations rule the world and a peon customer-service worker has to save it… Cantor is in control of her material, and successful dystopian satire makes more sense while you're lost in it."
—Heeb, Best Books of the Year

"Brooklyn-based writer Rachel Cantor has created a whole new world in her debut novel — a humorous and playful science fiction story."
—Brooklyn Eagle

"Delightful… The sense of excitement in Cantor's prose, which propels this familiar story of a few silly, frightened people braving their way through a maddening, baffling world, is what compels us to keep reading."
—The Rumpus

A Book of the Week pick from WORD bookstore on Largehearted Boy

"The great pleasure of such novels is the world-building, in which the author invents a new universe while playfully commenting on our own. And what Cantor does of this is great, her impish prose and dry wit perfectly suited to the task."
—The Independent (UK)

"An intrepid debut."
—Kirkus Reviews

"Cantor suspends disbelief and creates a loony world entirely of her own, which is terrifically funny and effortlessly enjoyable. This highly entertaining and adventurous tale will leave readers rooting for Leonard to save the world, with or without his coupons."
—Publishers Weekly

"[A] rambunctiously smart, pun-spiked, and sweet dystopian romantic comedy… Glimmering with 'signs and wonders' and laced with satirical jabs at technological intrusiveness and deception, Cantor's funny and charming metaphysical adventure and love story is a wily inquiry into questions of perception, knowledge, mystery, legacy, and love."
—Booklist

"Cantor's novel will be a great hit for fans of Douglas Adams's Hitchhiker's Guide to the Universe. There's a lot going on here, and all of it is amusing."
—Library Journal

"It's as if Kurt Vonnegut and Italo Calvino have collaborated to write a comic book SF adventure and persuaded Chagall to do the drawings. Rachel Cantor's cabinet of curiosities, A Highly Unlikely Scenario, is one of the freshest and mostly lively novels I have encountered for quite a while."
—Jim Crace

"A Highly Unlikely Scenario is a joyful book, full of the energy of undiluted invention and the thoughtful imagination of a writer to watch. It's a wild ride and much more – funny, intelligent and entirely pleasing."
—A.L. Kennedy

"A sharp, witty, and immensely entertaining debut. Cantor writes with a satirical touch, but her vision of a world dominated by fast food conglomerates holds a ring of truth, and her skill in rendering complex and highly believable characters makes for an unexpectedly moving tale."
—Emily St. John Mandel

"Part Italo Calvino, part Ray Bradbury, A Highly Unlikely Scenario mixes philosophy, history, religion, humor, mystery and time-travel. In this extraordinary novel, Rachel Cantor explores questions of self-knowledge, true love and family, all while saving the world—and winning readers—in the past, present, and future."
—Hannah Tinti

"Cosmic and comic, full of philosophy, mysticism and celestial whimsy. A story of listening, of souls and bodies, that is at once both profoundly wild and wildly profound."
—Charles Yu, author of How to Live Safely in a Science Fictional Universe

"I didn't know I needed a mystical Jewish Douglas Adams in my life, but Rachel Cantor is it, and her Guide makes me shep naches every time I turn a page. Buy this book, bubeleh! It will surprise you in ways large and small, and it will fill you with delight."
—Emily Barton, author of Brookland
Melville House, 9781612196084, 320pp.
Publication Date: December 6, 2016
About the Author
RACHEL CANTOR is the author of the acclaimed debut novel A Highly Unlikely Scenario (Melville House) and her short stories have appeared in The Paris Review, One Story, Ninth Letter, and The Kenyon Review, among other publications. Good on Paper is her second novel. Cantor was raised in Rome and Connecticut, and currently lives in Brooklyn, NY.
or
Not Currently Available for Direct Purchase