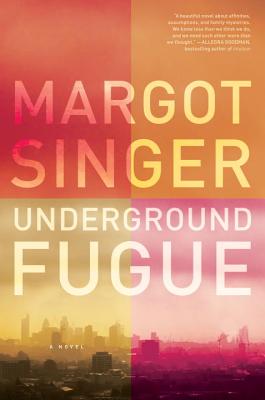 Underground Fugue (Hardcover)
Melville House, 9781612196282, 304pp.
Publication Date: April 18, 2017
Other Editions of This Title:
Paperback (5/1/2018)
* Individual store prices may vary.
Description
A New York Times Editors' Choice

"A pleasure to read from beginning to end." —Geraldine Brooks, Pulitzer Prize–winning author of March

Esther, an American art conservator, has fled New York for London—partly to escape her failing marriage, partly to tend to her dying mother. On her first night there, she spots a young man returning home very late, wet and muddy, to the house next door. Their eyes connect and he disappears inside.

This first encounter sparks Esther's curiosity about her new neighbors: Amir, the moody college student she caught sneaking in, and, more intruiguing still, Amir's father, Javad—a neuroscientist from Iran.        

Throughout the spring, a tentative friendship blossoms, but when terrorists attack London's tube and bus lines in July, Esther finds her relationship with Javad strained by her gnawing suspicions about Amir . . . suspicions that will ultimately upend the possibilities for the future, and reveal the deep stamp of the past.

Sweeping, suspenseful, and exquisitely written, Underground Fugue is a powerful testament to how human connection can survive history's most fearsome echoes.
About the Author
Margot Singer won the Flannery O'Connor Award for Short Fiction, the Reform Judaism Prize for Jewish Fiction, the Glasgow Prize for Emerging Writers, and an Honorable Mention for the PEN/Hemingway Award for her story collection, The Pale of Settlement. Her work has been featured on NPR and in the Kenyon Review, the Gettysburg Review, Agni, and Conjunctions, among other publications. She is a professor of English at Denison University in Granville, Ohio.
Praise For Underground Fugue…
"Singer's novel travels up and down the scale of sorrow, reflecting the musical and psychological connotations of her title...This haunting story...feels suspended in a murky state between memory and presence, happiness and despair."—Ron Charles, The Washington Post

"Astonishing... This beautifully written, ultimately uplifting story of love, parenthood, and letting go is set in London during the summer of 2005, when terrorist bombs rocked the city."—Amazon Book Review

"Subtle, affecting...The novel shimmers between meanings, never settling on the single one. It...continues to reverberate in the mind after its final words."—Columbus Dispatch

"The characters...are constructed with depth and richness...Singer's London emerges as a place of missed connections, miscommunications and misinterpretations."—New York Times Book Review

"An unusually layered debut. In short, taut chapters, [Underground Fugue] alternates between two families who have suddenly become neighbors...When terror strikes, the plot accelerates and the novel's strands converge brilliantly." —Publishers Weekly

"Singer gracefully weaves the fugue motif throughout her debut novel...The result is a nuanced, realistic exploration of themes of loss and identity, which seem particularly relevant in these uncertain times."—Library Journal

"Singer's introspective tale of displaced characters casts a subtle light on current events."—Booklist/American Library Association

"In this extraordinarily accomplished debut novel, Margot Singer confronts life's essential losses—aging, illness, accidental death—but also the scalding, self-inflicted wounds of alienation, estrangement and prejudice. The book's tender, questing spirit imbues even these dark recesses with a kind of luminosity, making Underground Fugue a pleasure to read from beginning to end." —Geraldine Brooks, Pulitzer Prize–winning author of March
 
"A beautiful novel about affinities, assumptions, and family mysteries.  We know less than we think we do, and we need each other more than we thought." —Allegra Goodman, bestselling author of Intuition
 
"Underground Fugue swept me away. I could not put it down. Here is a writer aptly named—Singer. Read and savor the music, even as your blood jumps."  —Richard Bausch, author of Peace

"Intense, unblinking, elegant and smart, Margot Singer's Underground Fugue had me—sometimes by the heart, sometimes by the throat—from its first striking sentence to its last." —Laird Hunt, author of Neverhome
 
"Underground Fugue—an absorbing, deeply poignant intersection of lives and histories—establishes Margot Singer as a world-class writer. May the literary gods rejoice." —Bob Shacochis, author of The Woman Who Lost Her Soul
 
"Thrilling, tender, and dangerously seductive, Underground Fugue is an exhilarating journey into the perilous depths of London's tunnels and the bewildering labyrinth of the human heart." —Melanie Rae Thon, author of The Voice of the River
 
"Intricately imagined, subtle and surprising, Underground Fugue is a beautiful book built of tenderness and tragedy, masterfully intertwined." —Josh Weil, author of The Great Glass Sea
 
"I haven't been able to get Underground Fugue out of my mind. Haunting and breathtaking, this debut sticks, the way good literature always does, because it awakens us to the majesty—all the pain, all the joy—our lives contain." —Lee Martin, author of The Bright Forever
 
"Underground Fugue is a riveting, deeply affecting novel I will be thinking about for years." —Eileen Pollack, author of A Perfect Life

"Margot Singer writes like the dark angel cast down to live among us in these troubled times." —Brad Watson, author of Miss Jane 

"Deftly handled, this novel's characters reflect a time and place and the attitudes gripping much of the Western world still."—Read It Forward

Praise for Margot Singer and The Pale of Settlement
 
"Much like Primo Levi's, Singer's prose is sparse, searing, and hauntingly descriptive." —Betsy Sussler, BOMB magazine
 
"One of the most astonishing literary debuts in recent memory." —Ranen Omer-Sherman, Miami Herald
 
"The triumph . . . is that we enjoy the questions as much as any answers that might appear." —Alan Cheuse, NPR's "All Things Considered"
or
Not Currently Available for Direct Purchase