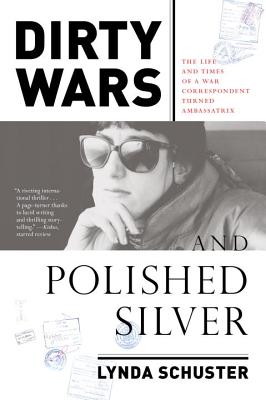 Dirty Wars and Polished Silver (Hardcover)
The Life and Times of a War Correspondent Turned Ambassatrix
Melville House, 9781612196343, 352pp.
Publication Date: July 18, 2017
Other Editions of This Title:
Paperback (9/25/2018)
* Individual store prices may vary.
Description
From a former Wall Street Journal foreign correspondent, an exuberant memoir of life, love, and transformation on the frontlines of conflicts around the world

Growing up in 1970s Detroit, Lynda Schuster felt certain life was happening elsewhere. And as soon as she graduated from high school, she set out to find it.

Dirty Wars and Polished Silver is Schuster's story of her life abroad as a foreign correspondent in war-torn countries, and, later, as the wife of a U.S. Ambassador. It chronicles her time working on a kibbutz in Israel, reporting on uprisings in Central America and a financial crisis in Mexico, dodging rocket fire in Lebanon, and grieving the loss of her first husband, a fellow reporter, who was killed only ten months after their wedding.

But even after her second marriage, to a U.S. diplomat, all the black-tie parties and personal staff and genteel "Ambassatrix School" grooming in the world could not protect her from the violence of war.

Equal parts gripping and charming, Dirty Wars and Polished Silver is a story about one woman's quest for self-discovery—only to find herself, unexpectedly, more or less back where she started: wiser, saner, more resolved. And with all her limbs intact.
About the Author
Lynda Schuster is a former foreign correspondent for The Wall Street Journal and The Christian Science Monitor, who has reported from Central and South America, Mexico, the Middle East, and Africa. Her writing has appeared in Granta, Utne Reader, The Atlantic Monthly, and The New York Times Magazine, among other. She lives in Pittsburgh with her husband and daughter.
Praise For Dirty Wars and Polished Silver: The Life and Times of a War Correspondent Turned Ambassatrix…
"Veteran reporter Lynda Schuster takes readers on a nostalgia tour through journalism as It Used to Be." —Meghan Daum, NEW YORK TIMES BOOK REVIEW

"Lynda Schuster's new memoir Dirty Wars and Polished Silver pulls back the curtain... Her memoir showcases the myriad ways in which the field of journalism has shifted since her time as a foreign correspondent." —THE WASHINGTON DIPLOMAT

"Engaging and humane… Schuster's humor and common sense shine through, as well as her sense of adventure....Schuster wins you over." —John Allison, PITTSBURGH QUARTERLY

"Raw and moving...Schuster writes with wry humour deftly woven throughout Dirty Wars and Polished Silver." —TIMES OF LONDON

"A sparkling chronicle of her life... Dirty Wars and Polished Silver is a sharply observant and well-rendered telling of the life of a courageous international journalist and diplomat's wife.  Great story. Amusing prose... Do not miss it. —PITTSBURGH POST-GAZETTE


"A riveting international thriller...A page-turner thanks to lucid writing and thrilling storytelling." —*starred* KIRKUS REVIEWS

"A wonderful, witty ride about hurtling towards happiness and embracing maturity. If you ever wondered: What do I want and how do I find joy? Dirty Wars and Polished Silver is a book for you." —Sonia Nazario, Pulitzer Prize–winning author of Enrique's Journey
 
"Dirty Wars and Polished Silver is the fabulously entertaining story of Lynda Schuster's adventures as a foreign correspondent and wife of a U. S. diplomat. It captures all the glamour, intrigue, love, and, yes, loss that's to be found in a life lived on the frontlines, but it's also a deliciously fun (and funny!) story of transformation. A delight from start to finish." —Valerie Plame Wilson, author of Fair Game

"For the armchair traveler and imagined war correspondent, and for anyone who misses the tropical non-paradises of Africa and Latin America that furnished the intrigues of Graham Greene, I heartily recommend Dirty Wars and Polished Silver. It throbs with the romance, and the anguish, of a life lived in excitement and in peril, tracking sundry and dubious American missions abroad." —Roger Lowenstein, author of When Genius Failed and America's Bank     

"Lynda Schuster's memoir Dirty Wars and Polished Silver is the story of a woman breaking down barriers to become an accomplished war correspondent, and an on-the-ground narrative of the conflicts that wracked the world in the 1980s and -'90s. It is also a tale of love, great loss, and love again that demonstrates the resilience of the soul. I recommend it to all, but especially to those who wonder how to succeed in life by following both their head and their heart." —Jeffrey Herbst, President and CEO, Newseum

"As a former newspaper correspondent, Schuster knows how to string together a story… [it] will pull you in, whether or not you've been posted to any of the same countries as Schuster." -FOREIGN SERVICE JOURNAL
or
Not Currently Available for Direct Purchase