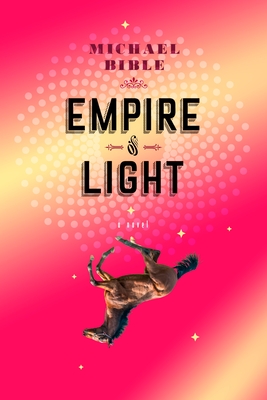 Empire of Light (Paperback)
Melville House, 9781612196442, 112pp.
Publication Date: April 24, 2018
* Individual store prices may vary.
Description
"A singular new voice . . . [Michael Bible] is so open, so easy, so fluid, you'll smile with joy turning every page." —Barry Hannah  

After an adolescent prank leads to a stranger's death, Alvis Maloney rambles westward. He lands in a small North Carolina town and falls in love—in love with his neighbor Molly, with a lonesome quarterback called Miles, with a whole community of enduring misfits and losers.

But at the same time, another life takes shape in Maloney's dreamlike visions: a horse named Forever, a princess with hypochondria, and an electric city that's always just out of reach. As these two promises of home fight for their hold on Maloney, the story careens toward disaster, and in the end Maloney must choose between love and redemption.

From the author Electric Literature called "one of the most interesting and exciting new novelists in years," Michael Bible's Empire of Light blooms with mystical imagination and a hopeful heart.
About the Author
MICHAEL BIBLE is originally from North Carolina. His work has appeared in the Oxford American, The Paris Review Daily, Al-Jazeera America, ESPN The Magazine, and New York Tyrant Magazine. He is a former bookseller at Square Books in Oxford, Mississippi, and lives in New York.
Praise For Empire of Light…
"Bible's style is unique: swift, mythic without pretense, eccentric but focused."—LITERARY HUB

"A euphoric, one-of-a kind novel."—ARKANSAS INTERNATIONAL

"[A] fever dream of a second novel . . . Benzos aplenty are snorted, and hard truths are revealed in modern cowboy-storyteller Maloney's coming-of-age fable." —BOOKLIST

"Bible revisits the teenage years of the visionary Reverend Alvis Maloney… [and] bathes the dark story of teenage rebellion in an otherworldly light, deepening Maloney's intriguing mythology."—PUBLISHERS WEEKLY

"Michael Bible has the golden hand of Carson McCullers and the joyous cosmic heart of Richard Brautigan. Empire of Light is a truly beautiful book." —William Boyle, author of Gravesend and The Lonely Witness
 
"A shorthand masterpiece of style, a tour de force of voice, Empire of Light further establishes Michael Bible as one of his generation's brightest stars." —Tom Franklin, author of Crooked Letter, Crooked Letter

Praise for Sophia

 "Amid the sharp, laconic prose that its structure facilitates, Bible emerges as one of the most interesting and exciting new novelists in years . . . superbly written . . . a rich yet entirely unpretentious debut that, just as its conclusion marks a promising new start for its cast, marks a very promising start for its author." —Electric Literature
 
"Poetic and with flashes of brilliance . . . If Sophia is any indication, we have a promising new writer here, who, like his main character, might be on a pilgrimage of his own." —NPR
 
"[Bible's] short, comic novel, which relates a bibulous Southern preacher's perverse quest for sainthood, is full of small miracles." —Publishers Weekly, starred review
 
"Bible delivers an elliptical, provocative novella about the profane and the spiritual, all of it drenched in sweat, sex, and booze." —Kirkus Reviews
 
"Most contemporary fiction makes me wonder why people try to write anymore. Michael Bible helps me remember why." —Blake Butler, author of Three Hundred Million
 
"Yes, the spirit of Barry Hannah resides in Sophia, but, as Reverend Maloney so eloquently puts it, 'Now is now and then was then.' Bible's talent is such that he knows how to take scripture and bend and twist it into something that can exist in both heaven and hell. This is an ecstatic novel, and Bible is a fantastic writer." —Kevin Wilson, author of The Family Fang
 
"Michael Bible's Sophia is a real howl of a book. It will drill holes inside your head and then fill them with a rushing pop of words. It's a wild journey from the deep south to New York City, with detours for chess tournaments, sexual escapades, and encounters with the holy ghost along the way. There's a lot of pain inside this book, too, but don't worry: you'll enjoy it." —Scott McClanahan, author of Crapalacia
or
Not Currently Available for Direct Purchase