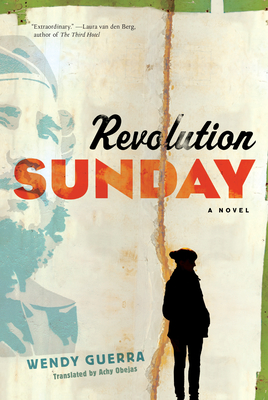 Revolution Sunday
Paperback

* Individual store prices may vary.
Description
14 "BEST OF DECEMBER 2018" Lists

Including Entertainment Weekly, BBC.com, New York Magazine / Vulture, Bustle, The Millions, Crimereads / LitHub, Book Riot, Asymptote Journal, Vol. 1 Brooklyn , Bust, Pop Sugar and Words Without Borders

A novel of glamour, surveillance, and corruption in contemporary Cuba, from an internationally bestselling author--who has never before been translated into English

Cleo, scion of a once-prominent Cuban family and a promising young writer in her own right, travels to Spain to collect a prestigious award. There, Cuban expats view her with suspicion--assuming she's an informant for the Castro regime. To Cleo's surprise, that suspicion follows her home to Cuba, where she finds herself under constant surveillance by the government. When she meets and falls in love with a Hollywood filmmaker, she discovers her family is not who she thought they were . . . and neither is the filmmaker.
Praise For Revolution Sunday…
"Radical... Revolution Sunday is about creating art under surveillance, and about our homelands' inescapable pull... Guerra is a fearless writer, and she's lucky to have a fearless translator [in Achy Obejas]. Together, they make Revolution Sunday more vivid than life."—Lily Meyer, NPR

"More than in its plot—a Cold War conspiracy of sorts—the movement of 'Revolution Sunday' is in the coming and going from the island...Obejas succeeds in capturing the sense of doom, the weather of half-truths and paranoia, floating at the edges of Cleo's Cuba."—Jaime Lalinde, THE NEW YORK TIMES

"[A] Kafkaesque art thriller... Havana's slow political thaw brings new texture and urgency to the genre of political paranoia."—NYMAG.COM / VULTURE

"Sensual, atmospheric" —Jane Ciabattari, BBC.com

"Guerra brings in her knowledge of media and storytelling, creating a rich backdrop before which this narrative unfolds."—VOL. 1 BROOKLYN

"Fascinating...it's eye-opening in more ways than one."—ENTERTAINMENT WEEKLY

"Unclassifiable...beautiful"—CRIME READS / LIT HUB

"Not to be missed"—BUSTLE

"Darkly funny… about art, sex, writing, government surveillance and identity…all very relevant to a lot of us these days."—BOOK RIOT

"Revolution Sunday is, by turns, a psychological mystery; an examination of the mind-bending strangeness of surveillance culture; a meditation on the varieties of exile; and an ode to the saving power of art, literature in particular. Guerra writes with this wonderful, sharp lyric abandon—and is frequently very, very funny."—BOMB MAGAZINE

"Genre-defying... Guerra fuses poetry and prose to track the hallucinatory lives of both her protagonist and her country... Achy Obejas's translation deftly reproduces the searing and ethereal quality of Guerra's voice, one that is ultimately in pursuit of liberation from the confines of politics and fear....Guerra writes a world where there is no escape from the potency of her poetics."—ASYMPTOTE JOURNAL

"Guerra's Revolution Sunday is a story about the nature of art in the face of censorship and surveillance, and shows how the survival of art mirrors the survival of the soul." —ARKANSAS INTERNATIONAL

"With lyrical prose and on-target character development, Guerra tells Cleo's story with a razor-like touch. …packed with pathos and humanity."—BOOKREPORTER.COM

"Arresting, an explosive portrait of loneliness and isolation. Thick with the atmosphere of... Havana on the cusp of the Cuban thaw, the novel reads like the world's most poetic anxiety dream, vibrant and stifling. Demanding and unforgettable." —*starred* KIRKUS REVIEWS

"Lyrical and potent... Guerra's captivating tale is an intriguing depiction of art amid corruption, and a reminder of the power in a singular voice." —PUBLISHERS WEEKLY

"[A] lyrical and breathless novel... Guerra's novel is a riveting look into the lives of artists attempting free expression in censored regimes." —BOOKLIST  

"Revolution Sunday brilliantly portrays the strangeness and dislocation of surveillance and exile... I love the sharpness of the voice, the gorgeous prose, and the surreal humor." —Laura van den Berg, author of The Third Hotel

"Wendy Guerra does a spectacular job of laying out the troubles and paranoias of living in Cuba as a radical artist." —Sara Balabanlilar, BRAZOS BOOKSTORE

"Fans of Rachel Cusk, Jennifer Egan, and Ottessa Moshfegh will find Guerra a welcome addition to their bookshelves. Her work offers a glimpse into modern Havana in an age of rapid sociopolitical change."—THE PACIFIC STANDARD

Melville House, 9781612196619, 208pp.
Publication Date: December 4, 2018
About the Author
WENDY GUERRA (Havana, 1970) is a Chevalier des Arts et des Lettres and was selected for Bogotá 39, the prestigious group of writers from the Hay Bogotá project. In 2015 and 2016, she was a visiting professor at Princeton and UCLA.

From an early age, she found success as a poet, publishing her first volume of poetry aged 17 whilst attending the University of Havana. She later pursued studies in filmmaking and hosted a number of TV shows about culture and television on the national Cuban broadcaster. She began to circulate and publish her texts abroad, to great critical acclaim. As a result of this success, she has been considered with suspicion by Cuban intelligence services and has remained largely unpublished in her native country. Drawing inspiration from her diaries and also from the visual arts, her texts often combine filmic, personal and poetic elements.

ACHY OBEJAS is an award-winning translator and author of the critically acclaimed novels RUINS and DAYS OF AWE. She is director of the MFA in Translation program at Mills College in Oakland, CA.
or
Not Currently Available for Direct Purchase